An outstanding adventure: Teens have a monumental time on Electric Cooperative Youth Tour
Alliana Freund was sitting in her junior history class when she got the news. She was going on the Electric Cooperative Youth Tour.

"Someone from the co-op emailed me," Freund recalls. "I let out a little scream, and then my classmates knew. I was very excited."

In a few short months, Freund would embark on the trip of a lifetime, courtesy of her local electric cooperative, Northern Plains Electric Cooperative.

For more than 50 years, teens from across America have traveled to Washington, D.C., courtesy of their local sponsoring electric cooperative, their statewide association and the National Rural Electric Cooperative Association (NRECA). They've toured some of the finest museums in the world and visited our nation's most historic monuments. They've met with elected officials and explored Capitol Hill. And, they've learned about the impact electric cooperatives have on their communities.
 
THE YOUTH TOUR EXPERIENCE
At 7:30 a.m. on June 19, Freund and 13 other Youth Tour delegates boarded Delta Flight 3958 and embarked on an unforgettable adventure to our nation's capital. Ahead of them was an extraordinary week of learning and new experiences. As soon as they landed, they hit the ground running. The first stop was the U.S. Holocaust Memorial Museum.

"It was a really life-changing experience. Walking into the building, something changed," Freund says. "In history class, you learn about World War II and the Holocaust, but you can't imagine the extent of what happened. But then you get into the building, and there are floors upon floors of evidence of what happened."

Fellow traveler Caleb Sarsland, who was sponsored by Slope Electric Cooperative, was also affected by the museum.

"There was so much stuff I didn't know," Sarsland says. "Like, there were 9 million Jews, and 6 million of them were killed. I knew 6 million died, which is crazy, but I didn't realize it was two-thirds of the population. It was eye-opening."

In the week ahead, North Dakota's Youth Tour delegates would visit a wide variety of museums and historic sites. They sat in the seats of the historic Ford's Theatre. They stood on the steps of the Lincoln Memorial. They walked the halls of our nation's Capitol. They witnessed the Changing of the Guard at the Tomb of the Unknown Soldier. And, they stood on a historic battlefield in Gettysburg.

"I really liked Gettysburg. It was so cool to see, and our tour guide was awesome," says Annaliese Rauschenberger, who was sponsored by Verendrye Electric Cooperative. "My favorite part was when we went up this big hill and looked out over it, and we could see all the landmarks. It was really cloudy and misty, and it was an amazing atmosphere. I had never felt anything like it before. It was just such a cool thing to see. The view was breathtaking. And that, combined with the history – they saw the same exact thing back in those days – it was just surreal."

Sarsland recalls the uniqueness of that battlefield, where Pickett's Charge – the climax of the three-day Battle of Gettysburg and one of the most famous infantry attacks of the American Civil War – took place.

"The tour guide explained to us how close they were fighting and their positions and showed how Confederate soldiers disappeared from sight by going over little hills," he says.

In addition to visiting museums and historic sites, the delegates had the opportunity to meet with two members of North Dakota's congressional delegation, Sen. John Hoeven and Rep. Kelly Armstrong. The students came prepared with questions about topics dominating the headlines, including the potential impact of upcoming Supreme Court decisions, the reliability of the electric grid and gun policy.

"By far, my favorite thing was meeting Rep. Armstrong," says Grace Goven, who was sponsored by McLean Electric Cooperative. "Most kids don't get to do that. It was great to talk to him and gain insight about what's going on. To get it straight from the source was really amazing. He went over everything in a way that made sense to all of us. And then, we had an opportunity to ask questions, and he answered those questions very well."

"I really liked how Rep. Armstrong was for small government and how he encouraged us to get involved at the city and state level," Sarsland says. "The U.S. is one of the most diverse countries in the world, and everybody needs a little something different, so we can't be controlling everything from D.C."

These experiences demonstrate the value of the Electric Cooperative Youth Tour.

Pamela Clark-Stein, North Dakota Association of Rural Electric Cooperatives director of education and member services, has overseen the program for more than 20 years. North Dakota's participation started with one student in 2003 and has grown to include students sponsored by 15 of the state's distribution cooperatives. She says the Youth Tour experience is more impactful and far-reaching than just the one week in Washington, D.C. Students return with a greater level of confidence, heightened interpersonal and leadership skills, and an eagerness to maintain relationships with other students from across the country.

"Best of all, Youth Tour sparks interest and enthusiasm for the cooperative business model, opportunities for internships and great careers with electric cooperatives," Clark-Stein says. "We have students who participated in Youth Tour years ago and are now employed by their local electric cooperative. Youth Tour is not only a trip of a lifetime, but it also opens the door to opportunities of a lifetime!"
 
NOT PACKED IN A SUITCASE
Like all great trips, Youth Tour came to an end. The delegates packed their bags with souvenirs and mementos and boarded Delta Flight 3603 to Bismarck. They said their goodbyes and promised to keep in touch, knowing what they learned and the memories they made would be with them forever.

Just as every person is unique, so is their experience. And many of them took home something they couldn't pack in a suitcase.

"I think a lot of the communication skills I learned in D.C. will be with me forever," Freund says. "Talking to new people and seeing the differences we have, it introduces a new social culture."

"It made me more patriotic," Sarsland says. "It made me more thankful for all the freedoms we have and made me want to protect those freedoms for future generations."

While their experiences were unique, they all agree on one thing – this was the trip of a lifetime.

"Youth Tour exceeded my expectations," Freund says. "I knew it would be a very educational experience getting to know more about my co-op and government history. But, I never knew I would meet the people I met. Those people are now some of my best friends. And the places we went – I never expected to do as many things as we did."

"Take the chance when you get it," Sarsland says. "It's a once-in-a-lifetime opportunity."

Krista Rausch is communications specialist for the North Dakota Association of Rural Electric Cooperatives and Capital Electric Cooperative. She can be reached at krausch@ndarec.com.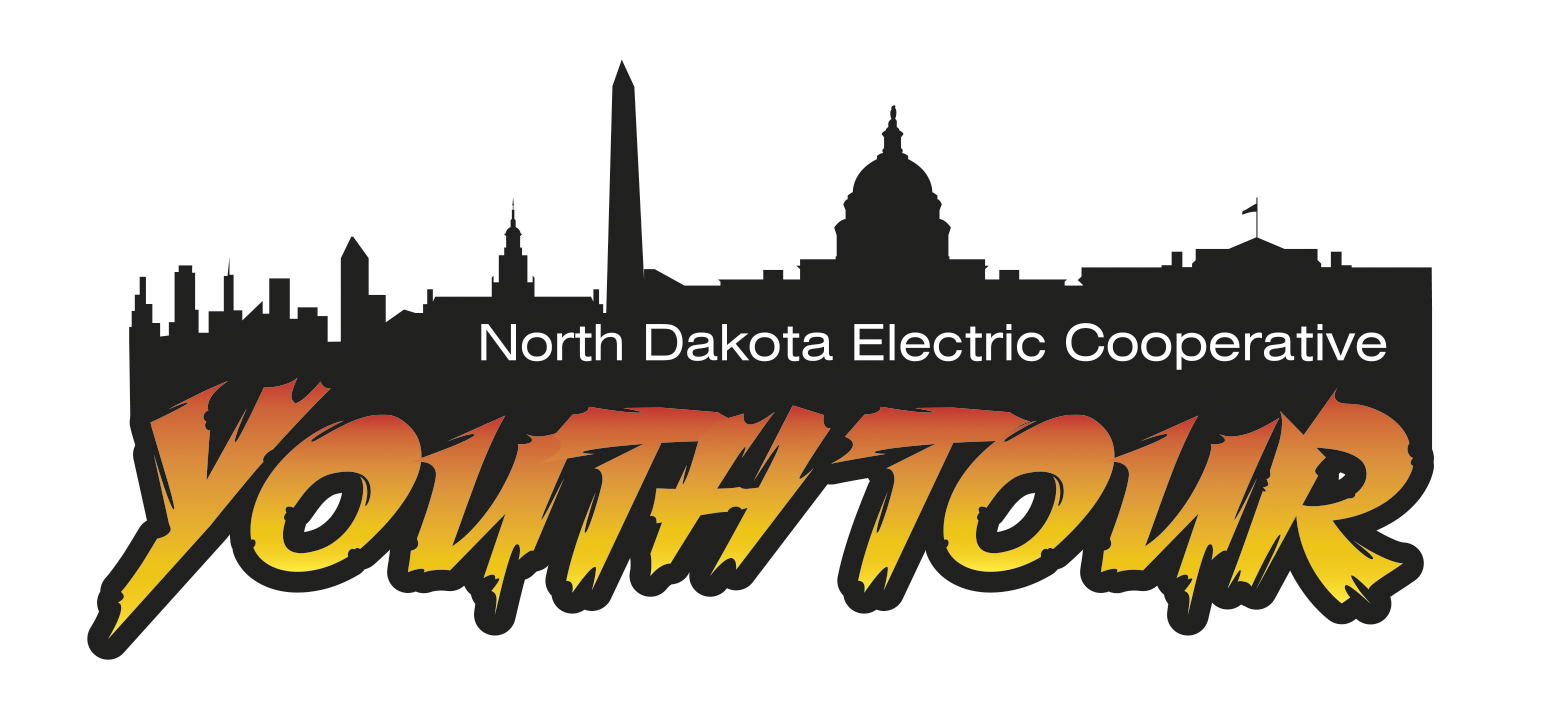 BY THE NUMBERS

28 participating states

1,239 delegates

247 chaperones

1,486 total participants
Rauschenberger selected as North Dakota's Youth Leadership Council delegate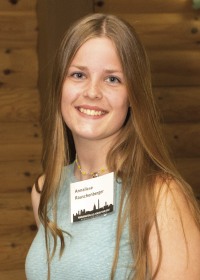 Each year, one Youth Tour delegate is selected to represent North Dakota on the National Rural Electric Cooperative Association (NRECA) Youth Leadership Council (YLC), which builds leadership and public speaking skills and enhances the delegate's knowledge of the energy industry and the cooperative business model. This year's YLC delegate is Annaliese Rauschenberger.

Rauschenberger earned this honor after demonstrating exceptional leadership qualities during her interview and while attending the Electric Cooperative Youth Tour in Washington, D.C. As a YLC delegate, Rauschenberger will speak at the North Dakota Association of Rural Electric Cooperatives annual meeting and attend NRECA's 2023 PowerXChange meeting, where she will have a hands-on experience with virtually every facet of the meeting, including the resolutions process and helping members communicate with their legislators.

Rauschenberger is the daughter of Gabe and Karlee Rauschenberger, Minot. Her Youth Tour trip was sponsored by her local electric cooperative, Verendrye Electric Cooperative.