RECIPE ROUNDUP: JUNE 2021
"Lucky number 16." That's what David Straley was to the late James and Theresa (Wolf) Straley, the last and 16th child born to the Carrington farm family. In a sense, David was the exclamation point to the Straley family, which maintains a 22-year age gap between the eldest and youngest children.

"It was a busy farm life," David says of his upbringing. "We all did a lot of work on the farm. I would say we had modest roots. Being the youngest, I had a lot of hand-me-downs. But we also had a lot of good family times. My best memories are playing 'kick the can' or kickball in the front yard and getting together with cousins. It was absolutely the best thing ever."
 
FAMILY REUNION
Another fond memory for David was the annual Wolf family reunion. Started in 1986 by David's mother and several of her 14 siblings, who referred to themselves as the second generation, it was a way to keep their large family connected. The early reunions were convened at Arrowood Lake, where family could swim and play games. The Wolf family now gathers at the city park in Carrington, where a rousing game of kickball or baseball ensues – with the third, fourth and fifth generations.

In a family of 16 kids – and over 100 first cousins – there's bound to be a little competition now and then. This month, that energy will culminate at the Second Generation Wolf Family Reunion, where nearly 50 family members from near and as far as Seattle, Wash., will gather for the traditional potluck.

"We eat at noon, and that's the only rule!" David says. "Uncle Bud used to always provide the meats, but now the third generation, the kids, bring the food. We all know who's coming, and we all know what everyone is bringing."

Family, through blood or marriage, will bring their best dishes to share, and like a broken record, the talk will eventually turn to the fan-favorite potato salad, made by Rynetta (Straley) Renford. The self-taught cook will nod in acknowledgment as the potato salad compliments roll in.

"For about the last 10 years or so, all of us joke about Rynetta's potato salad and how she's always trying to make the next best thing," David says. "She's a great cook."

But this year is different, because a new side dish will rise to meet the competition. "Lucky number 16," David, hopes to keep his "lucky" streak going with the introduction of a cauliflower-based version of the traditional potato salad.

"I'm not a potato guy," David says. "Sure, I like French fries, because they are fried in oil. Otherwise, I have never really like potatoes. But about three months ago, I found a version of this recipe and started doctoring it up. My wife's reaction was the first bellwether. Then, I had my brother try it when he was visiting, and he said, 'Oh, this is actually better than Rynetta's potato salad!'"

This newcomer, "OMG, Rynetta, have you tried David's non-potato salad?!" Salad, is poised to be the top dish at this year's family reunion.
If David can accomplish this feat, he will add the exclamation point to the family reunion – and send Rynetta's "Runner-up" Potato Salad home.
 
TOGETHER AGAIN
Though he's banking on a win, David is most excited to be around family again.

"When we couldn't physically be together at times this past year, we were closer in other ways," David says. The phone and video calls were more frequent and cherished. "Knowing we're going to be getting together, and being able to laugh together in person, is really what's making this so special to me."
BACK TO HIS ROOTS
David Straley remembers attending cooperative annual meetings with his family. The Straley farm was served by Tri-County Electric Cooperative, which eventually merged and became Northern Plains Electric Cooperative. His parents were also active in Farmers Union, so David learned early on the importance of co-ops.

"I've been going to co-op annual meetings since I was 4 or 5 years old. After dinner, the kids would get to walk up on stage and get our silver dollar, then we'd walk down to the library and get to watch a movie," he recalls.

In 2006, David took a government and public relations job with North American Coal in Bismarck. Working in the coal industry, he learned a lot about what it takes to fuel the electric system and how it works, from generation to distribution.

With an interest in the electric industry and a desire to serve, David ran for a spot on the Capital Electric Cooperative board of directors last fall and was elected by the membership.

"Having been around co-ops since I was a kid, going to Farmers Union camps, and now knowing more about the utilities side of the business, it was almost like coming back home, into the cooperative family, when I got elected to the board," he says.

The cooperative family. That's a common phrase used in the co-op community – cooperative members, employees and directors bonded together through the cooperative principles.

David admits there's one thing he would change about the cooperative family
"Too many of us have left home, and perhaps we forget the importance and the role of what the co-op does for the community," he says. "It feels to me like we keep getting farther apart. It's a family that keeps spreading out. I'd like to see more of us coming back home, maybe not forever, rather just a short visit, so we remember the cooperative's important place in the community."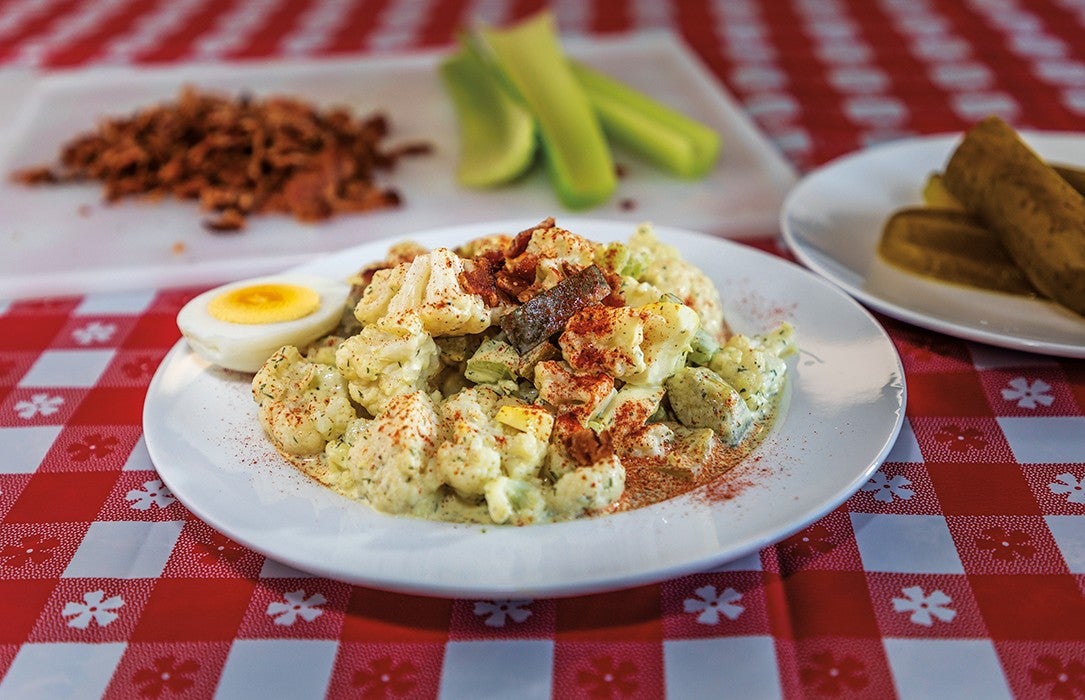 Description
 1    head cauliflower, cut into florets and steamed
    4    hard-boiled eggs, chopped
    ¾    cup mayonnaise
    2    tsp. Dijon mustard
    1    tsp. yellow mustard
    2    tsp. creamy horseradish
    2    stalks celery, finely chopped
    2    scallions, chopped
    2    large dill pickles, chopped
    3    T. dill pickle juice
    1    T. dill weed
    1    T. kosher salt
    1    tsp. pepper
        Paprika
        Optional (not really): chopped bacon for topping!

Cut cauliflower into bite-sized pieces and steam for 4-5 minutes until soft, but still slightly crisp. Let cool.

Mix mayonnaise, mustards, horseradish, celery, scallions, dill pickles and juice, salt, pepper and dill weed. Gently add steamed cauliflower and hard-boiled eggs. Sprinkle with paprika and chopped bacon. Cool in refrigerator for at least 3 hours.

Serve to all who enjoy happiness and winning!

Recipe by David Straley, board director and member of Capital Electric Cooperative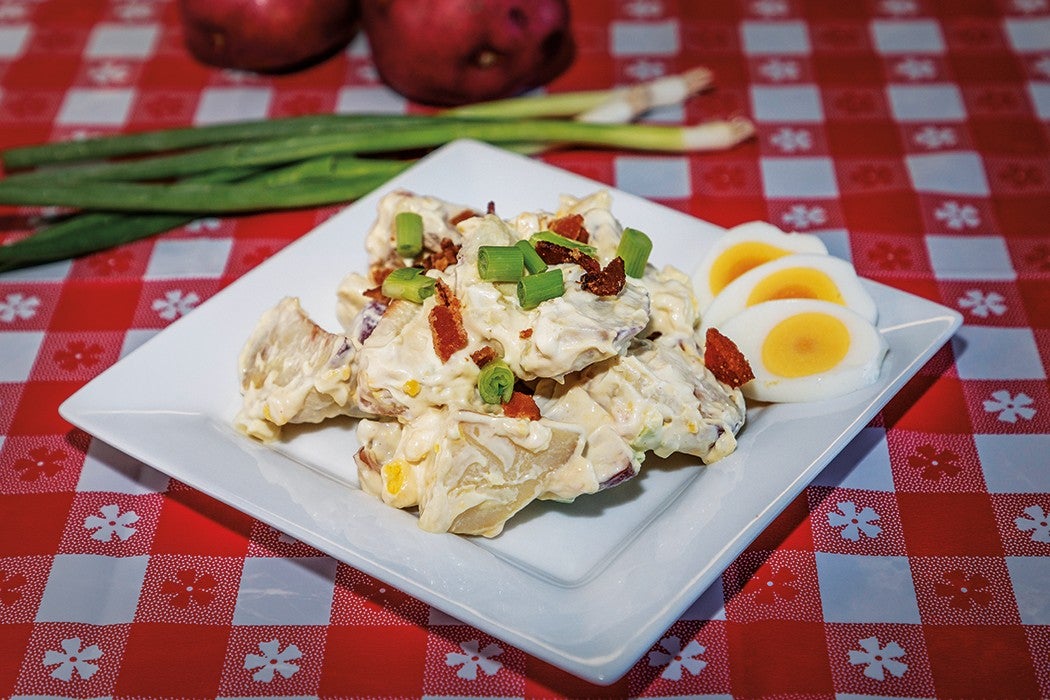 Description
 3    lbs. red potatoes
    1    tsp. grey sea salt
    1    T. olive oil
    4    green onions, chopped
    3    hard-boiled eggs, diced
    1½    cup mayonnaise
    1/3    cup Dijon mustard
    6    strips bacon, cooked and chopped small

Cut potatoes into large, bite-sized chunks. Coat in olive oil and salt, skewer and grill until fully cooked. (Or skip skewers/grill and roast in the oven at 425 degrees).

Mix mayonnaise and Dijon mustard together. Stir in hard-boiled eggs and cooked potatoes. Top with green onions and bacon pieces.

Serve to the unlucky souls who didn't get any of the award-winning "OMG, Rynetta, have you tried David's non-potato salad?!" Salad.

Recipe by Rynetta Renford, David Straley's sister