Cooking with a Duletski daughter
Bernice Duletski, a Capital Electric Cooperative member, was raised on a farm in rural Belfield, where the love to cook, gather and eat ran deep.

In the farm kitchen with her mom and grandma is where Bernice and her sister, Lydia, learned the skills and patience required to master the family recipes. Those same family recipes were compiled into a family cookbook, "Cooking with the Duletski Daughters," which is still heavily used and cherished.

Bernice's paternal grandmother, Mary, was not only a fabulous cook, but a teacher, too. Bernice credits her grandmother for keeping cooking an important mark of their family lineage and her mother, Eva, for having the patience to help mentor and the wisdom to help preserve this family legacy.

"One family gift was the wonderful ability to learn from them," Bernice says, noting the patience these family matriarchs had in the kitchen, while teaching the sisters to cook and bake.

Saturday mornings were reserved for baking. It was a prize so special that the sisters would argue over who got to bake for the family. It was finally decided that if you got the privilege to bake, you also won the privilege to do your own dishes!

"Our family was also blessed with fresh farm products," Bernice says.

Farm cooking meant butter, eggs and cream, which Bernice describes as her tried-and-true ingredients, along with sugar.

When Bernice moved from North Dakota as a young adult, she remembers baking cookies for a friend, using the basic packaged recipe. Her friend couldn't believe how great the cookies were. Bernice's secret? Real butter.

"On the farm, that's what we used – real butter – and I've just never stepped away from that," she says.

As a member of Capital Electric Cooperative, Bernice receives North Dakota Living monthly and says she immediately opens each issue to find the Recipe Roundup pages. She collects and stores recipe clippings from North Dakota Living. A favorite from a past issue is an Italian sausage soup, which Bernice says is simple, quick and delicious.

Since moving back to Bismarck, New Year's Day has become her holiday to host. After years of perfecting a recipe she found and adapted, Bernice shares her version of a crème brulée. Unsurprisingly, it calls for Bernice's favorite ingredients.

As life continues to move quickly and the holidays are upon us, Bernice offers perhaps her best tip.
"Spend at least the same amount of time eating and enjoying what you make in good company, as the time you spent preparing it," she says.

Emily Seebold is an administrative specialist for NDAREC. She can be reached at eseebold@ndarec.com.
Description
SYRUP:
    1    cup dark brown sugar
    ½    cup butter
    2    T. light corn syrup

TOAST:
    1    loaf French or Italian bread (day-old works best)
    5    eggs
    1½    cups half-and-half
    1    tsp. vanilla
    ¼    tsp. salt
Instructions
Combine syrup ingredients in medium saucepan. Simmer until thickened and syrupy. Spread over bottom of 9x13 baking pan.

Slice bread into eight half-inch slices. Place over syrup in baking pan. Beat eggs, half-and-half, vanilla and salt. Pour over bread. Cover and refrigerate overnight. Bake uncovered at 350 degrees for 45 minutes. Serve with bacon, sautéed apples or fresh fruit.
Notes
Tip: No day-old bread? Toast a fresh loaf at 350 degrees, about 10-12 minutes, for that day-old feel.
Source
Recipe by Bernice Duletski, Capital Electric Cooperative member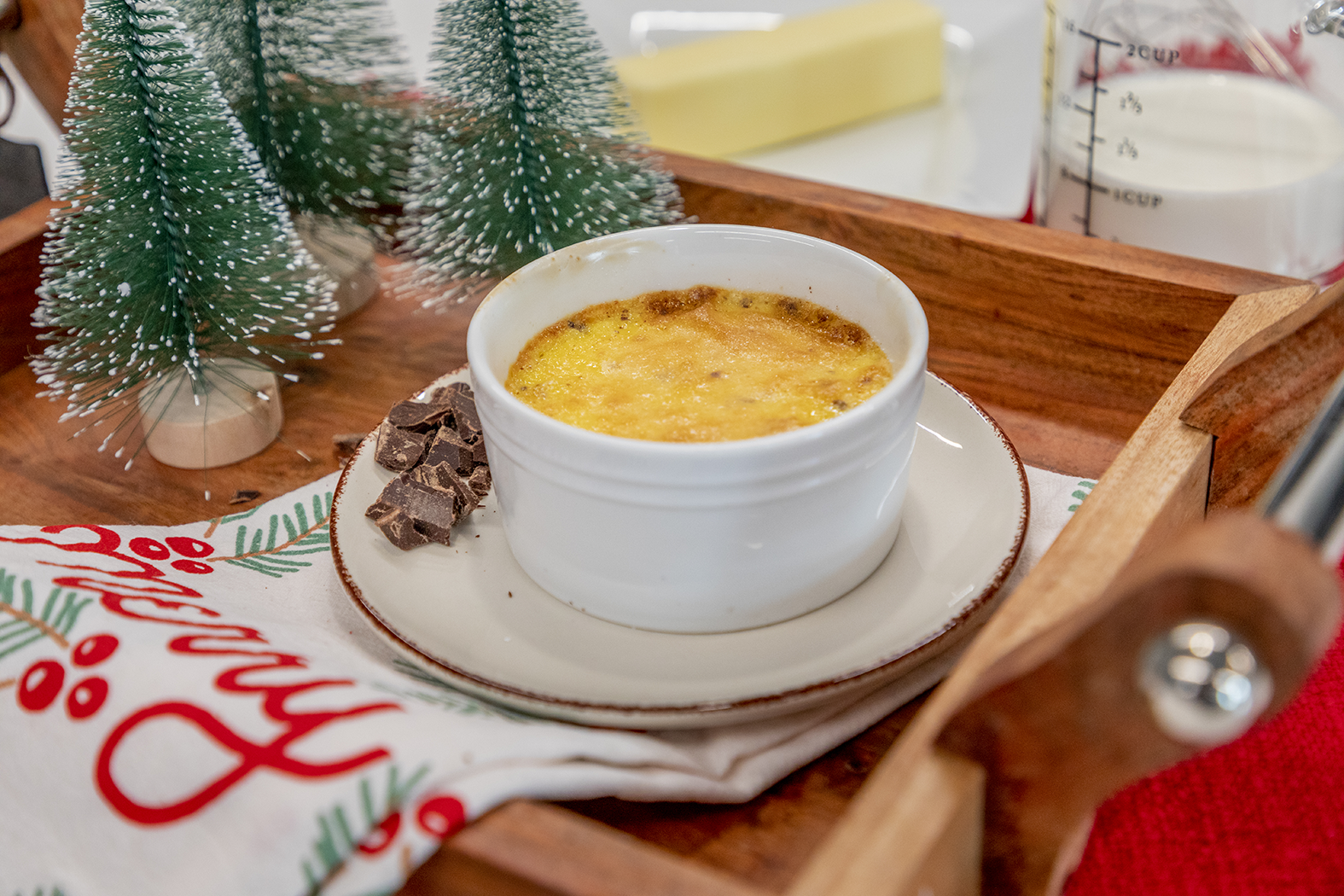 Description
    5    egg yolks, room temperature
   ½    cup, plus 2 T., sugar, divided
    2    cups whipping cream
    1    T. pure vanilla extract
    2    oz. semisweet chocolate, chopped, divided
Instructions
Preheat oven to 300 degrees. In large bowl, whisk egg yolks and ½ cup sugar. In small, heavy saucepan, heat cream to a simmer over low heat. Add to yolk mixture, whisking constantly. Add vanilla, whisk to blend and set aside.

Divide the chocolate among four ¾-cup ramekins. Ladle cream mixture over chocolate. To prepare hot water bath, place ramekins in baking dish and carefully add enough hot water to rise halfway up sides of ramekins. Bake until center sets, about 55 minutes. Remove ramekins from water bath and cool. Cover and chill overnight.

Preheat broiler. Sprinkle ½ T. sugar over top of each chilled ramekin. Broil until sugar melts and browns slightly, about 2 minutes. Cool 5 minutes before serving.
Source
Recipe by Bernice Duletski, Capital Electric Cooperative member