'EVERYONE'S WELCOME' AT THE CO-OP TABLE
It's a familiar story.

People saw a need for something in their community, so they came together to make it happen.

In October 2011, a diverse group of Bismarck-Mandan area residents met at a local truck stop to discuss their shared vision. Collectively, they pictured a community space that improved access to healthy, local food and enhanced community wellness.

By June 2013, after many conversations, public meetings and a visioning session, the group incorporated as a cooperative, and the BisMan Community Food Co-op was rolling. Shares were sold and members signed up in support. Over 600 member-owners invested in the first year alone. A site was secured for a brick-and-mortar grocery store, and in 2016, the BisMan Community Food Co-op opened its doors for business at 711 E. Sweet Ave. in Bismarck.

"We're 100 percent member-owned, by 3,500 families," says TJacob Smude, deli manager at the BisMan Community Food Co-op. "But you don't have to be a member to shop here. Everyone's welcome."
CO-OP SHOPPNG
As described on its website, one of the BisMan Community Food Co-op's guiding principles is, "Real food: We are what we eat." That principle is reflected throughout the co-op store, where shoppers will find a high volume of organic products, sustainably raised meat and seafood, locally sourced produce, and a variety of specialty diet items, like gluten-free or vegan options. Food labels reveal local goods stock many shelves and coolers.

"The market for local products is extremely high," Smude says. "When people pick up a product and see the name of the farm, they get excited!"

Although North Dakota is known for its agricultural sector, some may be surprised to learn that area farmers aren't just growing corn and soybeans.

"They might be surprised by how many people are producing," Smude says. Customers often feel a strengthened connection to local food when they shop at the co-op, which also helps build loyalty, Smude says. "We support so many of our local farmers, and people see that. The commitment to local really separates us."

The BisMan Community Food Co-op has also helped improve producers' bottom lines, giving them another outlet to sell their goods.

"We've kind of become a security blanket for small farmers. They know we're always buying. They can come here and drop off what they don't sell at the farmers markets or their excess produce," Smude says.

The co-op strives to offer North Dakota grown and certified organic produce and targets growers who use sustainable-certified practices, when possible. What can't be stocked regularly by local farmers and ranchers is supplemented by regional producers and a national supplier.

A large bulk section offers a wide variety of foods, like herbs and spices, whole grains, local beans, flours, granola, nuts, dried fruit and baking supplies. And the deli area provides healthy lunch options, quick bites, weekend brunch, bakery items, espresso, fresh-pressed juice and four tap lines of kombucha (kawm-boo-chah), a probiotic fermented tea rich in health benefits.
     
HAPPY SUPPORTERS
Paul Breiner and his wife, Cathy, have been BisMan Community Food Co-op members since the beginning.
"We were happy to support what the co-op was doing," Breiner said.

In fact, when the co-op was in the design and construction phase, Breiner, an architect, donated his services to the co-op. He even helped secure old barnwood that was repurposed in the current space.

The Breiners have since moved to Minot, but   remain BisMan Community Food Co-op members. They make trips down to Bismarck a couple times a month to enjoy a meal and do some shopping, since Minot doesn't have a food co-op like it, Breiner says.

"This is the type of place we want to support," he says.

Smude loves to hear comments like Breiner's and get member feedback. He encourages local residents and visitors to swing by and check the co-op out for themselves.

"We're a friendly community of people. Our employees are members who are knowledgeable and passionate about the products. And the prices aren't as high as people think," Smude says. "We're here to be stewards of the community, land and environment, and we try to support every facet of that in your (the members') grocery store. You can still support local here at the co-op."
BisMan Community Food Co-op
• Don't have to be a member to shop!
• 100 percent member-owned.
• Current member-ownership is 3,500 families.
• A lifetime membership is just $200 and covers an entire family.
• Hot lunch and an expansive, fresh salad bar (with 80 percent local products) is offered 11 a.m.-7 p.m. Monday through Friday.
• Hot brunch is served 10 a.m.-2 p.m. Saturday and Sunday.
For more information, visit https://bismanfoodcoop.coop/(link is external).
This soup is a popular one at the BisMan Community Food Co-op, especially during fall when the weather turns and sick bugs are on the up. Smude says the health-forward soup offers immune support, and turmeric, garlic and coconut have natural antioxidant properties. If you're following a specific wellness lifestyle, this recipe is 100 percent vegan, dairy and gluten free.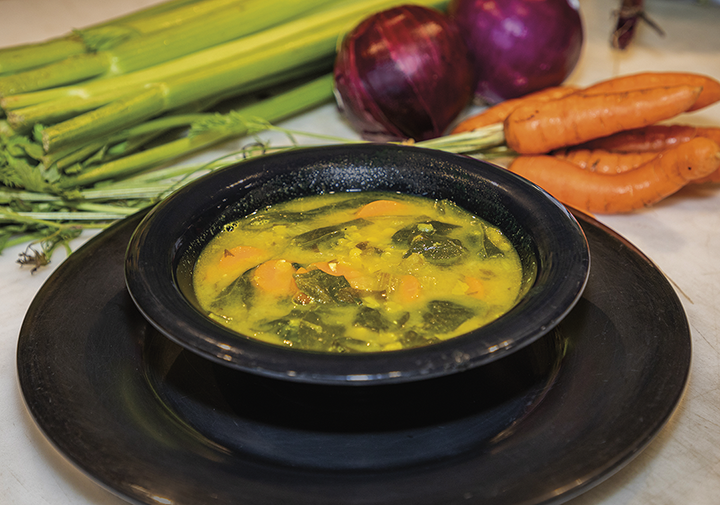 Instructions
Heat coconut oil in large stock pot. Add garlic and simmer until lightly browned. Add parsley and turmeric and simmer for 30 seconds. Add onions, celery, carrots, lentils and liquids. Simmer until vegetables soften and lentils are tender (approximately 30 minutes). Season with salt and pepper to taste. Add spinach 5 minutes before serving.
Recipe by BisMan Community Food Co-op, TJacob Smude
Source
BisMan Community Food Co-op, TJacob Smude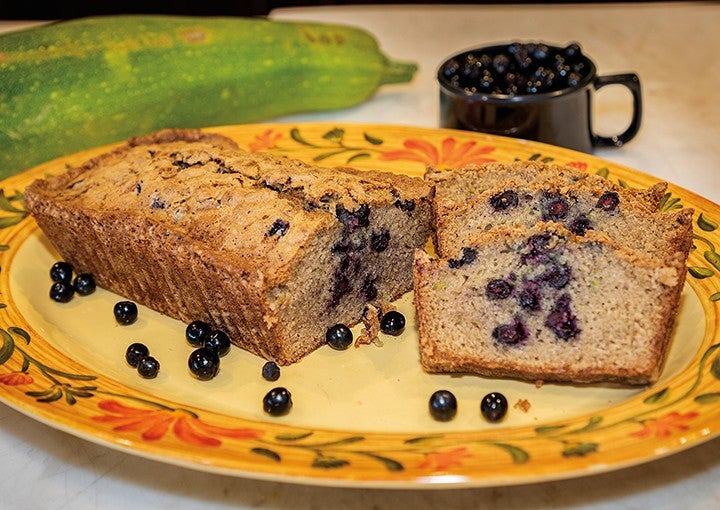 Instructions
Two local ingredients – aronia berries and zucchini – are the stars of this baked bread. Aronia berries can be found locally in the fall. Smude describes the taste as a cross between a chokecherry and a blueberry. If you have aronia berries left over after trying this recipe, Smude suggests adding them to a smoothie or in a breakfast yogurt bowl.
Preheat oven to 350 degrees. In a large bowl, combine flour, salt, nutmeg, baking soda, cinnamon and sugar. In a separate bowl, combine oil, eggs, water, zucchini and lemon juice. Mix wet ingredients into dry ingredients. Fold in berries. Bake in two standard loaf pans, greased with nonstick cooking spray, for 1 hour or until a tester comes out clean.
Recipe by BisMan Community Food Co-op, TJacob Smude