RECIPE ROUNDUP: PEANUTS! GET YOUR PEANUTS HERE!
Marvin Baker describes his dad as a guy who liked to drink a beer and eat peanuts. By the mid-2000s, Baker thought he could do his aging father one better

"I decided I'd bring him fresh, locally grown peanuts," Baker says.

Peanuts? In North Dakota?

"I've been told by a lot of people that you can't grow peanuts in North Dakota, but I've been doing it since 2005," Baker says.
It's not that strange, once you've done the research. Baker says he turned to "experts" at the University of Minnesota, for their preliminary peanut research, and University of New Mexico, because most organic peanuts are grown in New Mexico and west Texas. He also learned of a group of about a dozen farmers in the Niagara Region of Ontario who were producing peanuts.

Baker even sent a letter to the Peanut Bureau of Canada, which he found to be a top resource in his search.

"To this day, I appreciate it," Baker says.

In his hunt for the right peanut seed, Baker found a 120-day variety peanut, which meant he only needed a 120-day frost-free period to produce a crop. In 2005, Baker started his first peanut plants from seed in his greenhouse, just as he would peppers and tomatoes. He eventually moved them outside and watched his peanut plants grow.

"We were pretty shocked. We got about 25 pounds of produce that first year. It was kind of dumb luck," Baker admits.

Considering Baker and his wife, Ilene, have owned and operated North Star Farms, a certified organic farming operation, in Carpio since 2004, their peanut growing success seems more than just "dumb luck."
NORTH STAR FARMS
Marvin developed a liking for gardening during his youth in Hazelton. He tended the garden with skills he learned from his mother.

"I could grow pretty good onions as a high school student!" Marvin says.

After a 35-year career with the North Dakota National Guard and a handful of newspaper jobs, Marvin sought replacement income for his military service, in addition to his current position as editor of The Kenmare News.

"We decided to grow vegetables," Marvin says. "It's gone way beyond that."

North Star Farms offers 72 varieties of products and has been certified organic since 2006. It sells community supported agriculture (CSA) shares and can be found at the North Prairie Farmers Market in Minot from July through October. Marvin focuses on the farming, while Ilene handles the books.

A late season walk through his 3-acre garden on the Des Lacs River in Carpio reveals other atypical produce for North Dakota growing conditions, like okra. And Marvin plucks an unopen boll from his crop of cotton plants.

"The experts told me I couldn't grow these, either," he says with a grin.

Marvin's pride in his field is obvious, and there is an appreciation for the soil he works. Perhaps those feelings intensified after a cancer diagnosis and kidney removal surgery in May.

"It was tough to see the weeds out there, knowing I couldn't do anything about it. I just had to watch those weeds grow," Marvin says.

But once his doctor gave him clearance to get dirt under his fingernails again, Marvin was full speed ahead.

"This is therapy. I get tired or sore some. But I don't need a YMCA membership!" Marvin quips.
LIKE FATHER, LIKE SON
When Marvin first presented his fresh, organic peanuts he had grown with his own two hands to his father, the reaction had the air of true Mid-western honesty.

"Are these any good?" he asked his son.

Marvin is glad he was able to deliver fresh peanuts to his dad before his father's death in 2011. Still, Marvin continues to grow peanuts.

"You gotta have a beer and fresh peanuts to watch the World Series!" the Tampa Bay Rays fan says.

Like father, like son.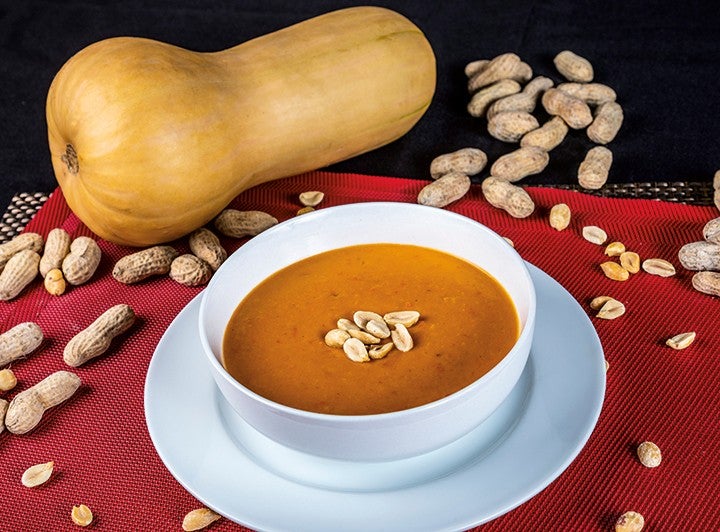 Instructions
In a medium-sized slow cooker, combine ingredients. Cover and cook on low until squash is tender, 5-6 hours. Pureé soup using an immersion blender, or cool slightly and pureé soup in batches in a blender. Return to slow cooker and heat through. Garnish with cilantro and peanuts, if desired. Yields 8 servings or 1.5 quarts.
NOTE: For faster cooking, roast squash before adding to slow cooker. To roast, halve squash and place skin side down on a baking sheet. Cook in 350-degree oven for 60-70 minutes.
Recipe by Marvin Baker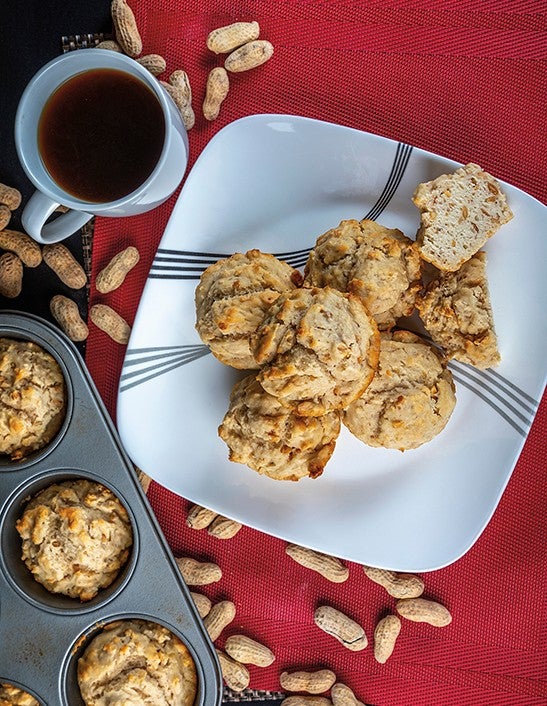 Instructions
Preheat oven to 350 degrees. Grease muffin tin. In a large bowl, combine flour, sugar, baking powder and salt. Pour in the beer and stir until evenly moistened. The dough will be slightly sticky. Stir in peanuts. Fill muffin cups ¾ full of batter and spoon about ½ tsp. of butter over the top of each one. Bake for 25 minutes, or until browned and firm. Cool in pan for 5 minutes before removing to a wire rack. Serve warm with butter or peanut butter. Yields 1 dozen.
Recipe by Marvin Baker
Cally Peterson is editor of North Dakota Living. She can be reached at cpeterson@ndarec.com.