RECIPE ROUNDUP: MY LIFELONG LOVE AFFAIR WITH COOKING
Do you remember the Turbo Cooker? My mom, Pam Musland, does.

You see, when I was in fourth grade, I thought the promises of a convenient, cook-an-entire-meal-in-one pan would bring glory to our family of five. With both parents working full time outside of the home, this genius kitchen contraption awould be the golden ticket.
For just three easy payments of $55.95, which I charged to Mom's credit card without full disclosure, I was going to bring honor to the family. Things turned out OK for Mulan, but unfortunately, the same can't be said for fourth-grade Cally after the Turbo Cooker purchase.

I remember making a lackluster breakfast pizza and steamed broccoli with a charred-bottom meatloaf before my mom let me retire the Turbo Cooker to the basement, where all household items went to be hoarded until the next rummage sale.

And so began my lifelong love affair with cooking. Trust me, it got better!
 
LOVE LANGUAGE
Over the years, my love for cooking grew. The advent of television networks focused on food and cooking provided some home-chef education. Food TV even inspired my favorite childhood sleepover activity – "Cooking with Cally." My friends would record a live demonstration of me making my latest dish. Fun, right?!

My family served as my recipe testers and encouraged my efforts. Later, I would host dinner get-togethers for my girlfriends. And I even impressed my future husband with my kitchen feats, except for the infamous Cheese Button Disaster of 2010 that shall not be discussed here.

For me, the best part of cooking is sharing my food. There is nothing better than enjoying a meal with others, whether you're doing the cooking or not. Food has always been my love language.
 
THE GREAT CONNECTOR
Food is the great connector. It connects us together as people. It connects us to the memories of our past.

When I think of Emma Speidel, my late day care provider in Ashley and adopted grandmother, I think of her homemade noodle soup, served with a squeeze of ketchup and dash of cinnamon.

When I think of Saturday mornings growing up in Jamestown, I think of Grandma Ellen's heavily buttered and sugared pancakes, made in a bright orange Melmac bowl from my parents' 1986 wedding registry.

When I think of my semester abroad in Prague, I think of street sausages, mulled wine and cinnamon-sugared trdelník.

When I think of my great-uncle, Lyle, I think of pink wafer cookies, black coffee and wintergreen Lifesavers (and the familiar sound of the well kicking in to fill the water tank in the pig barn).

Now more than ever, I cling to the food that connects me to the people I love. I find joy in the memories of food shared and long for the day when we will again come to the table together.

May you find comfort in this uncertain time the best way you know how. Maybe it's through food. Maybe it's reading your North Dakota Living magazine. Whatever that comfort is for you, I hope you find it, and remember to share it, too.
Cally Peterson is editor of North Dakota Living. She can be reached at cpeterson@ndarec.com.
Download your free cookbook from 2018's recipes!
We pay $50 for publishing your recipes! Submit your recipe or email to NDL@ndarec.com or mail to North Dakota Living, PO Box 727, Mandan, N.D. 58554. Please include your name, address, daytime telephone number, email address and if you are a member of an electric or telecom cooperative.
Description
I remember the first time I ate Grandpa Nels' oven pancakes. We had grown up eating traditional pancakes the way Grandma Ellen made them, so I was skeptical, at first. Who makes pancakes in an oven? But I was soon won over by this fluffy, sweet breakfast treat with its buttery goodness and golden-brown edges.
Instructions
Optional toppings: berries, bananas, whipped cream, pie filling, cinnamon sugar, Nutella or breakfast syrup

Preheat oven to 425 degrees. Place butter in a 9-inch pie plate. Heat in oven until butter sizzles.

In separate bowl, beat eggs well. Add flour, milk and pinch of salt, and beat until smooth. Pour batter over sizzling butter in pie plate. Do not stir. Bake for 15-20 minutes, until golden and edges start to brown. Fill with desired toppings. Sprinkle with powdered sugar. Serve immediately.
Notes
Get creative with your oven pancake toppings! Try these topping variations: fresh berries and whipped cream, cinnamon sugar, bananas and whipped cream, or like Grandpa Nels, warm up that can of pie filling sitting in your pantry. Not only is this recipe easy, but it features common pantry ingredients that make for a quick quarantine brunch dish!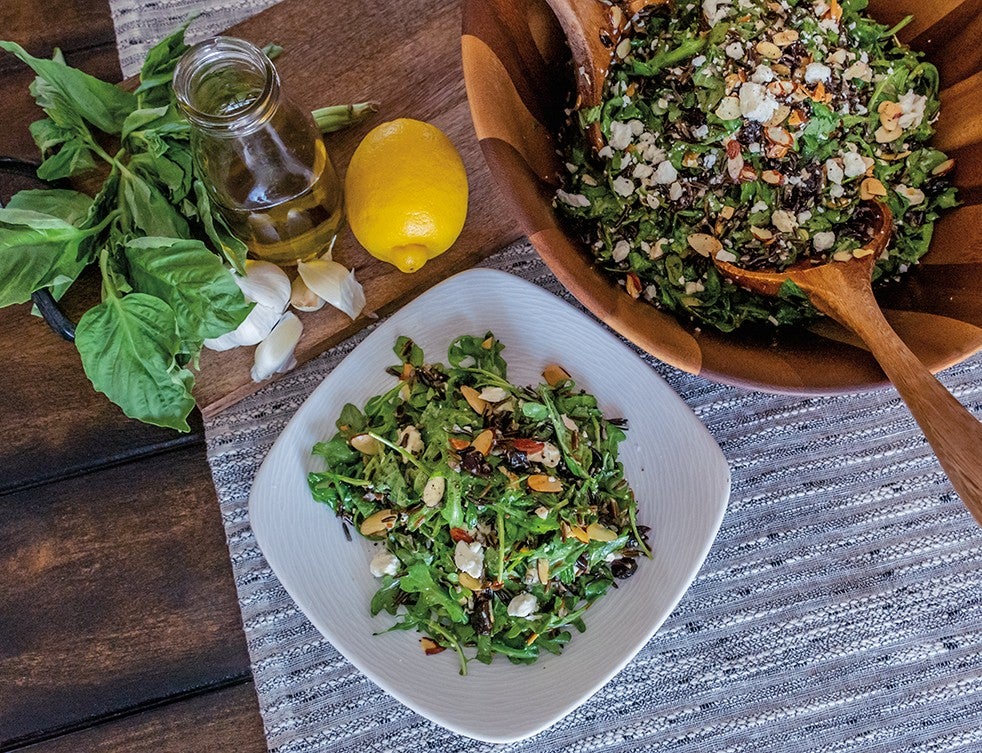 Description

This bold, lemony salad is packed with flavor and became a favorite of mine after my best friend and Cass County Electric Cooperative member, Ariana Carlson, first made it for me. The nuttiness of arugula and toasted almonds are balanced by the sweetness of dried cherries and saltiness of crumbled feta. The wild rice adds texture and soaks up the tangy goodness of the dressing.
Instructions
SALAD
    1    cup wild rice, rinsed
    ½   cup sliced almonds
    1    tsp. olive oil
    5    ounces arugula
    ½   cup fresh basil, chopped
    ½   cup dried cherries
    ½   cup crumbled feta cheese

DRESSING*
    ¼   cup olive oil
          Juice of one good-sized lemon
    2    tsp. Dijon mustard
    2    large garlic cloves, minced
    ¼   tsp. salt
          Fresh cracked pepper, to taste
          Pinch of cayenne pepper

Bring a large pot of water to boil with a heavy sprinkle of salt and splash of olive oil. Cook rice in boiling water for 40-55 minutes until tender, but with some bite left. Drain and rinse briefly with cool water to stop cooking process.

Heat 1 tsp. olive oil over medium-low heat. Add almonds and pinch of salt, toasting until lightly golden and fragrant, about 4 to 5 minutes.

Whisk together dressing ingredients until well-blended.

Assemble salad – rice, arugula, basil, cherries, almonds and feta. Pour in dressing and toss well. Season with salt, pepper and more fresh lemon juice, if desired, to taste. Allow 10 minutes for the rice to soak up the dressing. This salad should keep well in the fridge for a few days.

*CALLY'S NOTE: This is a go-to dressing in my house and is made with ingredients I always have on hand. Don't have fresh greens? This dressing would be delicious in a cold three-bean salad with herbs. I'm envisioning black beans, garbanzo beans/chickpeas and white cannellini beans with a little onion or shallot and herbs swimming in this tangy-lemony dressing. Yum!