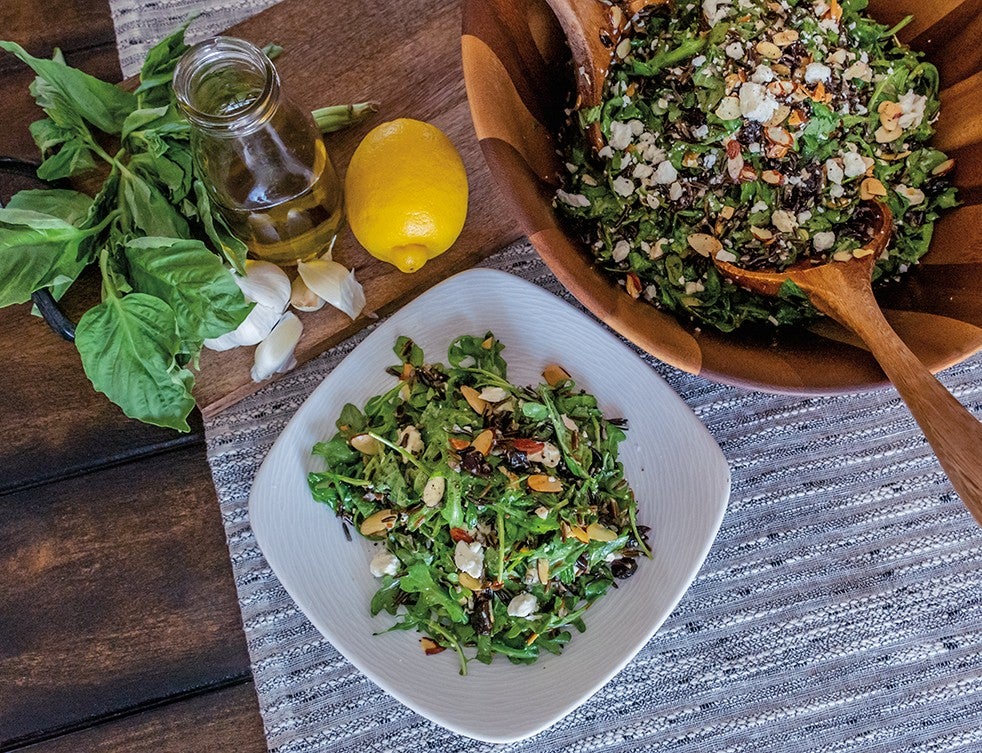 Description

This bold, lemony salad is packed with flavor and became a favorite of mine after my best friend and Cass County Electric Cooperative member, Ariana Carlson, first made it for me. The nuttiness of arugula and toasted almonds are balanced by the sweetness of dried cherries and saltiness of crumbled feta. The wild rice adds texture and soaks up the tangy goodness of the dressing.
Instructions
SALAD
    1    cup wild rice, rinsed
    ½   cup sliced almonds
    1    tsp. olive oil
    5    ounces arugula
    ½   cup fresh basil, chopped
    ½   cup dried cherries
    ½   cup crumbled feta cheese

DRESSING*
    ¼   cup olive oil
          Juice of one good-sized lemon
    2    tsp. Dijon mustard
    2    large garlic cloves, minced
    ¼   tsp. salt
          Fresh cracked pepper, to taste
          Pinch of cayenne pepper

Bring a large pot of water to boil with a heavy sprinkle of salt and splash of olive oil. Cook rice in boiling water for 40-55 minutes until tender, but with some bite left. Drain and rinse briefly with cool water to stop cooking process.

Heat 1 tsp. olive oil over medium-low heat. Add almonds and pinch of salt, toasting until lightly golden and fragrant, about 4 to 5 minutes.

Whisk together dressing ingredients until well-blended.

Assemble salad – rice, arugula, basil, cherries, almonds and feta. Pour in dressing and toss well. Season with salt, pepper and more fresh lemon juice, if desired, to taste. Allow 10 minutes for the rice to soak up the dressing. This salad should keep well in the fridge for a few days.

*CALLY'S NOTE: This is a go-to dressing in my house and is made with ingredients I always have on hand. Don't have fresh greens? This dressing would be delicious in a cold three-bean salad with herbs. I'm envisioning black beans, garbanzo beans/chickpeas and white cannellini beans with a little onion or shallot and herbs swimming in this tangy-lemony dressing. Yum!