On Frozen Pond: Lamoureux Twins Shatter Barriers on and Off the Ice
Nothing was ever handed to the Lamoureux twins. Monique Lamoureux-Morando and Jocelyne Lamoureux-Davidson carved their own success through hard work and determination, which led them to become North Dakota's first Olympic gold medalists.

There is one significant piece of their story, however, that was out of their control, but certainly helped prepare the identical twins for the big moments – their upbringing in North Dakota.

If you're going to be two of the all-time greats in women's ice hockey, being born and raised in Grand Forks – arguably the hockey capital of the U.S.A. – is a rather perfect place to start.

"Our four older brothers all played hockey, and our dad played at UND (University of North Dakota). We started skating at age 2, on the frozen pond across the street from our house in Grand Forks," Jocelyne says. "It was such a gift to us growing up, because it was outside on that ice, we learned to just love the game from a pure enjoyment standpoint. We played because we loved it and enjoyed it."

Playing outside in the elements made them "North Dakota tough," the Lamoureuxes say.

Beyond hockey and gold medals, their time in North Dakota helped instill a solemn fortitude in Monique and Jocelyne that simply never allowed them to settle for anything less than the work they put in.
 
THE MAKING OF OLYMPIANS
Despite having no opportunity to play on youth girls' hockey teams in North Dakota, Monique and Jocelyne progressed in the sport. Their mother, the twins say, put them in every activity in which their older brothers participated, whether there was a girls' sport or not.

"Playing with the boys wasn't always easy. We weren't always treated or spoken to like girls, but we were treated like athletes and players on the team," Jocelyne says. "(The coaches) had high expectations of us."

High expectations that Monique and Jocelyne shattered. It was clear the Lamoureuxes could not only play with the boys, but beat them.

At age 14, the twins were invited to their first national hockey camp, where they played with girls for the first time. There, playing with the best girls' hockey players in the country, Monique and Jocelyne envisioned a serious future in hockey – one that might take them to the Olympics someday.

"You have this goal of the Olympics, and for the first time, actually think this is an attainable goal," Monique says.

The Lamoureuxes attended high school in Minnesota at Shattuck St. Mary's, where they elevated the women's hockey program to national prominence and won three national titles during their high school careers.

"Coach Stratford (at Shattuck St. Mary's) was an instrumental figure in our lives, and encouraged our development as teammates and leaders," Jocelyne says.

After their freshman college hockey season at the University of Minnesota, a family friend helped change the trajectory of their hockey careers.

"He asked us if we won a national championship at Minnesota or for the Fighting Sioux, what would mean more," Monique says. "When we both matter-of-factly answered the Fighting Sioux, we thought we needed to reevaluate."

But to make that change would be a challenge. While the UND men's hockey program had developed a tradition of excellence, the UND women's hockey program did not match its success. The move would mean transferring from one of the best women's collegiate hockey teams in the country to one of the worst. Plus, Monique and Jocelyne were coming off record-breaking freshman seasons, each in their own right.

"We knew we'd have to be at our best every single game for the program to be successful and for the program to turn around," Monique says.

Ultimately, the Lamoureuxes felt the pull home to Grand Forks. After their first season at UND, the women's hockey program was nationally ranked. Monique and Jocelyne rewrote the record books at UND, leading their team to two national tournaments, setting nearly every individual record in program history and becoming some of the best players in NCAA history.

"We ended up having a career-changing moment at UND," Jocelyne says. "It really changed the trajectory of our development, because the expectation was to show up and be one of the best players on the ice every single night."

Throughout their UND careers and since the age of 16, Monique and Jocelyne were mainstays on the USA national team. They balanced their national team careers with their collegiate careers and academics.

During their 15 years on the USA women's national team, Monique and Jocelyne won six world championships, one world championship runner-up, two Olympic silver medals and one Olympic gold medal.

One of the unforgettable games of their careers was the heartbreaking loss to Team Canada at the 2014 Olympics in Sochi, Russia. With just 55 seconds remaining in regulation, Marie-Phillip Poulin of Canada scored the tying goal to take the game into overtime. Canada would win gold in the extra session.

"That type of loss and devastation can drive you as an athlete and move you forward, and that's definitely what that loss did," Jocelyne says. "We would have never got to where we were in 2018, as a team or as individuals, had it not been for the way we lost in 2014."

Standing in the fresh disappointment of a silver medal, no one could have predicted the adversity the Lamoureuxes, and their teammates, would face over the next four years to reach the 2018 Olympics – and what would be their last shot at Olympic gold.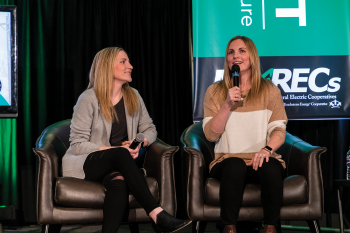 FIGHTING FOR MORE THAN GOLD
After Sochi, Jocelyne married her husband, Brent Davidson, in 2014, and a few years later, Monique wed Anthony Morando, who became the twins' trainer. They all settled in Grand Forks, where Monique and Jocelyne continued to train as members of the USA women's national team.

It was a difficult time financially for the Lamoureuxes, who had both recently completed their master's degrees. Without the stipends afforded the twins during their collegiate careers, which sustained them while they were dually playing for UND and the women's national team, Monique and Jocelyne had to find full-time jobs.

Like their post-grad teammates, the women balanced their training and Team USA commitments with full- or part-time gigs to pay the bills.

"We received a monthly training stipend, which ranged from $500 to $2,000 per athlete that was funded by the USOPC (United States Olympic and Paralympic Committee)," Jocelyne says. "Otherwise, we were on our own financially, as we tried to figure out how to maintain our status as elite-level hockey players and keep our gold-medal dreams alive. It was a real struggle."

It was painfully obvious to Monique and Jocelyne that they weren't being treated equitably compared to the USA Hockey men's and boys' programs. As the pair broached the topic with teammates, they discovered shared frustrations and complaints over the inequities in their sport.

From the beginning, their fight was never about equal pay, Jocelyne says, but rather more equitable treatment. Together, the women identified inequities, including a $35 gap in per diems; lack of catastrophic injury protection, maternity benefits or a family fund for family travel stipends; and unequal compensation, travel arrangements, stipends between Olympic years, support for girls' hockey and promotional and marketing support for the women's game.

"All of us had experienced similar slights and inequities throughout our careers," Monique says. "We were constantly treated like we should be grateful just for the opportunity to play. Even on the national team, which should have been the shining star of our athletic careers, we experienced so many of the same inequities that working women have faced for years."

In their book, "Dare to Make History: Chasing a Dream and Fighting for Equity," the Lamoureuxes point out that USA Hockey, which reported revenue of $43 million in 2014, spent $1 million on the world No. 1 women's national program. That same year, USA Hockey allocated $3.5 million to the boys U17 and U18 national teams, with no comparable amount of money spent on the girls' or women's programs.

"The players on our team have always been grateful for the opportunity to wear the red, white and blue. That was not the issue," Monique says. "It became clear that if we wanted to make a difference for the next generation, if we wanted the same resources to be put into the girls' and women's programs that were afforded the boys' and men's programs, we couldn't just be grateful anymore. We had to stand up for what we deserved."

After securing pro bono representation by a team of five attorneys – four women and one man – from Philadelphia's Ballard Spahr law firm, including John Langel, who represented the USA women's soccer team through a similar battle for equitable treatment, Monique, Jocelyne and their teammates were ready to turn talk into action.

In February 2016, Langel reached out to USA Hockey with the women's team grievances. A year later in February 2017, Monique and Jocelyne were sitting in their third face-to-face meeting with USA Hockey. With the 2017 world championships approaching, it became clear that the women's national team priorities – financial compensation, equitable support and programming and marketing – did not align with USA Hockey's.

Six days before they were to report to pre-camp for the world championships in Michigan, on March 15, 2017, Monique, Jocelyne and their teammates stood in solidarity to announce their boycott of the tournament.

"BREAKING: U.S. WOMEN'S HOCKEY TEAM TO SIT OUT WORLD CHAMPIONSHIPS DUE TO STALLED CONTRACT NEGOTIATIONS," the ESPN top story read. By early afternoon, the women had made a splash: The New York Times, The Washington Post, USA Today, Sports Illustrated.

Behind the media buzz, the women's team had mounted an impressive front. Knowing USA Hockey's first move would be to replace them on Team USA, the support from female hockey players would have to be rock solid and widespread. The team identified a replacement pool of about 70 players – and they personally called each one to preemptively garner support prior to the boycott announcement. Two days before the boycott, the women also hosted a conference call with the U18 players and parents.

"Reactions were positive and affirming of our efforts," Monique says. "We recognized the trust these players were putting in us, and it made us even stronger and more determined."

Their strategy worked. USA Hockey was forced to the table, and just days before the world championships were to start, Monique, Jocelyne and their teammates signed the first-ever contract with USA Hockey.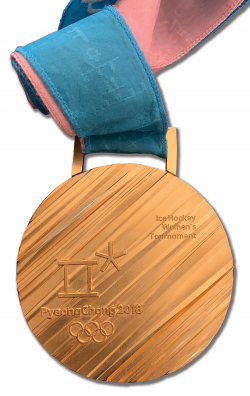 THE GOLD-MEDAL GOAL
After winning the world championships in 2017, Monique and Jocelyne found themselves in new territory. Stress and tension filled the ice, and the twins were dangerously close to not making the national team roster for the 2018 Olympics.

Christmas offered the twins a needed break. They returned home to Grand Forks, and again to the frozen pond next to their parents' house, where they learned to love the game. It was the most fun they had in months. Monique and Jocelyne returned to Team USA with an unbreakable light and energy.

"We almost didn't make the 2018 roster," Jocelyne says. "To go through that adversity and still show up at the Olympics is something we're really proud of. We relied on our years and years of work and preparation and training."

On Feb. 22, 2018, Team USA found themselves in the same position as four years earlier – facing Team Canada in the gold-medal game.

Fueled by Jocelyne's pre-game pancakes (find the recipe here), the Lamoureuxes took the ice, with their family in the stands. Down 2-1 in the third, Monique scored the clutch, game-tying goal off a backhand pass to end regulation. And in the decisive shootout, Jocelyne scored the gold-medal-winning goal for Team USA.

If their frozen pond in Grand Forks was the perfect place to start, hearing the national anthem play in PyeongChang with Olympic gold around their necks was the perfect place to end.

And while winning an Olympic gold was the original goal, Monique and Jocelyne take pride in more than medals.

"To get where we were, to play like we did, there's very few people that understand the amount of day-to-day work and sacrifice that goes into that," Jocelyne says. "From a more important life aspect, I look back on what we did in 2017 with our team, fighting for more for young girls and women in the sport of hockey – and how that transcends into everyday life – will, for sure, be what we're most proud of."

Monique and Jocelyne retired from playing hockey professionally in 2021. They now run the Monique and Jocelyne Lamoureux Foundation to help provide equal opportunities for kids in the education space. And they are busy moms, too, making sure there are plenty of cookies to entice their 3-year-old boys to skate in the rink Jocelyne's husband made in their backyard this winter.

If there's a message in Monique and Jocelyne's story, it's in the wish Jocelyne holds for her own baby girl, Hazel-Ann.

"Whatever our son can dream, we want those dreams for our daughter," Jocelyne says. "There should be no reason, at any point in her life, where we have to say, 'You know what, Honey, you're a girl and you can't do the same things your brother can do.'"
Cally Peterson is editor of North Dakota Living. She can be reached at cpeterson@ndarec.com.



THE MONIQUE AND JOCELYNE LAMOUREUX FOUNDATION
North Dakota's first Olympic gold medalists, Monique Lamoureux-Morando and Jocelyne Lamoureux-Davidson, created the Monique and Jocelyne Lamoureux Foundation to support kids in need through funding of educational and extracurricular programs, primarily in North Dakota.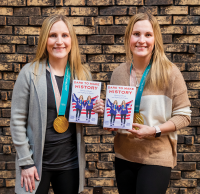 "Growing up, our parents taught us to work to level the playing field – to cheer for the one behind. Those lessons went beyond sports and became the core set of values we carry with us today," the twins' website states. "Our new foundation will be making grants locally to level the playing field for kids from disadvantaged communities, mostly in the education space. We're going to advocate for these kids, we're going to cheer for them, because they are being left behind. And we're confident that this work will make a difference in our North Dakota community."

To date, the Lamoureux foundation has made an impact in the Grand Forks and Fargo school systems and is expanding its efforts in rural areas. The foundation has helped:
• Offset costs for the National School Lunch Program to provide hot lunches to children
• Fund a meal program for families in need during the pandemic
• Expand broadband access to families and afford virtual learning opportunities to students
• Provide for essential-need items in schools
• Outfit bathrooms with feminine product dispensers and provide feminine products free to students.

Visit www.lamoureuxtwins.com(link is external) to learn more.