The baseball capital of the West
Williston to host Babe Ruth World Series Aug. 12-20
Williston might be known to America as a boom town. But the Western Star city is quickly developing another outside reputation – as a baseball town.

In August, Williston will host its fifth Babe Ruth World Series and third in the past decade. The town of nearly 30,000 expects to welcome around 40,000 World Series attendees over the 25-game period, with an estimated 40% coming from outside Williams County.

"I remember telling the president and CEO of Babe Ruth Baseball, 'I'm not sure you guys are aware of it, but there is Babe Ruth Baseball played west of the Mississippi,'" recalls Larry Grondahl, who serves as the host president.

His words struck a nerve, and Williston, one could say, got called up from the minors to serve as Babe Ruth World Series host.

"Babe Ruth Baseball was impressed with our community and the support we get, from the volunteers to the financial support to the city and park district support," Grondahl says. "We're still a small enough community, where (the World Series is) still the main show when it comes to town."
Larry Grondahl
'WHATEVER IT TAKES'
As host president, Grondahl oversees 35 committees under six divisions in the planning, preparation and execution of the 14-Year-Old Babe Ruth World Series tournament. He is one of more than 1,000 volunteers who will come together to make the event a success.

And in an all-hands-on-deck fashion, the city, parks district and business community cooperate with the tournament committee to roll out Williston's red carpet.

"The answer is always yes; the city does whatever it takes to support this tournament," says Williston Mayor Howard Klug.

Local law enforcement and EMS workers will provide assistance during the tournament. The public library will serve as tournament headquarters. Public works staff will stripe parking lots. Airport officials are working on flights and rental cars for those traveling from outside the area. Restaurant and hotel capacity is equipped to welcome attendees. And Ardean Aafedt Stadium, home to American Legion teams, the Keybirds and the Oilers, will be the star of the Western Star city.

"It's the best stadium in the state," Klug says. "People are going to enjoy coming to Williston."

Ten qualifying teams from the United States and Canada will compete for the World Series championship title, including the North Dakota state champion team and the Williston Babe Ruth team, a perk for the host city and state.

Prior to the start of games, Aug. 12 kickoff events include an ice breaker picnic for the players, a managers and coaches breakfast, a skills competition and the honored Banquet of Champions at Williston State College. Gameplay begins Aug. 13 and ends with the 1 p.m. championship game Aug. 20, and BEK Sports will broadcast all 25 games on its TV network.

"Some of these players have the potential to be Major League Baseball stars," Klug says.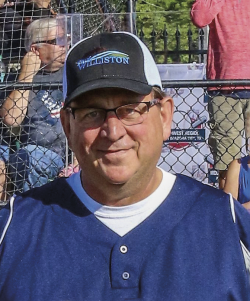 Howard Klug
But the Williston World Series is not only for baseball fans. Country music singer Lee Greenwood will perform at 10 p.m. on Aug. 13, followed by a fireworks display.

Another anticipated event of the tournament is the Drone Light Show planned for the evening of Aug. 14. TrainND Northwest will showcase its skills as a leader in unmanned aerial systems (UAS) training.

"We want to take advantage of this time, with people from across the U.S. coming to town for the World Series, to show them what we can do with UAS," says Shawn Wenko, Williston Economic Development executive director.

From 2019-21, North Dakota made a $28 million investment in Vantis, the state's UAS network or highway in the sky. The network currently stretches from north of Williston to the Keene area in McKenzie County and was developed to attract UAS business and innovation to the state. TrainND Northwest established a workforce training model to train crews how to use the Vantis network and fly drones beyond the visual line of sight (BVLOS). TrainND was also the first institution in North Dakota to receive a BVLOS waiver from the Federal Aviation Administration for student use.

"Similar to the drone light show from the Olympics, it's going to tell the history of Williston throughout the industry, from oil to ag, and promote the World Series," Wenko says. "It just shows, from a state of things in western North Dakota, that we can do something of that scale. It shows that the opportunity is here."

BEYOND BASEBALL
Aside from the baseball action and entertainment, Grondahl says the relationships built throughout the tournament make a lasting impact on teams and community members alike. The Williston World Series committee assigns five host families for each team, who cheer on their teams at games – and even take them fishing on the players' days off. Over 50 families immediately signed up to be team hosts, and the committee filled their host family roster in just two months.

"It says a lot about our community," Grondahl says. "We've developed a good reputation among Babe Ruth Baseball. We're one of the premier sites. Honestly, we're almost to the point where all we need to do is tell them we want (the World Series)."

Klug is looking forward to meeting people from other parts of the country and showing them all Williston has to offer. And if Grondahl asks again, he'll probably agree to warm up his throwing arm for the ceremonial first pitch.

"I'm excited to meet people and show them our people," Klug says. "These events, they show the rest of the country, Williston is here, we can handle it, and the people of Williston get behind it. I really believe in Williston and our country."

Visit www.WillistonWorldSeries2022.com for a full schedule of events or to learn more.

Cally Peterson is editor of North Dakota Living. She can be reached at cpeterson@ndarec.com.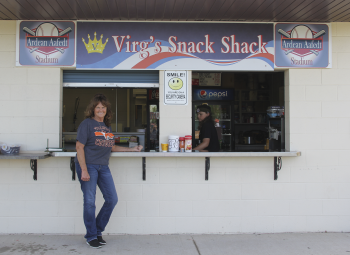 Virginia Collings has managed concessions at Ardean Aafedt Stadium in Williston for 33 years.
VIRG'S SNACK SHACK
The last time Williston hosted the 14-Year-Old Babe Ruth World Series, not all eyes in Ardean Aafedt stadium were dry. But perhaps not for reasons one may think.

Virginia Collings's concessions workers were chopping onions – 500 pounds of them! They were also busy chopping over 500 pounds of lettuce for tacos-in-a-bag and more than 500 pounds of potatoes for her fan-favorite homemade potato salad.

As Williston prepares to welcome 40,000 fans for this year's tournament, Collings and her staff will be ready to feed the crowd.

"The week before, I'll make over 40 gallons of dressing for the potato salad," Collings says. "It's a lot of work, but it's so fun having everybody together. The workers are great, but it does take a lot of people."

Collings has managed concessions at the ballpark for 33 years. She started as a volunteer, eventually running the operation after her youngest child graduated from high school. Her season begins with high school spring games in April and runs through August and the American Legion baseball season.

For the World Series, Collings will operate two full concession stands with grills, offering the popular Zoe dogs, and one pop and water stand.

"Our concession stands with Virginia are phenomenal," says Larry Grondahl, Williston World Series host president.

In addition to her job at the ballpark, Collings has also been the resident cook, baker and cleaning supervisor at Mountrail-Williams Electric Cooperative (MWEC) the past four years. When a major winter storm knocked out power to much of western North Dakota and MWEC's system in April, Collings and other co-op staff were busy feeding the line crews working to restore power.

"Dale (Haugen, MWEC general manager) was very adamant about feeding everybody and making sure no one went hungry," she says.

Her work started at 4 a.m., preparing upward of 12 egg bakes, waffles, biscuits and gravy or other breakfast for the crews. The staff would also prepare 350 sandwiches for sack lunches.

"I love the people at MWEC," Collings says. "It's probably the best place in town to work."

If you find yourself at Ardean Aafedt stadium this summer, look for Collings at the concession stand along the first baseline. It's the reason why her eyes might not have been dry at the 2016 Babe Ruth World Series.

Her son, who coached the Williston team, beckoned her to the field, where a surprise announcement was made. The concession stand had a new name: Virg's Snack Shack.