Ukrainian teen touched by war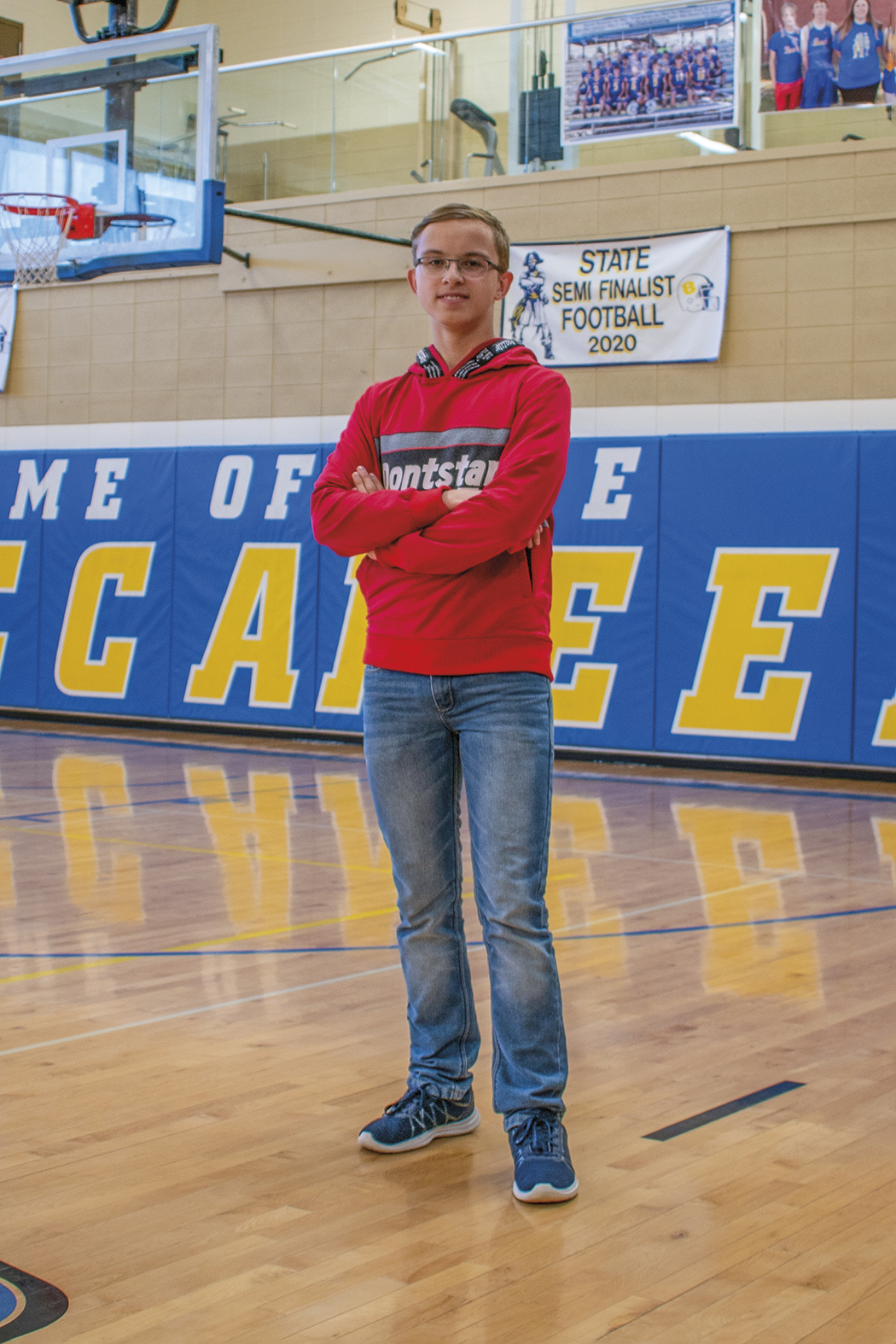 Dmytro "Dima" Davydenko is a foreign exchange student at Beach High School from Ukraine.
Photos by Chance Manhart
He is a typical tech-intent teen. He can spin a Rubik's Cube into completion in seconds. And he's a math whiz. He's rarely without a smile and carries himself with an affable ease.

Since August 2021, Dmytro "Dima" Davydenko has been in the midst of life's great adventure as a foreign exchange student at Beach High School, just off Exit 1 in western North Dakota.

But the world's adversities have impacted this 16-year-old like few others. On Feb. 24, Dima's home country of Ukraine was invaded by Russia.

"I basically didn't know that until the 25th. One of my teachers over here in the U.S. told me Russia invaded Ukraine; she asked me about it. I said, 'No, I didn't know that,'" he says.

He shifts slightly in his chair, sighs.

"Oh, I was just basically done. Broken," he says. "It was just terrible."

Now, he navigates staying in communication with his parents, who are safe – for now – after leaving their eastern Ukrainian home, where an undetonated bomb rests inside their four-story apartment building.

"If it (detonates), yeah, it's gone," he says of his home. His school in Ukraine has already been destroyed.

"They're hoping for the best," he says of his parents. "It is a great relief for my parents that I am in the United States during war in Ukraine."

He is their only child; his mother was working as a human resources inspector for an ambulance station and his father sold parts at an agricultural equipment shop in a region where tractors were common – not military tanks.

Dima's father cannot leave the country, as military-aged males are not being allowed to leave, so his parents and grandmother are renting a room in western Ukraine, while their hometown of Velyka Novosilka is a Russian target. One YouTube video of the agricultural community of about 5,000 shows some houses in rubble, walls and roofs missing. On May 9, CBS News shared a news report from the town, where Russian troops were amassing and mortar fire could be heard in the background.

"Right now, it is basically being bombed very often," Dima says. "I've received pictures and videos of my hometown and it is just terrible."

An uncle and his family were able to leave their nearby hometown, after half their house was destroyed.

"They are in a hard position, but they're safe. That's basically all I know for now," Dima says.

If he were there, he would be defending his country, he says.

"I would really like to fight for my country, basically," he says. "I probably can't yet, I'm not 18, but there's a special group called Territorial Defense Forces. I would be there."

"Awesome. Our leader is awesome," he says with visible pride in Ukrainian president Volodymyr Zelenskyy, adding he hopes for victory for his country.

And he is grateful for support shown by the United States.

"I would like them to know that Ukrainians, we really appreciate all the help that the United States gave us," he says.

"It's awesome country over here, but I really want to see my country, too, my relatives," he says.

But Dima is not deterred, as a thread of optimism weaves through his narrative.
 
SUDDENLY IN LIMBO
Three Ukrainian foreign exchange students arrived in North Dakota in August 2021 through the ASSE International Student Exchange Program, says Amanda Seymour, the program coordinator for the Dakotas and Minnesota.
They were all scheduled to return home this summer, but their entire axis shifted in February with the invasion of their country.

With a war in their homeland, the program worked to extend their stay for another year or until they can be safely reunited with their families. One Ukrainian student has returned to her family, who are no longer in Ukraine.
"For the others, we've extended their stay," Seymour says. The other Ukrainian in North Dakota through ASSE is attending Thompson High School.

"There was mixed emotions. They are very aware of what is going on back home. Of course, they want to be with their families, but they are happy that they know they are safe here," Seymour says.

"My heart goes out to all these kids. I could not imagine going through what they're going through, knowing their families are displaced. They're OK here, but I couldn't imagine hearing stories or talking to my family back home and the uncertainty of everything that's happening. It's sad, but I'm happy our organization, the communities and the host families came together around these students. I'm just happy they've had the support and the families are there," she says.
The Ukrainian students are here through an ASSE scholarship program, which is slightly different than a typical exchange program.

"It's a very prestigious scholarship. You have a better chance of getting accepted into Harvard than earning this scholarship, so they've worked really, really hard to get here," Seymour says.

"I got very excited about it when I first learned about this kind of program, but I applied two times. The first time I got into the second round out of three and the next time I got here," Dima says with a smile.

"I have heard America is basically most democratic country, so it was kind of exciting to see how others live and basically I've never gotten very far overseas," he says about his wish to become an exchange student.
 
'If a kid deserves help…'

Beach High School Secondary Principal Taryn Sveet has also started an effort to seek refuge or other humanitarian parole status for Dima's mother to enter the United States to be with her son.

"At this point, we'll do anything to help, because…" Sveet pauses to gather herself through tears. "If a kid ever deserves some help, it would be this one."

"He's very happy that we're trying to find a way to get his mother here. He's very hopeful that we will be able to help. I can't imagine a lady who raised that nice of a kid. She's got to be pretty good, because he is an absolute sweetheart," Sveet says.

"I think that would help him. His father can't leave the country," Sveet says. "I think if we could get his mom here, that would make him feel infinitely better about this whole situation."

Sveet and others are working with Homeland Security to find an attorney willing to take a pro bono case to help Dima's mother.

"Dima has an extremely wonderful attitude about everything. He finds it difficult not to smile sometimes when we're trying to be serious," Sveet says. "He works extremely hard."

In Ukraine, Dima would have been in his final year of high school, so during the school year in Beach, he was taking tests from his Ukrainian school to ensure he would gradate there on schedule, while also completing his junior year at Beach High School, essentially completing two high schools at once.

"This would have been their senior year. They were expecting to go back to Ukraine and start in university," Seymour says. "There's a lot of things that are happening, but I'm glad we're here to help them."

"Other than COVID, we've never had anything quite like this," Seymour adds.

North Dakota host families have agreed to keep their students with them, but some exchange students in other states may need new host families for the extended stay.

Dima is staying with Jill and Tate Schatz in Beach, who have hosted foreign exchange students in the past.

"He very much looks forward to the future," Jill says. "He's just very excited to be able to stay. He is definitely a very good addition to our family."

"My parents and I are infinitely grateful for the help that Jill and Tate are providing for us," Dima adds.

"I am also very grateful to Beach High School and the Beach community as a whole for welcoming me so warmly. It feels like home here. And, especially, I would like to thank the principal of Beach High School, Mrs. Taryn Sveet. She has helped me a lot," Dima shares.

"Our community has been absolutely amazing," Sveet says, pointing to the local Harley Salzman No. 5 American Legion Post that sponsored Dima's participation in a trip to Washington, D.C.

"We talked to him about keeping him long-term, like helping him along his path to stay in the United States permanently," she says.
 
AND MORE MATH
Dima, who hopes to become a doctor, played basketball and golf at Beach High School, and competed on the Science Olympiad and Acalympics teams this past year.

Dima and other students from Beach High School formed a team to compete in the first-ever North Dakota High School State Cybersecurity Tournament (Cyber Madness), where they demonstrated their skills in securing networks and computers by answering questions and solving problems, and he's excited about being able to compete in that again.

"I want to go there next year," he says. "Oh, it's lot of fun, for sure."

"He asked if we had a harder math. I said, 'We can put you in pre-calculus and Dima goes, 'Uh, that's amazing.' That's not normally a comment I get from a kid," Sveet says with a laugh.

"He is very much into everything. There is not much that kid is not willing to try or learn or do," Sveet says.

And he is looking forward to more math classes.

When she heard Dima would be a Beach High School student next year, Sveet said, "Dima, we got you for trig and elementary stats!"

"And he said, 'Yes!'" Sveet says with a laugh.

And smiled, of course.

"He has a good attitude, he's popular with the kids, he's excited to learn," she says. "Everybody is more than ecstatic that we get to keep him for another year."

Luann Dart is a freelance writer and editor who lives in the Elgin area.