North Dakota's largest community recovers after shooting, police officer's death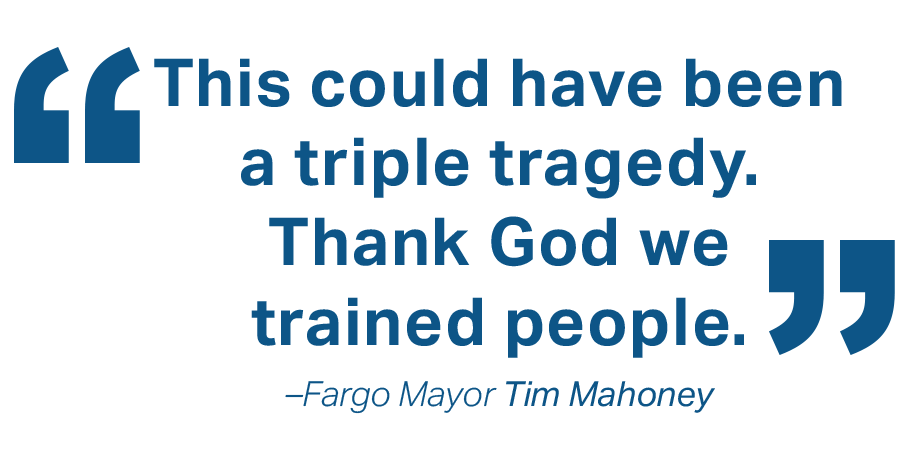 Death and tragedy permeate Tim Mahoney's hardest days on the job as mayor of Fargo.

First, it was the 2014 death of his friend and predecessor, former mayor Dennis Walaker, an undisputed giant in Fargo's history.

Then, it was Fargo police officer Jason Moszer, who died in the line of duty in 2016.

And on July 14, perhaps Fargo's darkest day, when Fargo police officer Jake Wallin was killed upholding his promise to protect and serve. Two other officers and a civilian bystander were shot and critically wounded.

"This one was different than the last one," Mahoney says. "When (Fargo Police Chief Dave) Zibolski called me and said we have three officers down, it was like, 'Holy cow, we have a major event going on in our community.' So, it was a shock, and then it was even more shocking as we got into what (the shooter's) true intent was."
 
INTENDING TO KILL
The July 14 shooter, Mohamad Barakat, likely had a much bigger and deadlier attack in mind, Mahoney says.

Over the past five years, Barakat's internet searches included "kill fast," "explosive ammo," "mass shooting events" and a July 13 search for "area events where there are crowds," which brought up a news article with the headline, "Thousands enjoy first day of Downtown Fargo Street Fair." Both the street fair and Red River Valley Fair – events with large crowds – were taking place the day of the shooting.

Evidence suggests the shooter came upon a traffic crash by "happenstance," parked to watch police and firefighters respond to the scene for several minutes, then aimed a .223-caliber rifle with a binary trigger out his car window and began firing, according to N.D. Attorney General Drew Wrigley. With no time to respond, three officers were shot – Jake Wallin, Andrew Dotas and Tyler Hawes – and fell in rapid succession, before Fargo Police Officer Zach Robinson engaged Barakat in a two-minute shootout, ultimately killing the shooter and eliminating the threat.

Robinson's actions have been wildly heralded as heroic and by-the-training-book perfect.

"What (Robinson) was standing between was not just the horrible events that were unfolding there, but between the horrible events that Mohamad Barakat had envisioned, planned and intended and armed himself for – beyond fully – that day," Wrigley says.

Barakat's car was loaded with guns, a homemade grenade, more than 1,800 rounds of ammunition, three containers of gasoline and two propane tanks with "explosive materials concocted at home, purchased lawfully."

"My visions were, if he had gotten to the street fair, we would have had a huge disaster," Mahoney says. "It would have been multiple casualties before the police could react."
 
SEEING CLEARER, TRAINING BETTER
Among the pictures, memorabilia and acquired treasures in the mayor's office at Fargo City Hall is a stone paperweight engraved with the names of the three police officers who have been killed in the line of duty in service to Fargo – Officer F. Alderman (1882), Officer J. Moszer (2016) and Officer J. Wallin (2023). It's a grim reminder two of those deaths occurred during Mahoney's tenure.

Yet, Moszer's death provided perspective in the "big small town" police department and community of Fargo.

"I think Jason Moszer's death helped us see things more clearly, knowing an officer could get killed in the line of duty, and helped us to see the support the team needs," Mahoney says. "What Jason taught us is how to react to it better, because a lot of times, we'd say, 'Oh, that will never happen here.' 'Those types of things happen in big cities.' 'That happens in Chicago, that doesn't happen in Fargo.'"

Following Moszer's death, the city ramped up its investment in training.

Facing challenges in hiring and recruiting trained officers, the city started its own police academy under former Fargo Police Chief Dave Todd and graduated its first class of officers in 2020.

Wallin and Hawes were recent graduates of the Fargo Police Academy and still undergoing field training at the time of the shooting. Mahoney says the academy attracts a brand of individuals who are called to service, and Wallin, who served in Iraq and Afghanistan with the Minnesota Army National Guard, is the perfect example.

"He had an outstanding resumé and character, and he chose the city of Fargo," Mahoney says. "We're getting remarkable different types of people who are called to serve and really well-trained, well-functioning candidates."

And, training has been one of Zibolski's priorities as police chief. Each Wednesday, all Fargo officers receive training, from use of force to how to handle diversity. The investment in training, Mahoney says, paid off on July 14.

"I felt my officers were much better trained, and they did react as I would expect, immediately," Mahoney says. "Zach Robinson was fantastic."

Robinson's body cam footage shows him investigating the crash site nearly 75 feet away from where Barakat began shooting, before he radioed in calls of "shots fired," then instructed dispatch to "send everybody." As Robinson moved toward Barakat, one of his 30 fired rounds hit and disabled the gunman's rifle.

Robinson, a seven-year veteran of the force and police academy training officer, ordered the shooter to put the gun down 16 times during the two-minute exchange.

"If you're going to have a well-run department, you have to pay for it, you have to train them," Mahoney says. "Training, to me, is critical."

Without the city's investment in good leadership, training, salaries and equipment – like police body cameras at a cost of $3.5 million – and the quick actions of first responders – including the Fargo firefighters on scene who administered life-saving care to Dotas and Hawes – Mahoney believes July 14 could have been much worse.

"This could have been a triple tragedy. Thank God we trained people," Mahoney says.
 
NOT A SLEEPY TOWN
Fargo was a town of 60,000 when Mahoney moved there in 1980. Today, 130,000 call Fargo home.

"We're not the sleepy town of Fargo. We are a major metropolitan area," Mahoney says. "We're also becoming a mosaic community, so you get the beauty and richness of a mixed cultural community."

Fargo has experienced 20% growth in the last decade and increased diversity, from historically about 5% diversity to 20% today, Mahoney says.

"Twenty to 30% of the population in this community is all new people, whether they're from a Class B town in North Dakota or Chicago or somewhere else," he says.

Despite the changes of the past several decades, one constant pulses through Fargo, as mighty as the Red River forming the city's eastern edge. You could call it Fargo's core spirit – and it's not sleepy. It's resilient.

Demonstrated by law enforcement returning to the streets to protect and serve.

Shown through the love and support offered by the public in the aftermath of July 14.

And illustrated by Fargo's 2009 flood fight.

When Fargo was deep into its 2009 flood fight, Mahoney was deputy mayor. A reporter from New York had been in town for days covering the story. The Red River was expected to crest on a Saturday, and the preceding Thursday, CBS aired a spot showing Fargo flooding.

That Friday night, the reporter told Mahoney the news crew was leaving.

"We're cresting tomorrow," Mahoney told him, shocked.

"There's no way the city of Fargo will ever lose this flood fight," the reporter replied. "You people are unbelievable. I've seen you sandbag when it's snowing and sandbag when it's raining. There's no way you'll lose this fight."

Even on his hardest days as mayor, a spirit of resilience permeates through Fargo.

"It's the tragedies that are really tough, but it's also the ability to go through those tragedies and learn from them," Mahoney says. "North Dakota is known for being rough and tough. We can get through anything."
___
Cally Peterson is editor of North Dakota Living. She can be reached at cpeterson@ndarec.com.