Food pantry garden is cooperative effort
A garden in Verendrye Electric Cooperative's service territory perfectly portrays the parable about the mustard seed: Sow a single seed and it can grow into a bountiful harvest.

A single idea planted into a single garden eventually grew into The Lord's Cupboard Food Pantry Garden, providing thousands of pounds of fresh produce to those in need in Ward County.

The idea originated with Duane Brekke, who utilized the land on his grandfather's farmstead near Simcoe to build six elevated garden beds, each 200 feet long and 5 feet wide. Brekke built the first two garden beds in 2018, using repurposed materials, including beams from a former electrical substation.

"We've been blessed, my wife and I," he says, so he wanted to share the bounty in some way.

"I just enjoy the people. If we can't do good for others, then what's life about?" Brekke says.

All of the garden's produce is grown for the Lord's Cupboard Food Pantry in Minot, with volunteers planting, weeding, watering and harvesting the bounty.

"It's so easy to maintain and the volunteers can go out there and have a cup of coffee in one hand and walk along and pull the weeds and visit. It's so much fun to see them enjoy themselves, while they're doing good for others and it just makes your heart happy," Brekke says.

Twenty-eight different vegetables were planted this year, Brekke says, such as cucumbers, carrots, beets, lettuce, peas, beans, zucchini, peppers, cabbage and others. And volunteers transplanted 240 tomato plants donated by nurseries in the area into the garden.

About eight volunteers visit the garden three times a week to harvest, and the fresh produce is then distributed through the food pantry the next day.

In one week, the garden produces up to 1,400 pounds of produce – all donated to the food pantry, which is a nonprofit ecumenical organization.

"People from all churches, and those who are unchurched, find it a common-ground place where they can feel good about helping out one another," says the Rev. Gerald Roise. All denominations working together "is a beautiful thing," he says.

The volunteer-based food pantry serves 400 families a week, and is open five days a week. On Thursdays, the food pantry does home deliveries through DoorDash, an online food delivery platform, for those who do not have transportation, which is a new feature this year. The food pantry's hours are 11 a.m. to 2 p.m. Monday, Wednesday and Friday and 5:30 p.m. to 7 p.m. on Tuesday, with deliveries to about 50 people on Thursdays. The pantry is located at 1725 Burdick Expressway West in Minot.

"We don't supply all that families need. We only supplement what they need, giving according to the number in their family," Roise says. The food pantry only serves residents of Ward County and each family can only use the food pantry once a week.

"To have the garden available changes the game for all of us, because it gives us so much joy," Roise says. "It is our contemplative time to go out there and work together, planting and harvesting this food. The clients at the food pantry are pleased at the ability to have these fresh vegetables, because it's something they usually can't afford to buy."

"It's a small little miracle that all this has come about," Roise says.

While the Great Plains Food Bank is the major supplier of food for the pantry, the garden supplements the availability of produce.

"Food has gotten very expensive. Our food has tripled in cost or more," Roise says. "It's just become very difficult to supply a quantity of food."

Both the garden and the food pantry can always use more volunteers, Roise says.

Volunteers also include U.S. Air Force Base personnel, who assist with unloading the delivery truck at the food pantry each month, and youth groups assist with sorting food drives.

"There are so many groups who extend that volunteer base out," Roise says.

"We need to thank the business community in the Minot area for their help," Roise says. Many give food or dollars to the pantry. Verendrye Electric Cooperative has also been a major contributor of funds. Monetary donations may be sent to the food pantry at P.O. Box 716, Minot, ND 58701.
 
Tying in the tech
Two wells water the garden, using an irrigation system that can be controlled remotely, thanks to the local broadband cooperative, SRT Communications.

"Remotely, I can place the water from anywhere in the world that has Wi-Fi. It's an awesome setup that has really taken the drudgery out of our watering system," Roise says. SRT donated the Wi-Fi connection to make it possible.

SRT's fiber network serves the Brekke farm, so the cooperative donated roughly $1,200 in equipment and labor to extend the Wi-Fi from the farmhouse to the garden, using a wireless point-to-point setup.

The new Wi-Fi-enabled system allows volunteers to monitor and water the garden remotely at any time, saving travel expenses, resources and countless hours of labor.

The technology also ensures precise watering for the healthiest vegetables and smartest use of resources. A volunteer can view the garden beds from a mobile device and see exactly how much water each is getting, which ones need more and which ones need less. He can turn off the watering on one bed and start it on another – or set everything on a timer for 24-hour-a-day watering. He is able to ensure everything is operating properly, and respond to any problems immediately. And he can do all of this from his phone miles from the farm. Garden work that used to take hours now takes minutes.

"We were very, very appreciative of SRT jumping on board," Roise says.

"SRT has always been committed to doing the best for the areas that we serve. We're a cooperative. We are owned by our members, so it's important to make sure that our members' communities are thriving. To be able to support a garden that is used to feed people in our local community is just such a win and aligns with the mission," says Cassidy Hjelmstad, SRT Communications CEO/general manager.

The volunteers may be passionate, but caring for a garden can be hard labor, she says.

"So when they asked about having a way to use technology to solve their volunteer fatigue, absolutely we were thrilled to be able to jump on board with this project and knew that our board, as well as our staff, would easily be able to come up with a way to support this," Hjelmstad says.

"We are a technology provider and known as the internet provider, but we were able to use internet to help find solutions so these people can continue to support the garden," she says. "You never want to see volunteer fatigue set in, because that's when you start to lose people. That can absolutely be a reality, even as passionate as they are about this mission. So, it was a win-win for us to be able to say, 'Let's figure out a way to help them with their technology. Get them what they need.' And make sure that this garden continues to supply the thousands of pounds of food that they're able to do for The Lord's Cupboard."

The Lord's Cupboard Food Pantry is one of the largest food pantries in the state with the number of people served, she said.

"So, having thousands of pounds of food, fresh vegetables, to be provided to these families has been critical," Hjelmstad says.

"It's an innovative way to help shed fresh light on how high-speed internet helps our communities thrive," she says. "It's a neat way to tie technology into something that is so traditional, and yet so critical."

Luann Dart is a freelance writer and editor who lives in the Elgin area.
Sharing the bounty
Jeanne Brekke shares two recipes that use plenty of vegetables from the family garden. Her husband, Duane Brekke, originated The Lord's Cupboard Food Pantry Garden, located on his grandfather's farmstead near Simcoe. All of the garden's produce is donated to the food pantry.

"I'm proud of my husband and what he has done with it," Jeanne said.

The garden is located in Verendrye Electric Cooperative's service territory, and Duane's father, Sam Brekke, was the 113th member of the cooperative. Duane recalls being 8 years old and seeing the light turned on in his bedroom for the first time, as electricity first arrived to the family farmstead.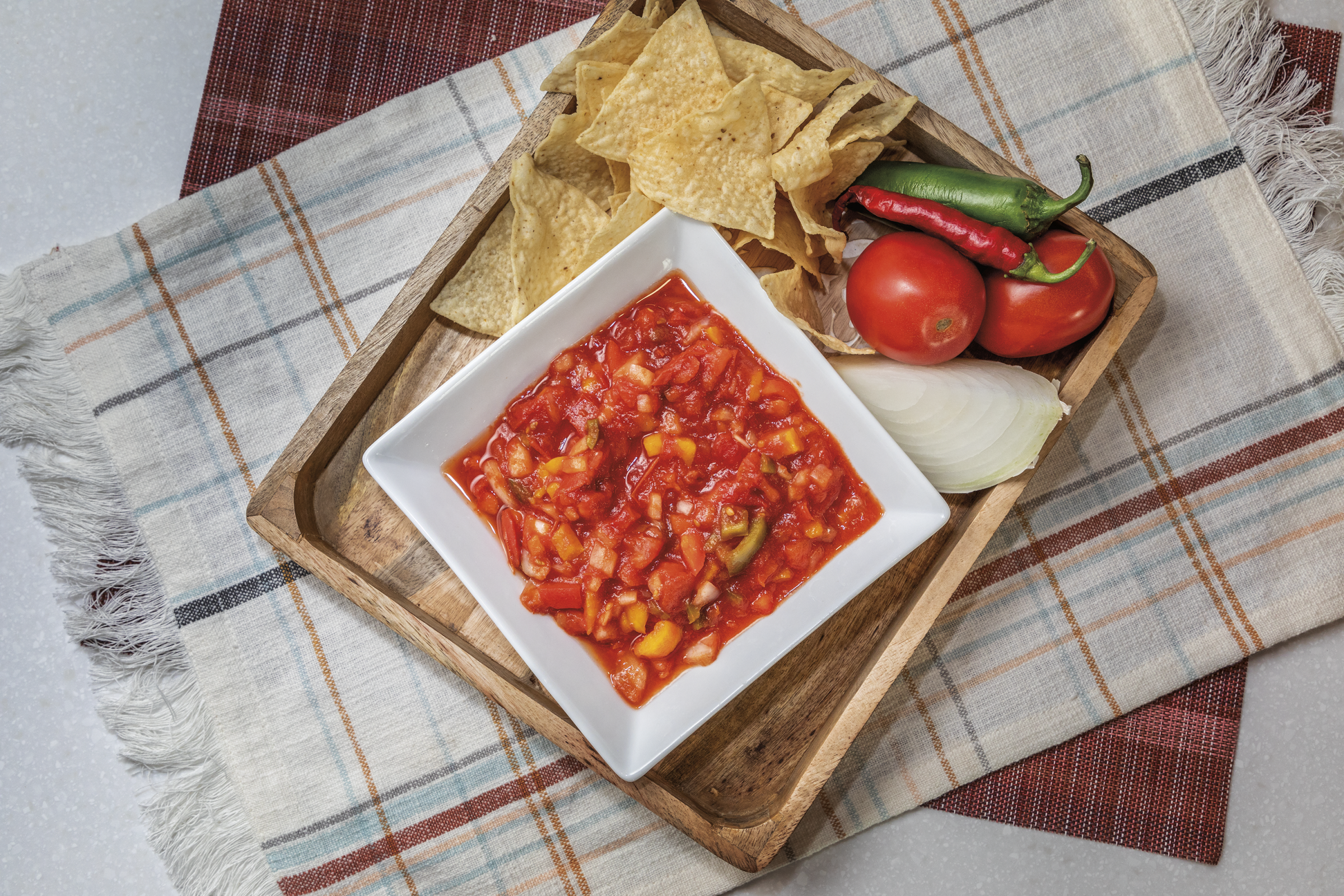 Instructions
13-14    medium tomatoes, peeled, seeded and chopped
       1    tsp. salt
       4    tsp. white vinegar
       2    6-oz. cans tomato paste
    2/3    cup hot sauce
       2    large onions, chopped
       3    peppers, red, yellow, green, seeded and chopped
       3    banana peppers, seeded and chopped
    1-2    hot peppers, seeded and chopped (optional)

Combine all ingredients into 6-quart crockpot. Cook on high for 2 hours or low for 4 hours. Enjoy hot or cold!
Source
Recipe by Jeanne Brekke
Verendrye Electric Cooperative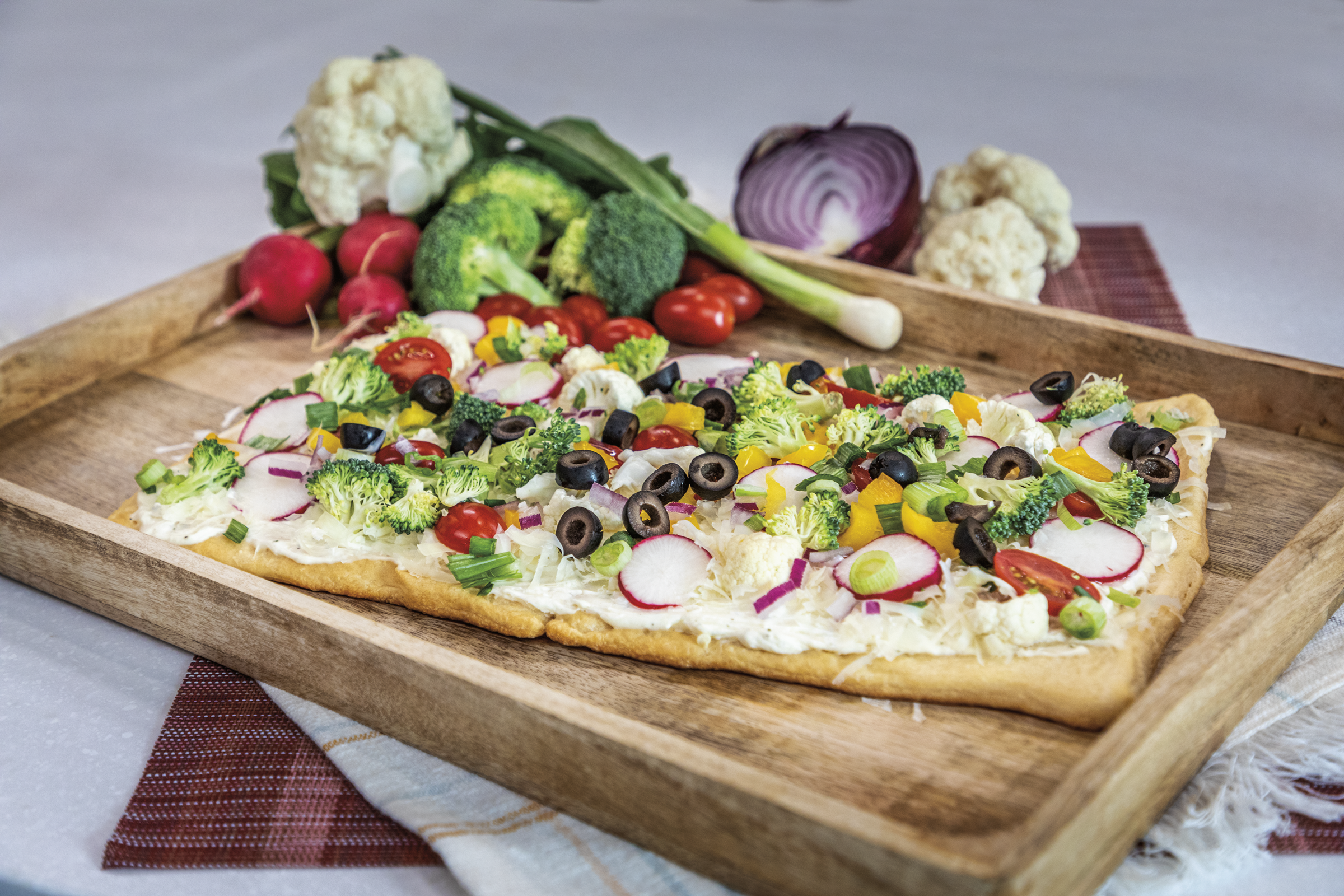 Instructions
    2    packages refrigerated crescent rolls
    2    8-oz. packages cream cheese, room temperature
    1    package dry ranch dressing
   ¾    cup mayonnaise
 4-6    cups raw vegetables, chopped
          (Photographed with broccoli, cauliflower, red onion, green onion, radish and cherry tomatoes.)
    3    cups white cheddar cheese, grated
    1    cup black olives

Press crescent rolls on cookie sheet to form a crust. Make sure to pinch precut edges together. Bake as directed, set aside to cool. Meanwhile, beat cream cheese, mayonnaise and ranch dressing until smooth. Spread an even layer over cooled crust. Arrange veggies across crust, top with cheese and black olives. Enjoy any extra ranch spread with veggies!
Source
Recipe by Jeanne Brekke
Verendrye Electric Cooperative