'Keeping our culture alive'
The MHA Nation Interpretive Center and a resilient river people
On the banks of the river that has sustained the Mandan, Hidatsa and Arikara (MHA) people for generations, the MHA Nation Interpretive Center stands. Contained within its walls are the stories, language, heritage and culture of these peaceful, resilient river people. It is their story – told by their people.

"We wanted to be able to make sure that our culture was alive, and that we continue studying and keeping our culture alive," says Delphine Baker, MHA Nation Interpretive Center director. "And this is us telling our story – it's not somebody who came in and studied us."
 
A DREAM REALIZED
The MHA Nation Interpretive Center opened May 19, 2021, but has been a dream of the Three Affiliated Tribes for many years. In 2005, tribal members Scott Eagle and Denby Deegan worked on initial plans for the facility. But the money wasn't there, and plans were paused.

Then, in 2012, Baker was brought on. Through her leadership and the work of a steering committee, the initial plans were resurrected – and expanded. Both the facility size and concept were enlarged, meeting rooms were added for an income source and sustainability was identified as a key aspect of the project.

The hallmark of the interpretive center is the exhibit space, which proudly shares and preserves the history and culture of the Mandan, Hidatsa and Arikara tribes as they live it.

"It gives our people a place to come and feel good about themselves, because many times, they're being made not to feel good about themselves. Here, they can relax, they can say, 'This is our culture; it helps me feel good about who I am,'" Baker says.

The exhibit begins at the Missouri River, which plays a huge part in the survival and daily life of the Three Affiliated Tribes. A model of the river carves a path through the exhibit's floor, guiding visitors throughout the displays.

While the three tribes work as one unit today, each distinct tribe – with its unique language, traditions and stories – is honored and celebrated in the interpretive center, through a color-coding system in its design. The introduction to the exhibit welcomes guests in all three languages – Mandan, Hidatsa and Arikara.

"As you follow the Missouri River today, you will hear our songs and languages. You will celebrate our achievements. As with storytelling traditions, each person contributes a part, sharing a wealth of knowledge that strengthens our communities," an introductory message in the exhibit states.

An interactive map is another part of the introduction, which shows how the tribes' land base changed over time, from 28 million acres to less than 1 million today.

"In the introduction area, we really wanted people to know our land base, which has been researched back to the Ice Age, and show we are on the original lands of our people," Baker says. "It's important, because we need to educate the public on what our tribe has been through, what we've survived. These are the things that we've come across and we've made it. We are making it."
In addition to the exhibit, the interpretive center has a recording studio, where elders and tribal members can share stories and preserve their language, and an archive room to store artifacts. Each Monday, a three-hour Hidatsa language class is held at the center, with plans to add Arikara and Mandan language classes soon.

A gift shop with local artisan goods and a coffeeshop at the entrance welcome visitors and locals alike. The facility is also equipped with an event space and meeting rooms, and an industrial kitchen offers catering services featuring traditional foods. The center also maintains a traditional garden, growing corn, beans and squash from old seeds.

Gardens, nourished by the Missouri River bottomlands and tribal women, are an important part of the tribes' survival, which is a storyline told throughout the center. The exhibit highlights gardening and the role of women in these matriarchal tribal societies.

In the earthlodge days, Baker explains, women built and owned the earthlodges and maintained their own gardens, while the men were the hunters and protectors. Each day, the oldest female in the earthlodge, together with the younger girls, would go out and watch the garden.

"They would sit there, shooing the horses or animals, on a bench made of willow or other branches, and they would sing to the gardens. How beautiful is that?" Baker says. "And they never fought over the land and their gardens, because they always thought that would cause bad luck. It really was a beautiful, peaceful society when they lived in those earthlodge days."
 
SUSTAINABILITY
As their people have sustained through history by the land, water and environment, sustainability is another storyline of the MHA Nation Interpretive Center. The facility has a net-zero policy and green-friendly approach to its design and functionality, complete with a geothermal heating system, Environmental Protection Agency-approved clear water sewer system and a 360-kilowatt solar system to power its electricity needs.

The center worked with a contractor and its local electric cooperative, McKenzie Electric Cooperative, to complete the solar generation system. This was the first large solar project in the cooperative's service territory, says Matt Hanson, CEO of McKenzie Electric Cooperative, and required the co-op to revisit its interconnection policy, for members interested in grid-connected distributed generation systems.

"We had a relatively simple process in place when members added generators or smaller forms of generation, but nothing for projects of this magnitude," Hanson says. "We had lots of conversations at the board table about the safety aspects, ratemaking, compensation and metering, so that it's fair and equitable to all our members."

An interconnection agreement between McKenzie Electric and the interpretive center is in place, which protects both the cooperative and the member. The agreement ensures the member's system includes the safety and power components necessary to keep the member, co-op crews and the community safe. If a storm hits and a power outage occurs, for example, the center's solar system must be able to properly disconnect from the electric grid to ensure lineworkers are not injured or electrocuted while restoring power. If the system were not shut off, the alternative energy system could backfeed onto the grid, and thus, put electrical workers in grave danger.

Currently, the MHA Nation Interpretive Center's solar installation is generating more power than it uses, so the excess electricity is fed back onto the grid and used elsewhere to power McKenzie Electric's load. The center receives compensation for the excess power at a market rate, which is set through the co-op's power supplier, Basin Electric Power Cooperative.

This excess power also positions the interpretive center for growth and future development, while maintaining its self-sustainability goals.

"Being able to self-provide their energy needs really goes into the larger sustainability vision of the interpretive center, to build a totally sustainable profile," Hanson says. "Every member has their own vision or level of sustainability. For us at McKenzie, we truly embrace treating everybody the same. It's that cooperative mindset: We work hard for our members, who have distinct desires and interests, and if they've got an energy objective, we try to do what we can to help them."
 
LIVING STORYLINES
Beyond the energy piece, Hanson is thrilled to have the MHA Nation Interpretive Center as a local landmark in McKenzie Electric's service territory.

"I was thoroughly impressed when I walked through. It made me feel like I was in a larger city museum, with its depth of information. I really appreciated their journey to become the Three Affiliated Tribes, the full perspective of their tribal history and tribal legacy, from the language classes to the farm-to-table approach of growing traditional foods," he says. "There's a lot of great storylines throughout the entire facility."

They are the living storylines of a resilient river people – Baker's people, told by her people. It's where she comes from, who she is and why she's dedicated to preserving it for those who come after her.
"We want our children to learn. We want our kids to know who they are and where they come from – and this will help them," she says. "Our culture is still alive, and we're practicing it here every day."

Cally Peterson is editor of North Dakota Living. She can be reached at cpeterson@ndarec.com.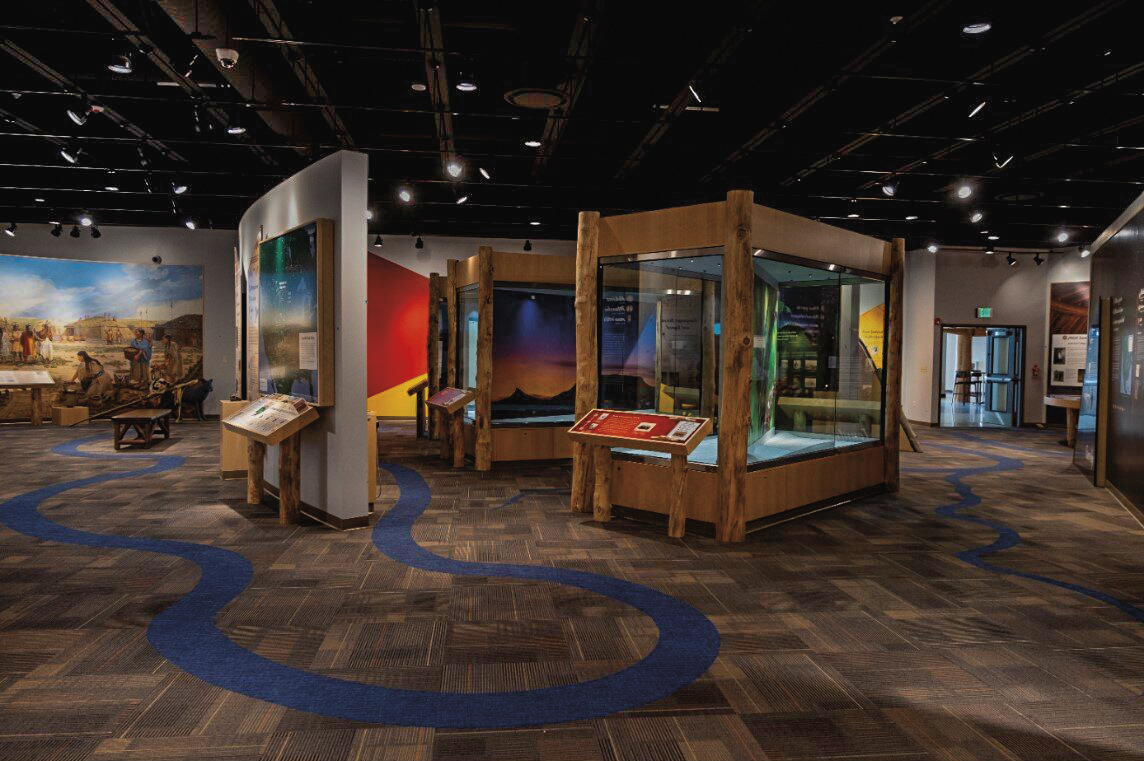 VISIT THE INTERPRETIVE CENTER!
» Monday through Friday, 9 a.m. to 4:30 p.m.
» 9386 Lake Sakakawea Rd., New Town
» 701-627-2238
» The exhibit is free to enrolled members; $10 for non-enrolled adults and $5 for non-enrolled kids.