A KID AGAIN
If walking through her front door and into her home is any indication of what it's like to walk into her lunchroom, you'll want to be a kid again.
Joanne Geinert's smile lights up a room. She is warm and kind – her spirit, infectious. When she speaks and tells stories, she sounds like home.

For the past 10 years, the former daycare provider and mother of five has been the head cook for Edgeley Public Schools. It's a job she takes seriously, and it's so much more than just preparing meals.

Joanne recalls a school conference she attended, where the speaker touched on the impact daily experiences and interactions have on students.

"Some kids could have already had 50 negative experiences throughout their day, at home or in class, by the time they get to the lunchroom. It's really important when they come through the line, that we're that positive experience in the day," Joanne says with conviction.

When she took over as head cook, Joanne admits that she was pretty nervous about feeding so many mouths. Cooking in large quantities wasn't something she did every day.
"I was so scared. I lost 10 pounds in the first few weeks!" she laughs.
 
A CREATIVE MIND
Joanne grew up on a farm in Golva, in western North Dakota, where she learned to work. Blessed with a creative mind, Joanne had a passion for theater arts. She met her husband, Tim, while attending Jamestown College and performing with the "New Prairie Players" there.

"He became my lead man," she says with a smile.

This November, the Geinerts will celebrate 38 years of marriage that have blessed them with five great children – Marie, Joseph, Rachel, Clare and Joshua. It appears the Geinert children, too, have the creative gene. Marie's handmade place settings dress the kitchen table, Joshua's wood block cutting instrument slices cheese with precision, and Clare's handiwork holds her mother's recipes in the family cookbook, "The One Cookbook to Rule Them All."

Joanne's creativity lends itself to cooking and her job as a school cook. She plans Edgeley's school meals around seasonal produce and commodities from the United States Department of Agriculture (USDA). One of the students' favorite meals is "Chicken à la King," which uses diced chicken from commodities and a variety of sautéed veggies to mix into a gravy that is poured over biscuits.

Edgeley's food service program also purchases local products when possible, like watermelon from the nearby Hutterite colony. Joanne uses produce from the school's FFA garden and frequently puts calls out to area gardeners who, like the Geinerts, donate their excess produce.

"The kids' favorite meal is knephla soup, which I try to make about once a month. I use potatoes from our garden, because I think they're the best," Joanne says.

Geinert Gardens started out as an FFA project in 2013 by Joanne's youngest son, Joshua. It has grown into a family business, where they sell at farmers markets and for community supported agriculture (CSA).

Joanne also involves students in the school's meal planning, putting her heart for kids on full display. Starting after the first of the year, high school seniors get to choose a lunch meal.
"That makes them feel good," she says.

A DAY AT JOANNE'S
That must be one of Joanne's greatest strengths – making people feel good. On this day, Joanne invited the North Dakota Living staff to her family's farm outside of Nortonville, which is served by Dakota Valley Electric Cooperative. It's the same farm her husband and his eight siblings grew up on, the same kitchen her 95-year-old mother-in-law, Helen, used to feed countless bellies.
"Don't take your shoes off – this is a farmhouse!" she laughs.

After a friendly visit, Joanne provides a tour of the gardens, where we eat fresh-picked asparagus, pluck basil and mint for the featured recipes, and load our pockets with cucumbers and peppers to take home.

Once inside, Joanne assigns tasks, and together, we prepare the noon meal. She is a wise teacher.

After some photos, the time has come to say grace. Joanne calls in Peter, who is boarding with the Geinerts while he re-sides the old farmhouse, for lunch. We eat and laugh.

Peter retreats back to his duties, while the rest of us handle clean-up.

Joanne sends us off with big hugs, homemade jams and sauerkraut, and good produce.

We leave feeling like kids again.
Scratch cooking is one of the gifts Joanne likes to give students most. And so, she has incorporated many of her own family recipes into the Edgeley school menu, including soups. Joanne often drums up vats of homemade chicken tortilla, knephla, Italian meatball and tomato basil soups, which are very popular with the students. Her recipe for red pepper and tomato soup is a favorite at the school and a perfect way to use up those garden-grown tomatoes!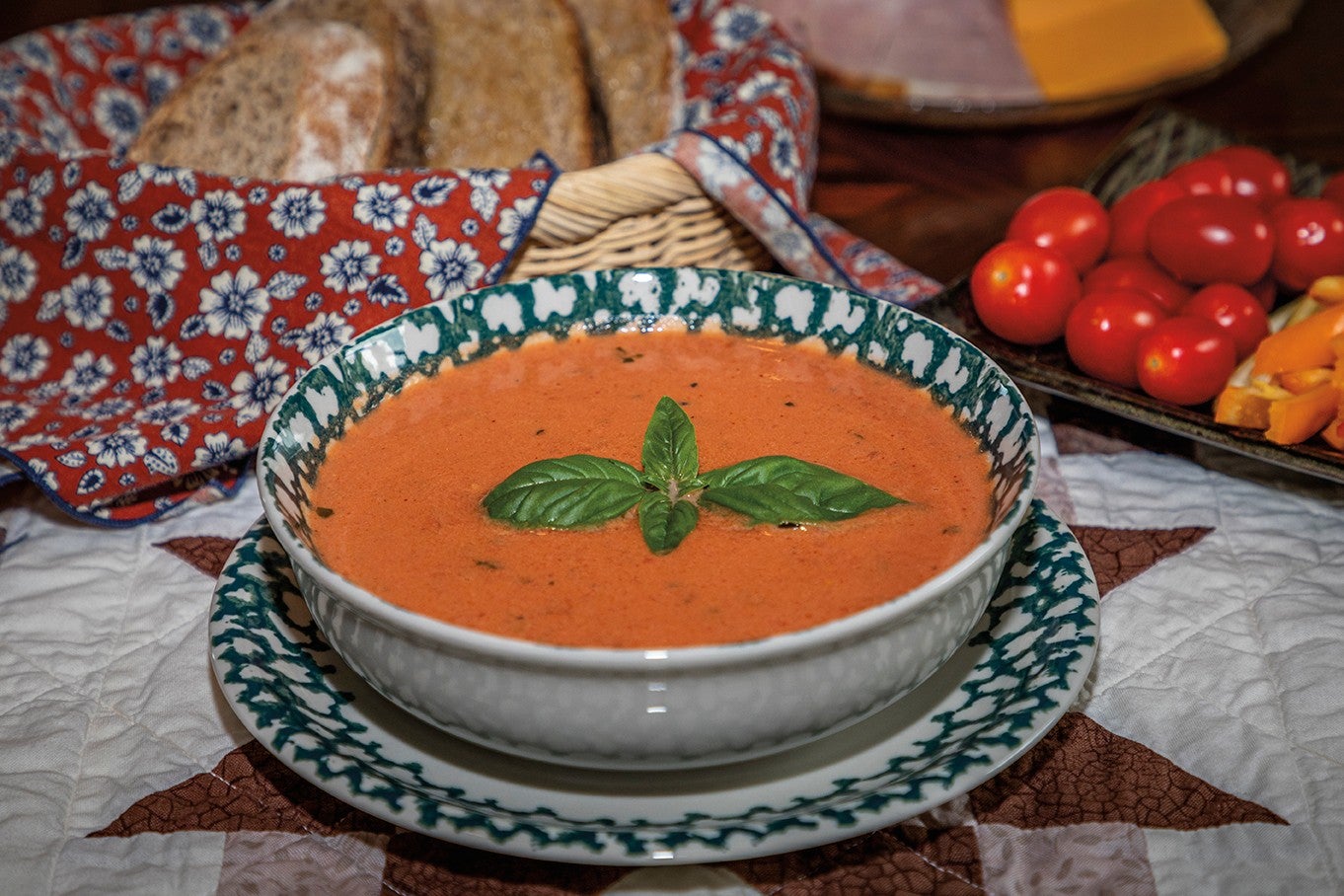 Instructions
1 (12 oz.) jar roasted red peppers, undrained
    1 (14.5 oz.) can diced tomatoes
    1 T. olive oil
    1 (28 oz.) can tomato puree
    1 cup chicken broth
    1 T. sugar
    ½ tsp. salt
    ¼ tsp. pepper
Fresh basil, to taste
1 cup heavy cream
Puree peppers and diced tomatoes in a blender until smooth. Heat oil in a large soup pot over medium heat. Add pureed mixture, tomato puree, chicken broth, sugar, salt, pepper and basil. Heat to simmering. Remove from heat and whisk in heavy cream. Return to stove and heat through.
JOANNE'S NOTES: For added spice, sprinkle in cumin and cayenne pepper. A can of evaporated milk can be substituted if there's no cream on hand. Feel free to use those delicious fresh tomatoes from your garden, too!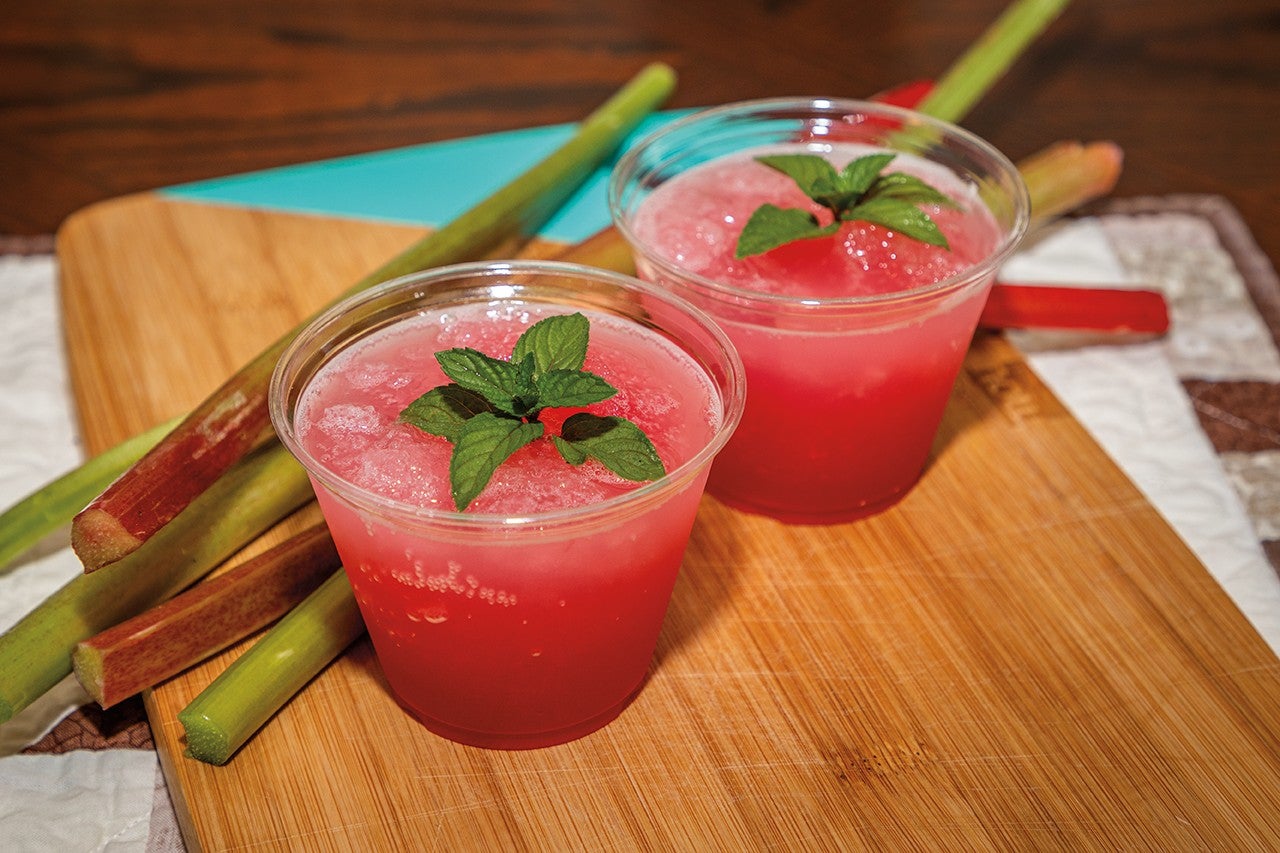 Instructions
Rhubarb is in abundant supply at Geinert Gardens. Thousands of pounds of rhubarb have been delivered to area wineries already this year by Joanne and her crew. One of her family's favorite recipes is rhubarb slush, a delightful, refreshing drink that is pretty in pink to boot! In the summer, Edgeley's FFA members pick rhubarb that the Geinerts donate. The students clean and freeze it until spring, when Joanne thaws it out to make her famous rhubarb slush for thirsty prom-goers.
"I make four pails of it, and it's gone in no time," Joanne says.
    12    cups rhubarb
    9    cups water
    2    cups sugar
    1    (6 oz.) can frozen lemonade
    1    (3 oz.) package raspberry gelatin

Boil rhubarb and water for 30 minutes and drain through a sieve, discarding pulp. Reheat (important to dissolve gelatin) and add sugar, lemonade and gelatin. Stir until dissolved and freeze. To serve, put 2/3 cup frozen slush in a glass and top with 1/3 cup Fresca or 7-Up.
---
JOANNE'S NOTES: This is our family's favorite summertime party punch! Sometimes, I make one pail for kids and another with a pint of apricot brandy for adults.
Cally Peterson is editor of North Dakota Living. She can be reached at cpeterson@ndarec.com.