NOVEMBER 2020: RECIPE ROUNDUP
AGT Foods adding value in North Dakota
Grocery store runs may not be a fun errand for some. But that's not the case for Eric Bartsch.

As a 20-year veteran of the ag industry, Bartsch has seen grocery store shelves change during his career. Seeing that diversification of food products firsthand is a motivator.
"What drives me is when I can go to the store and see all the products that our ingredients are in, and know that I, or us, as a company, have played a role in establishing that product," Bartsch says.

Bartsch, who grew up on a farm in Velva, was hired in 2007 as AGT Foods' first employee in the United States. It was the same year the Regina, Saskatchewan, Canada, company went public, just four years after its president and CEO started it in his basement, with a vision of being an origin-based processor of pulse crops. The job was a good fit for Bartsch, who was executive director of the Northern Pulse Growers Association at the time and a pulse advocate.

Pulses are legumes that grow for one year and are harvested for the dry grain or seed inside the pod. The term "pulse" is derived from a Latin word meaning "thick soup." North Dakota produces three major pulse crops: dry peas, lentils and chickpeas. According to NDSU Extension's "Pulse Crop Production Field Guide for North Dakota," pulse growers in North Dakota continue to be the top producers of dry peas in the United States, with 365,000 acres of crop harvested in 2018. North Dakota also ranks second behind Montana in lentil production and fourth in U.S. chickpea production.

Under Bartsch's leadership, AGT Foods grew its footprint in the United States, first purchasing a processing facility in Williston. A Minot processing and milling facility, served by Verendrye Electric Cooperative, was added later and allowed for the development of its food-ingredient division.

"Really, overnight, it became a global company, with over $1 billion of sales annually and is one of the largest pulse companies in the world," he says.

With over 40 facilities in pulse-growing regions worldwide, including in Canada, Turkey, Australia, China, South Africa and here in North Dakota, AGT Foods is also providing local jobs and a local market for pulse producers.

"It's definitely a big boon to area farmers, as well as to the community of Minot," says fourth-generation farmer Paul Thomas, of rural Velva, and pulse producer. "There's many jobs that are created by having that processing plant there that's adding value to the raw product that we're growing."
 

Thomas and his wife, Karen, run their family farm with the help of their two sons, Jonathan and Michael, who are both students majoring in agriculture at North Dakota State University. In a typical year, their 5,000-acre operation includes about 600 to 800 acres of yellow peas. Paul estimates that about three-fourths of their pea crop is delivered to AGT Foods' Minot location, a 35-mile drive from their farm, either through next-year contracts or current-year cash sales.

"The first year I grew peas was 1998," Paul recalls. "We were looking for alternatives to wheat and some of the more traditional crops in the area, like barley, sunflowers and flax. We were looking for a crop that would add additional value to our crop rotation."

In 2000, Paul actually hired Bartsch straight out of college to run the Northern Pulse Growers Association. At that time, there were only about 50,000 to 60,000 pulse acres in west and north central North Dakota and Montana, where pulse crops are traditionally grown in the region, Bartsch says. In 2010, the industry started to transition.

"When I started in this industry, it was all dependent on export markets," Bartsch says. "The acreage started to grow, and the industry started to develop. By 2010, we started seeing the transition and saw a huge opportunity with the domestic market. There was an opportunity to change course here, with the domestic market seeing pulses as a health crop. That's when we invested several millions of dollars into this plant in Minot, with the vision of growing this market."

AGT Foods identified a new industry trend, with consumers calling for higher nutritional value ingredients in food. Pulses offered high protein and low-glycemic food ingredients. Today, Bartsch and his colleagues at AGT Foods go all over the world, promoting pulses as a healthful food ingredient and pitching ideas to companies about ways to introduce pulses to their foods.

"The goal is to enhance foods without impacting flavor – it still has to taste good," Bartsch says. "We're at the tip of the iceberg. For many years, the most we ever did to the pea was split it. Not as much technology was applied to pulses like it is today. We're constantly doing nutritional research and a wide array of research on pulses, understanding it further."

When Bartsch sees a product on the shelves that includes North Dakota pulses, he sees the evolution of the industry and AGT Foods, and years of work and research.

"A lot of those products, we've pitched those ideas. Then companies have taken those and adopted them and put them on their shelf," he says.
VALUE IN PULSES
Paul sees the value in pulses, too, for both the producer and the local community.

"One of the unique things about pulse crops is that typically they're bought by a processor rather than a grain merchandiser or handler, so when that processor buys that product, they're typically adding more value to it by cleaning it and bagging it, or fractionating it, or doing some extra value added, so the extra jobs and economic activity from that is really good," he says. "From a producer standpoint, if we didn't have companies like AGT in our community, the transportation costs of getting yellow peas to a market would make it not profitable, it would be cost-prohibitive, so it adds value to the producers and the community."

Both Paul and Bartsch maintain a positive pulse industry outlook. Paul notes that the export market will need to rejuvenate and should rebound as the industry works through some surpluses and trade issues. He also sees the potential for slow and steady growth in the domestic market, through current and new pulse uses, like AGT Foods' introduction of Veggipasta™, a premium pasta made from 100 percent dry peas, designed to replicate the taste and texture of traditional wheat pastas, with the health benefits of veggies.

"It's been exciting to see our team grow. Several people have been here from the beginning, too, and many are North Dakota-raised," Bartsch says of AGT Foods. "It's been exciting to grow, but it's more exciting to see what's in store for the future, with plans of continued growth and expansion and more research and development."

One thing, surely, will never get old for Bartsch: walking through the grocery store and hearing, "Is your stuff in that, too, Dad?"
HUMMUS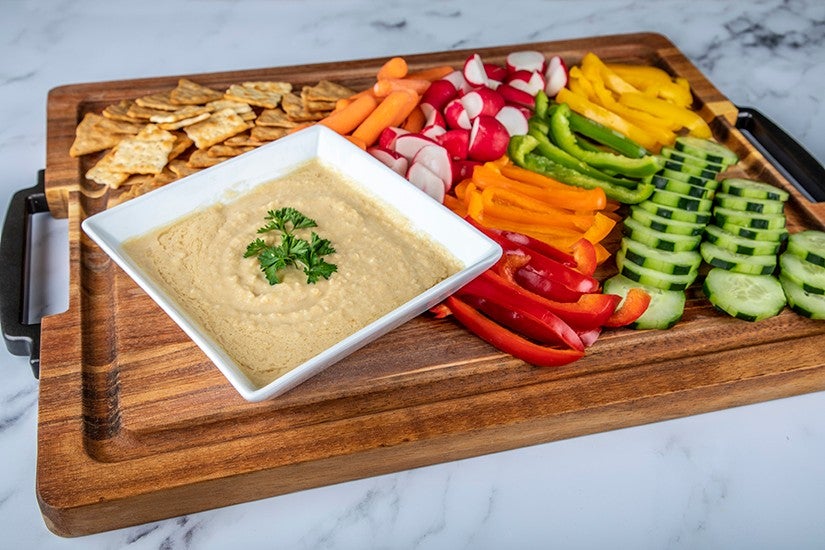 8    oz. can chickpeas (garbanzo beans)
    3-5    T. lemon juice, to taste
    1½    T. tahini
    1-2    cloves garlic, crushed
    ½    tsp. salt
    1-3    T. olive oil
    ¼    cup water
        Pita chips and assorted veggies, for serving

Wash and drain canned chickpeas. Combine chickpeas, lemon juice, tahini, garlic and salt in blender or food processor. Add ¼ cup of water.* Blend for 3-5 minutes on low until thoroughly mixed and smooth.

Place in serving bowl and create a shallow well in the center of the hummus. Add a small amount (1-3 T.) of olive oil in the well. Garnish with parsley. Serve with fresh or oven-crisped pita and veggies of choice for dipping.

*Reduce or add water to develop desired consistency. More chickpeas can be added if hummus is too loose.

Recipe by AGT Foods
Verendrye Electric Cooperative member
 
AGT THREE-CHEESE ROTINI PEA PASTA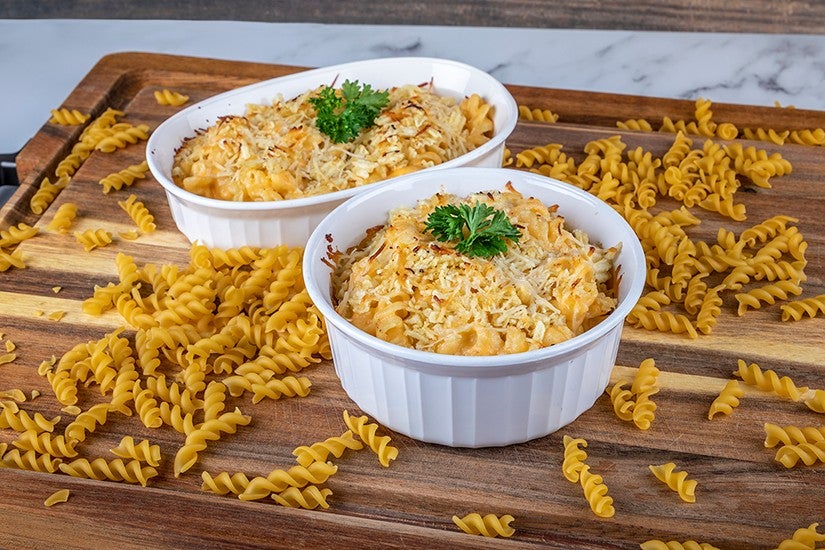 ½    box AGT rotini 100% peas Veggipasta™,* or ½ box rotini pasta

    1    T. olive or canola oil
    ¼    cup butter
    1    tsp. chopped garlic
    ½    cup milk
    ½    cup (4 oz.) cream cheese
    ½    cup parmesan cheese, shredded or grated
    1    cup sharp cheddar cheese, shredded
    ½    cup crumbled potato chips
        Salt and pepper, to taste

Place large pot on medium-high heat. Add 3 quarts water and 1 tsp. salt and bring to boil. Add pasta and cook for approximately 12 minutes, or until al dente or desired tenderness. Drain pasta. Drizzle and gently fold 1 T. olive or canola oil into pasta in strainer. Do not rinse.

Return pan to stove over medium heat. Add ¼ cup butter. Once butter is melted, add 1 tsp. chopped garlic and sauté for 1-2 minutes. Add ½ cup milk and bring to a slow boil. Add ½ cup cream cheese, stirring until blended with no lumps. Reduce heat to medium and add ½ cup parmesan and ½ cup sharp cheddar, stirring continuously until smooth. Add the cooked pasta to the cheese sauce, gently folding until well coated. Season with salt and pepper, to taste.

Transfer pasta to baking dish. Top with remaining cheese and crushed potato chips. Bake at 350 degrees for 10-12 minutes, or until cheese is melted and golden brown.

*Visit https://veggi.info/veggipasta/where-to-buy-veggipasta/(link is external) to find Veggipasta™ retailers in North Dakota.

Recipe by AGT Foods
Verendrye Electric Cooperative member

Cally Peterson is editor of North Dakota Living. She can be reached at cpeterson@ndarec.com.
Download your free cookbook from 2018's recipes!
Download all recipe books from 2014 to 2018 at this page!
We pay $50 for publishing your recipes! Submit your recipe or email to NDL@ndarec.com or mail to North Dakota Living, PO Box 727, Mandan, N.D. 58554. Please include your name, address, daytime telephone number, email address and if you are a member of an electric or telecom cooperative.