A school's test: The green school bus and cold-climate performance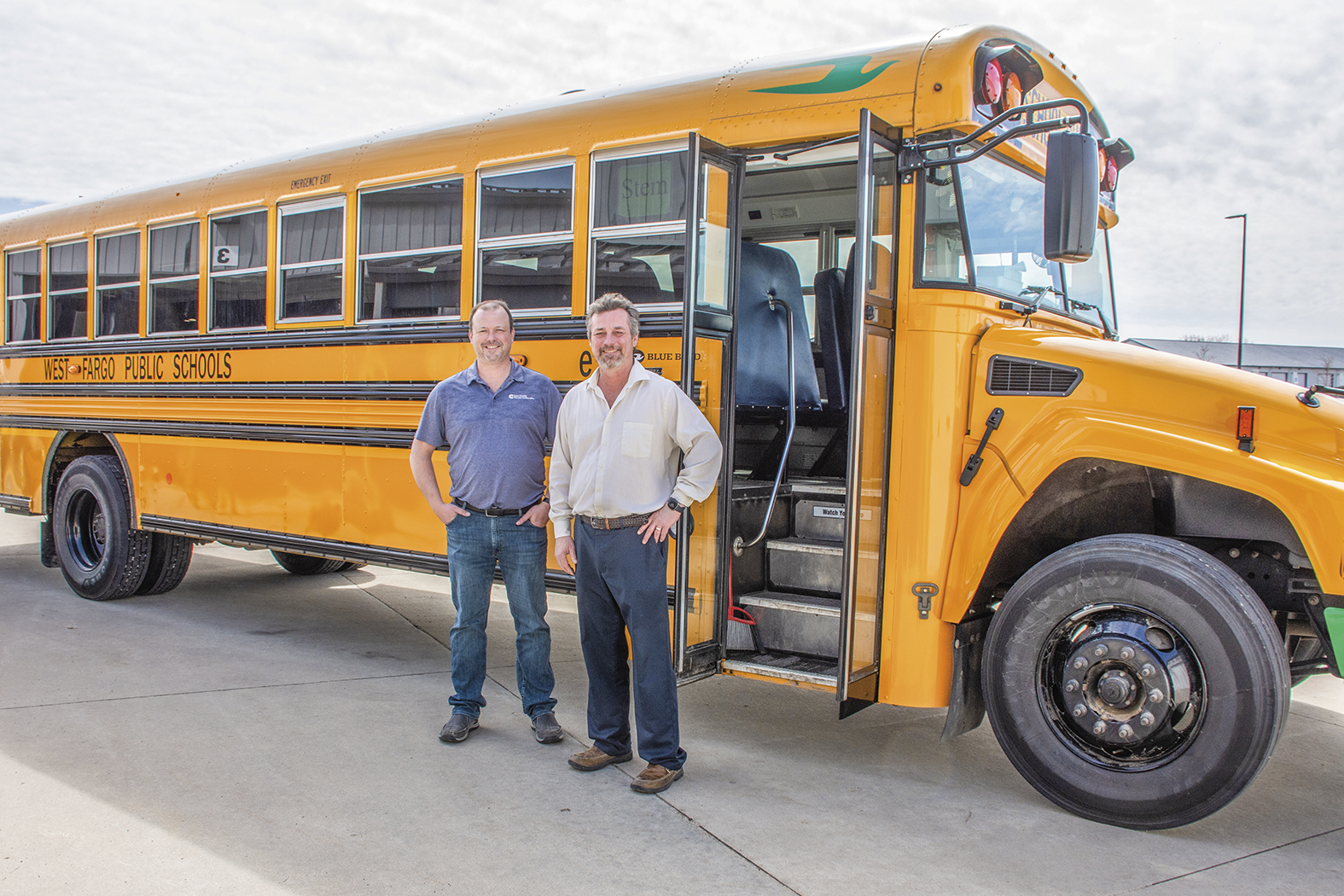 It was Cass County Electric Cooperative's Chad Brousseau, left, who first approached Brad Redmond in 2017 with the idea of an electric bus pilot program.
Photos by NDAREC/John Kary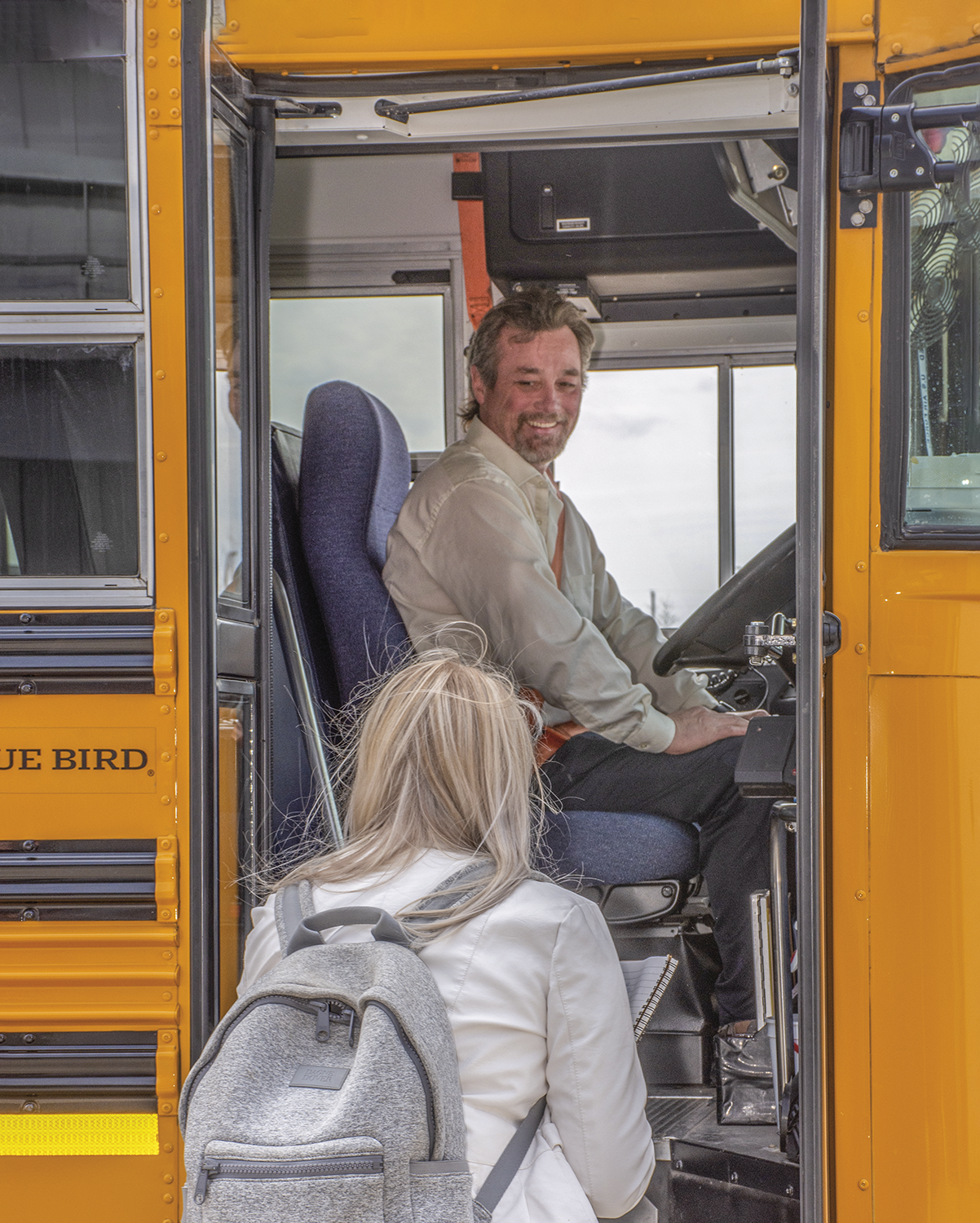 Brad Redmond, transportation director at West Fargo Public Schools, says the district's electric school bus is his favorite bus to drive and provides a much smoother, quieter ride than a diesel model.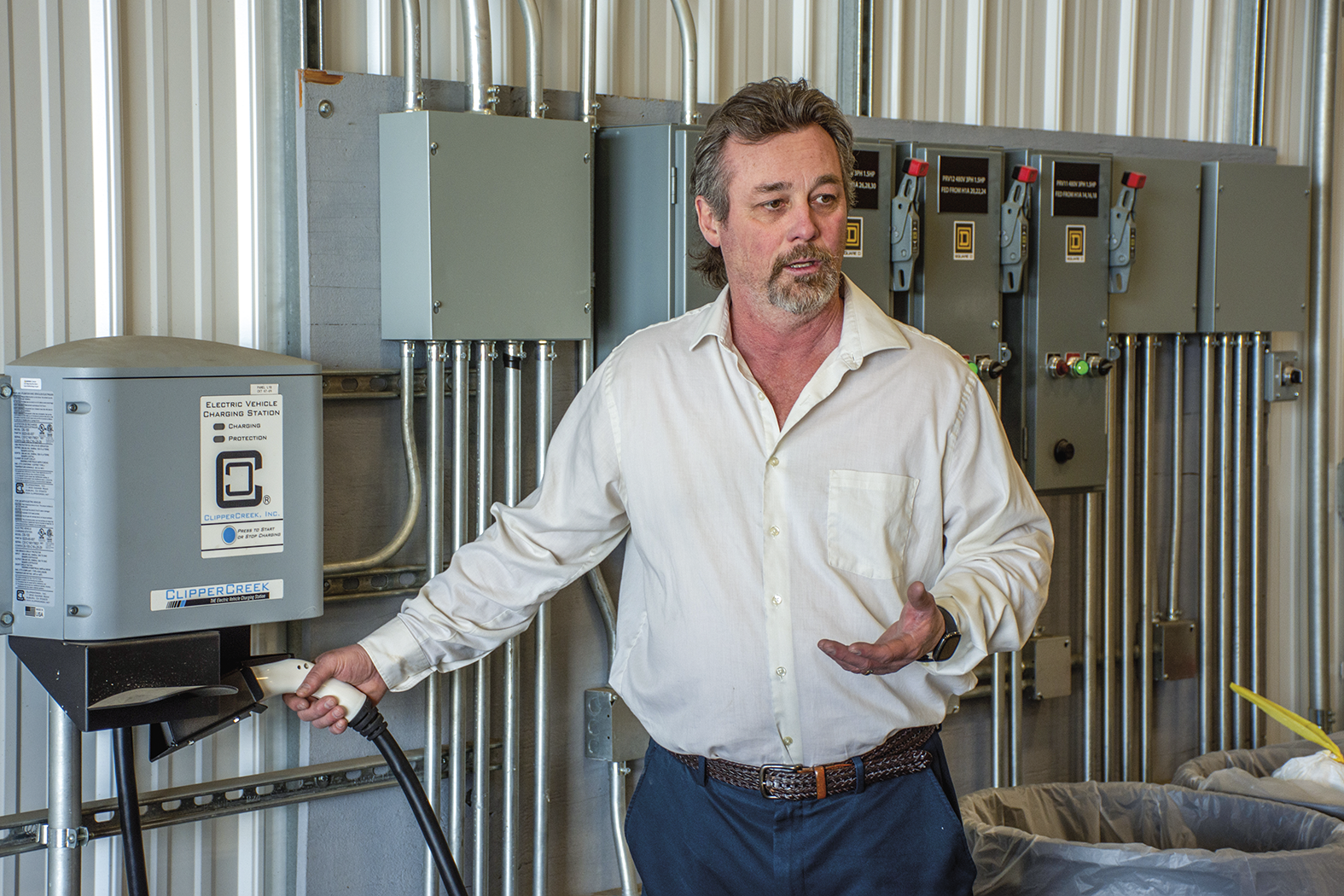 As a member of Cass County Electric Cooperative, West Fargo Public Schools participates in the co-op's off-peak charging program, which offers members a lower rate for EV charging when electric demand is lower.
As North Dakota's first electric school bus completes its third year of service to the West Fargo Public School (WFPS) District, schools across the country get their first opportunity to secure a share of $5 billion in federal infrastructure funding to transition their fleets.

The Clean School Bus Program, a byproduct of the $1 trillion bipartisan infrastructure package, offers rebates to selected applicants for the replacement of existing school buses with clean and zero-emission school buses. The Environmental Protection Agency (EPA), which administers the program, began accepting applications in May and will close the application process in August for the first cycle of funding. Priority is given to applicants in high-need school districts and low-income areas, rural school districts and tribal school districts.

Because electric school buses are still vastly outnumbered – just over 1,800 of the 500,000 school buses in the United States were electric at the end of 2021, according to data from the World Resources Institute – many are looking toward early adopters of the technology for guidance.

In North Dakota, WFPS Transportation Director Brad Redmond has fielded questions from across the country since the district purchased its Blue Bird Vision electric bus in 2019. Not only was it the first electric bus in the state, but it was the first Blue Bird Vision model put on the road in a cold-climate location.

"It's my favorite bus to drive," Redmond says. "When we purchased it, we expected it to do the job of every bus in the district, to be reliable and function like diesel buses. It's something that you really need to do your homework on. It's a great bus, a great product and very efficient, but it won't run every route. Where it fits, it's a great alternative."
 
THE PRICE TAG
WFPS began its own electric bus research in 2017, when Chad Brousseau, business accounts executive at Cass County Electric Cooperative (CCEC) in Fargo, contacted Redmond.

"We were interested in a pilot program that would test this emerging technology in a cold climate," Brousseau says. "WFPS is a valued CCEC member, and when we approached them about this project, we had to make sure it would not only benefit WFPS, but all kids in the school district."

The biggest hurdle was cost. At the time, the purchase price of an electric bus was three times more than its diesel counterpart. Other partners joined CCEC, including Minnkota Power Cooperative, Coalition for a Secure Energy Future and the N.D. Department of Commerce State Energy Program, to fund half of the bus's $300,000 price tag.

"If we were to look at the total purchase price alone as a district, it would have never penciled out," Redmond says. "But with the partners and funding we received, by the time this bus is 10 years old, we feel we'll have recouped our money."
Despite the higher upfront cost, electric buses offer savings in other areas, like maintenance. There is no transmission or engine to maintain, no need for engine oil changes, and even the tires and brake pads hold up better, Redmond says. The Blue Bird Vision also comes with an eight-year, 100,000-mile warranty.

Plus, the electric bus does well on the road. It costs 9 to 11 cents per mile for WFPS to run the electric bus, or about $90 to $100 per month.

"My daughter has a four-cylinder Ford Focus, which gets about 28 miles to the gallon in town. It costs me more to run her car than this electric bus," Redmond says.

"Right now, with diesel as high as it is – we (recently) purchased bulk diesel fuel for $4.75 per gallon – it's really making sense to have this electric bus," he says.

WFPS also has the benefit of cooperative membership and low-cost electricity provided by CCEC. As a CCEC member, WFPS participates in the cooperative's off-peak program, which offers users a reduced rate for electric vehicle (EV) charging at off-peak times, when energy usage and demand is lower. Electric cooperatives may offer similar off-peak programs, residential rates and rebates for EVs to their members.

"When a member purchases power from us, or their local electric cooperative, they're also keeping their energy dollars local, in the state," Brousseau says. "Our generation resources are homegrown – you're getting North Dakota energy, from coal, hydro, wind, solar or all-of-the-above."
 
CHARGING UP
Perhaps the biggest test for putting an electric bus on the road in North Dakota is its cold-weather performance. Testing the technology in cold weather was a goal of CCEC and Blue Bird, as well. Blue Bird created numerous systems to equip the electric bus with a winter package – and the West Fargo Blue Bird Vision bus was the first sold to a school district in a cold-weather climate.

The bus is equipped with 14 different batteries and uses a Level 2 charger. It takes about six to eight hours to reach a full charge, which provides 100 miles of range. New Blue Bird electric bus models offer DC fast charging, which require three hours for a full charge.

"Operationally, it works well," Redmond says. "The restraints are the range."

Every hour the electric bus runs, it loses 20 miles of range. And while electric bus batteries can last 10 to 15 years, the range will likely drop as the vehicle ages, Brousseau says.

WFPS has developed a schedule that works well for its electric bus – even in cold weather. Once it completes its morning, in-town route, the bus is charged indoors at the WFPS transportation facility, and then completes an afterschool in-town route before being charged again using CCEC's off-peak program.

"For districts thinking about a rural route, it might not be an option. But for in-town routes, requiring less range, it operates very well," Redmond says, adding that it's also important to identify who locally can service a district's electric bus.
Blue Bird has since made several updates to improve cold-weather performance, including battery insulation, which helps mitigate heat loss to improve cold-weather charging and efficiency; an improved thermal management system to improve cabin heat and allow for pre-heating of the cabin while the bus is charging; enhanced regenerative braking for improved range; and an optional fuel-fired heater to supplement cabin heat and improve range in extreme cold-weather conditions.

Aside from having zero emissions, the electric bus pre-heating feature and regenerating braking system earn points with Redmond, and drivers appreciate not having to fuel up outside during winter.

And for the kids, the electric bus offers a much smoother, quieter ride.

"It's so quiet, which provides a much calmer environment than a diesel bus," Redmond says. "Children are better behaved on the bus, and that makes it safer."
 
WHAT IT TAKES
As the interest in EVs grows, will the adoption of electric school buses across the country grow, too?

Blue Bird says 2022 will be a record year for the bus manufacturer – and the launch of the $5 billion EPA Clean School Bus Program in May will be a catalyst for the adoption of electric school buses in the United States.

"Ultimately, this is going to have to stand on its own two feet if this is going to work," Brousseau says.

But if it does, the WFPS system, along with CCEC and its partners, can say they were at the bus stop first.

"This is really what it takes for this type of tech to emerge," Brousseau says. "If somebody jumps into it, with a willingness to try, so when the next vehicle or technology comes, they're going to have the expertise."

"It's all about learning, taking risks and chances," Redmond says. "As a school district, we're very cognizant of what the future's bringing and embracing those new technologies for the future."
 
Cally Peterson is editor of North Dakota Living. She can be reached at cpeterson@ndarec.com.
---
$5 BILLION FOR ELECTRIC SCHOOL BUS INFRASTRUCTURE

The $1 trillion Bipartisan Infrastructure Law provides $5 billion over five years to spur the transformation of the nation's school bus fleet and replace existing school buses with clean and zero-emission school buses. The Environmental Protection Agency's (EPA) Clean School Bus Program has made $500 million available for 2022. Applications are currently being accepted through August.

• Public school districts, Native American tribes, nonprofit school transportation associations and certain contractors are eligible to apply.

• Priority is given to applicants in high-need school districts and low-income areas, rural school districts and tribal school districts.

• The maximum rebate per bus is dependent on fuel type, size and prioritization status. For an electric Class 7 bus, for example, prioritized school districts could receive a maximum rebate of $375,000, while the maximum for other eligible school districts is $250,000.

• Additionally, school districts will receive charging infrastructure funding for replacement buses up to $20,000 for priority applicants and $13,000 for other applicants.

Applications are only accepted online, and entities must be actively registered on www.SAM.gov. Visit www.epa.gov/cleanschoolbus to learn more.

Source: EPA