Recipe Roundup: June 2022
Thank you, Tammy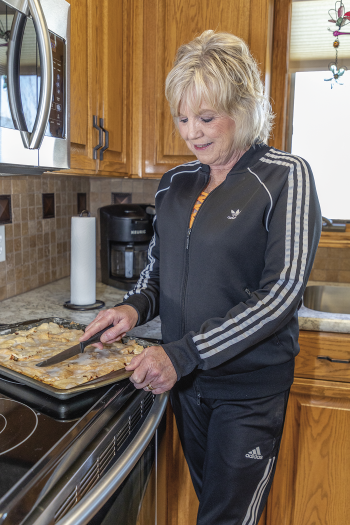 To those who know her, it's no surprise the woman who wanted to work in the service industry made a 37-year career out of serving others.

"I wanted to be a waitress," Tammy Kear says.

At the time, she was a 26-year-old wife to Bud and mother to two young daughters, Cassie and Crissie. And she had years of waitressing experience already under her apron, having worked at the Roll'n Pin in both Minot and Bismarck.

So, when presented a part-time opportunity as a file clerk with the North Dakota Association of Rural Electric Cooperatives (NDAREC) for $4 an hour in 1985, Tammy needed encouragement.

"They had to push me through the door!" Tammy says of her family's urging to take the NDAREC job.

Now, 37 years later, Tammy walked out that door for the last time as an employee. And as it turns out, the things she loved most about waitressing – the people, the conversation, serving others – ended up being the same things she loved about her cooperative job.

"It's the people, my colleagues, the directors and the co-op family, that meant the most," she says. "And I love the cooperative loyalty to the community and how we got to be involved in the community, which led me in the direction of volunteering, and my children and husband and grandchildren, too."

 
'A JOYFUL CRUSADE'
Tammy wore many hats at NDAREC, but she was an especially valued member of the North Dakota Living staff. Her role began proofing the magazine's classified ads and "Farm Equipment Digest," then proofing cooperatives' local pages in the center section of the magazine, and eventually circulation.

"The circulation lists came in a box from NCDC (now National Information Solutions Cooperative, NISC), and we would prepare the labels and ship them to the printer," Tammy says.

In the late 1990s, Tammy learned the software program that eventually, through her leadership, transitioned the circulation process from a manual job to one done on a computer. She even read the software manual while in the hospital, where she was recovering from major surgery.

"If you are an admirer of North Dakota Living, you should thank Tammy Kear," says Kent Brick, former colleague and North Dakota Living editor. "Tammy spent her career – more like a joyful crusade – making sure cooperative members get their magazine each month. She also worked tirelessly to help us make the magazine a trusted source of cooperation and care among all who read it."
 
ENJOYING LIFE
By the latter part of her career, Tammy had served thousands of people over 25 years at KX/Co-op Day at the N.D. State Fair and was also North Dakota Living's official recipe tester. All the magazine's featured recipes were made by Tammy, a good cook in her own right. Self-taught, too.

Growing up, Tammy remembers cooking for her two older brothers and younger sister, while their mom worked. Her love of baking was nurtured by a family friend, who taught Tammy how to make lemon bars. Now, Christmas at Grandma Tammy's is the place to be for a spread of krumkake, date-filled cookies and other goodies.

Her effervescent energy will be missed in the office, her colleagues say, but retirement gives Tammy the opportunity to channel it in other ways. She'll be hitting the road in her wine-colored jeep (a retirement gift from Bud) or the camper, and the Kears will be full-time hockey grandparents, enjoying every moment with their precious family.

"I'm going to enjoy life with my husband, go camping and vacationing, and spend more time with our children and grandchildren," Tammy says, with the smile Bud says hasn't left her face yet.

As she transitions into this next stage of life, Tammy does so with gratitude for her co-op family and all her 37-year cooperative career has given her.

"I'm thankful I was given that opportunity, with no college experience, the space to grow and move forward, and do what that job did for me," she says.

Cally Peterson is editor of North Dakota Living. She can be reached at cpeterson@ndarec.com.
---
Be a Tammy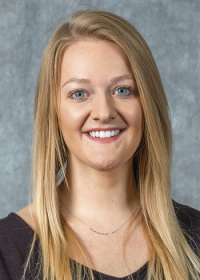 If you've been reading North Dakota Living over the past three years, you've probably seen my byline or read a story I've written. One thing this editor has yet to write for our magazine, however, is an editorial.

Alas, the time has come when I must take this point of personal privilege.

Why now? Because of the newly retired Tammy Kear, that's why.

For the past 37 years, Tammy has been part of the soul of North Dakota Living. Her official title, "operations assistant," does not remotely capture the work Tammy did, nor her contributions to this publication and our cooperative family.

Tammy was also the circulation wizard, recipe tester, another editor, phone and email screener, timekeeper, deadline director and taskmaster. She was the friendly voice on the line when you called to buy a subscription for your sister's birthday, or when you had a story idea to share.

When I started as editor in February 2019, I inherited a top-tier team from my predecessor, Kent Brick. I was lucky to be surrounded by professionals who understood the heritage of North Dakota Living and the shared responsibility of delivering a publication our cooperative members want to read each month.

While I've certainly felt that pressure at times – and do when the monthly deadline looms – I also had a Tammy. She helped wherever she could. She kept us on track, giving a nudge or reminder when we needed it. She had our backs.
Sure, it would be nice to think Tammy did those things because she liked us (and I think she did), or maybe it was just part of her job. But as I see it, it was because Tammy truly loved the magazine and our cooperative members. She believes in cooperatives and in cooperative people.

That's why this goodbye is so hard.

A mentor of mine has a hiring philosophy that's worked for him. Rather than looking at a resumé, qualifications, education, job experience or a certain set of skills, he looks for the person. The person is more important, in essence, than the work. I realize this doesn't fit every job scenario – we want lineworkers fixing power lines and engineers building bridges – but I can see the applicability of this approach.

My point is this: Find a Tammy. Find someone who believes in the work and discovers purpose in doing it.

Better yet, be a Tammy.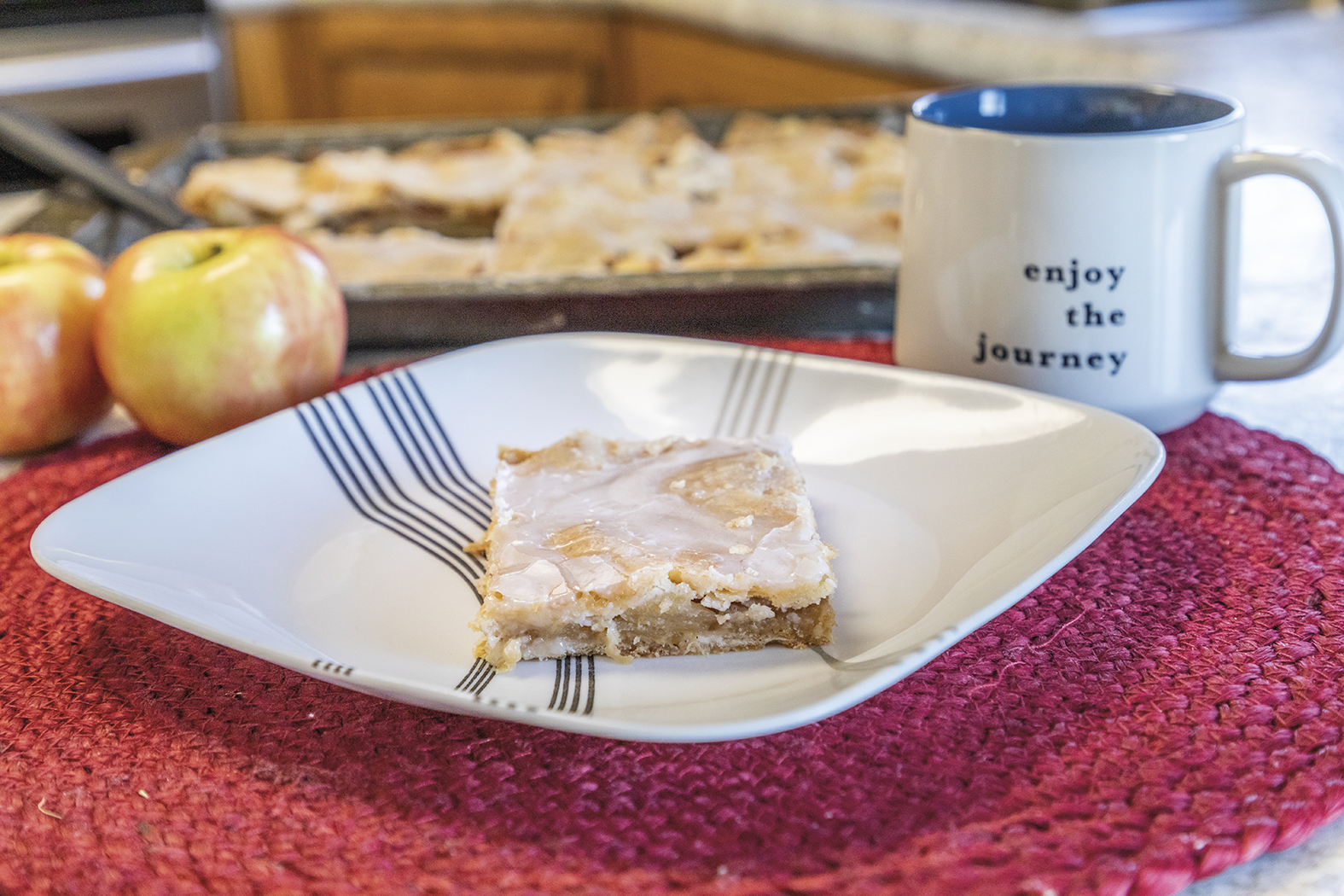 Instructions
  2½    cups flour
     1    tsp. salt
     1    cup shortening
     1    egg, separated
           Milk
     1    cup corn flakes
8-10    tart apples, pared and sliced
 ¾-1    cup sugar
     1    tsp. cinnamon
     1    cup powdered sugar

Combine flour and salt; cut in shortening. Beat egg yolk in measuring cup; add enough milk to make 2/3 cup liquid. Mix well; stir in flour mixture. Refrigerate dough for 30 minutes.

On floured board, roll half of dough to fit a cookie sheet, including up the sides. Sprinkle with corn flakes and top with apple slices. Sprinkle sugar and cinnamon over apples. Roll remaining dough to cover the top. Seal edges. Cut slits on top. Beat egg white until frothy and brush on top crust. Bake at 375 degrees for 50 minutes.

Combine powdered sugar and 3-4 teaspoons milk. Drizzle over warm bars.
Source
A Tammy Kear favorite recipe from North Dakota REC/RTC Cookbook, 1974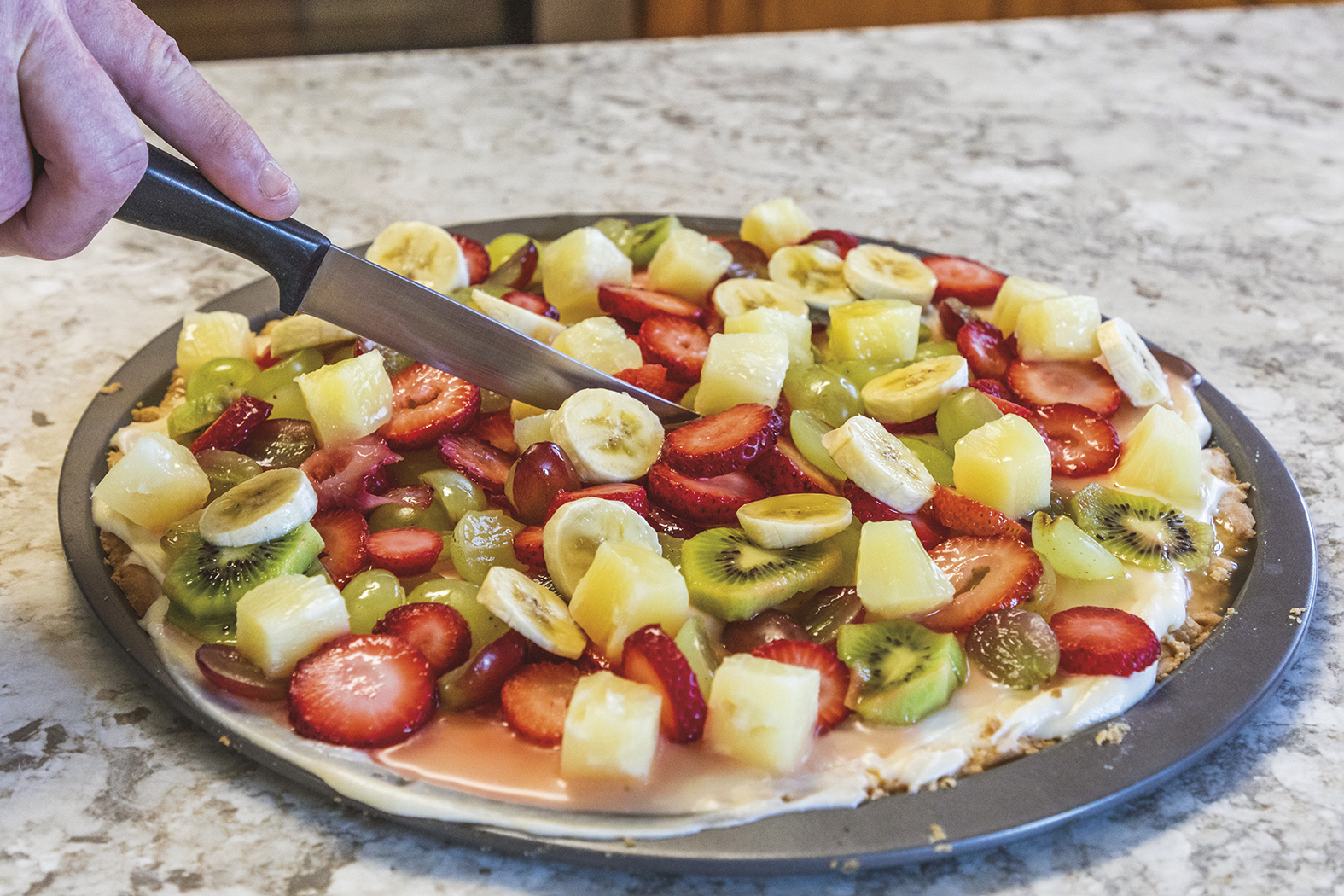 Instructions
CRUST:
    ½    cup powdered sugar
    ¾    cup butter
    1½    cups flour

FILLING:
    1    8-oz. package cream cheese, softened
    ½    cup sugar
    1    tsp. vanilla
        Fruit of choice

GLAZE:
    2-2½    tsp. cornstarch
    1    cup fruit juice (pineapple is best)
    ¾    cup sugar
    1    tsp. lemon juice

Mix crust ingredients and pat in pizza pan. Bake at 300 degrees for 10-15 minutes. Cool.

Beat cream cheese, sugar and vanilla until creamy. Spread over cooled crust. Arrange any combination of fruit in desired amount (strawberries, pineapple, oranges, red and green grapes, bananas, kiwi, plums, etc.).

Heat glaze ingredients to boil, cook until thickened and cool. Pour over pizza. Refrigerate and serve cool.
Source
Recipe by Tammy Kear, North Dakota Living test kitchen chef