5 Second Rule Bracelet leads creator to sobriety
5-4-3-2-1. Pam Emmil didn't count on a pain medication prescription plummeting her into addiction. But those five numbers helped count her steps back to sobriety. And to a thriving, therapeutic business.

Wrapped around Emmil's wrists are the bracelets that not only helped her overcome her addiction, but which are now part of her business, 5 Second Rule Bracelet.

She now shares her personal journey of opioid addiction – and recovery – through her business, as she sells bracelets and other jewelry with a message.

"My pain gave me purpose, which has lead me to my passion," she states on her website.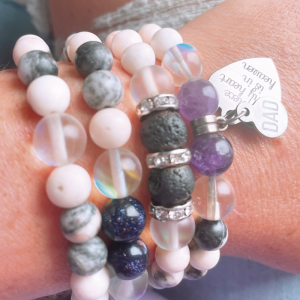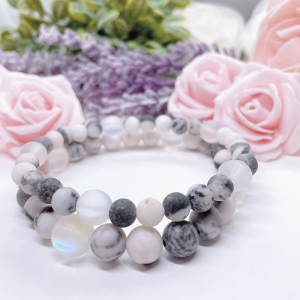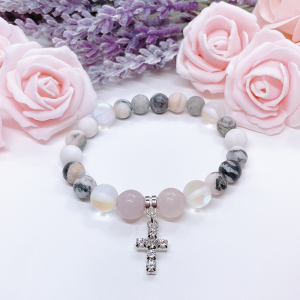 A sampling of the bracelets created by Pam Emmil through her home-based Pride of Dakota business, 5 Second Rule Bracelet.
Courtesy photos
Into darkness
Emmil doesn't begin her story with the day her addiction began. Rather, she begins with Feb. 21, 2018. That is the day she began her journey to recovery.

She became addicted to pain medication after several surgeries following an initial surgery in 2013.

"It was the perfect storm," she says, as pain medications were pushed her way during her surgery recovery. "I had six different pain meds at my disposal at times, so your body just gets used to it. Before you know it, you're severely in addiction mode and ruining your life."

"I didn't understand what was happening to me," she says, not recognizing her addition.

But a doctor intervened.

"I remember the doctor saying to me, 'You need help,' and I was very against it," she says. "I felt I'm too good for this. It's not me."

Then Ideal Option, which offers medication-assisted treatment for addiction to opioids, alcohol and other substances, opened in Bismarck. Emmil was its first patient Feb. 21, 2018.

"I feel like Ideal Option has saved my life and my marriage and my relationship with my kids," she says.

"They made me feel human again," she says. She completed extensive therapy for two years, and continues a medication-assisted program and addiction therapy on an outpatient basis.
 
Five second rule
In 2018, she was the mom making sporting attire for volleyball games and dabbling in creating jewelry from her home in Bismarck, where her business is still centered.

She discovered "The Five Second Rule," a book written by self-help author Mel Robbins, which touts counting backward from 5-4-3-2-1 and immediately acting at the end of the count, before the mind creates a reason not to act.

"I combined the gemstones and the five second rule into a tool that would work for me," Emmil says. She created a bracelet with four rows of five pink zebra jasper beads, a stone gemstone enthusiasts say eases stress and anxiety, and provides relaxation and contentment.

She paired those beads with a larger aura stone bead, which emulates light as if an LED is inside the stone.

"I just wanted my inner light to shine. When I saw that stone, I thought that was the coolest thing," she says.

The bracelet became a meditation aid.

"Whenever I start getting those overwhelming feelings, I would count backwards, 5-4-3-2-1," she describes, touching each of the five beads as she counts. Then she touches the aura stone.

"Stop, take a deep breath. Change that negative thought to a positive thought, then act on it. Counting backward will stop your impulses and will focus you on the goal or action and distract you from the worries, negative thoughts and excuses in your mind," she says.

"Interrupt those feelings. When I was starting recovery, I was feeling a lot of shame, a lot of guilt. It was really helping me to get over the mental state I was in. When you're struggling with stress or anxiety, you need something to interrupt that pattern that's going on in your brain," she says.

"5-4-3-2-1, put the drink down and walk away."

"If we walk away from something within the first five seconds, our brain is onto something new," Emmil says. "We have to move our body within that first five seconds."

She wore that first bracelet for a year, counting the beads.

"No matter where I was. I could be in church, 5-4-3-2-1. I could be in the grocery store, starting to get a panic attack, 5-4-3-2-1," she says.

"It's a mindfulness tool to cut through all the things blocking you," she says.

After a year of intensive therapy, she told her closest girlfriends what she was going through and explained the bracelet she was wearing.

Her friends encouraged her to share her powerful story.

"Bismarck is way too small for me to share my garbage," she replied with a laugh.

But as a former kindergarten teacher, she felt a pull to help others.

"Through prayer and meditation, I really felt the call from the good Lord, who said, 'I didn't put you through something for you not to help other people,'" she says.

First, she approached her husband and two grown daughters.

"I kept getting this calling through prayer," she says. "I talked with my family and I said, 'If you got a calling from God, would you ever tell him no?' They said, 'Of course not.' And I said, 'Well, I got a big one.'"

She made 30 bracelets for her first vendor show, sharing her story and selling bracelets, in 2019.

She sold all the bracelets. For her second show, she sold all 80 bracelets.

She joined Pride of Dakota in 2019, and sold nearly 400 bracelets at one show.

"I thought, 'Hmm, I think I've got something,'" she says.

"It's blowing up right now. It's very exciting times," she says, now with thousands of bracelets and other jewelry on inventory, all handmade by either herself or friends and family.

Soon, others started sharing their own stories with her.

"People want to be heard. People have a story and they just want someone to listen," she says. "So many women are hurting and they just want to be heard."
 
Sharing her passion
Emmil developed a logo, created a website and launched her social media, but not without outside support.

She enrolled in training through Shopify Specialist, which offers daily sessions from instructors across the world.

"It's really cool to have that network of people," she says.

And Pride of Dakota has helped with trainings and through its vendor shows.

"Every package that goes out has a Pride of Dakota sticker, because I'm proud to be a Pride of Dakota artisan," she says.

While she sells online, the bulk of her sales are through vendor shows.

 "I really like being in front of my product and meeting people," she says. "I always ask people, 'Can I share my story?'"

"Now that I'm good mental health wise, now I can be of service to others," she says.

With each bracelet or other piece she sells, she includes a card describing the gemstone, and an explanation of the five second rule.

Besides the aura stone in the center, other stones include rose quartz, amethyst, lava stone, gray jersey and blue sandstone.

Her bracelets also come with a toggle to attach a charm, with more than 300 different charms available, ranging from faith-based charms to rodeo themes. She's also incorporated sayings from customers, such as "My past is not my future."
Her classic collection of bracelets, with the pink zebra jasper beads, comes with or without rhinestones.

She has also started a men's line of bracelets, with black labradorite stone and cedar wood, which emanates the scent of the wood.

"Cedar is called the timber of God. It's very grounding, strengthening, with purpose," she says.

She also makes children's bracelets for the three senses of sight, smell and touch, with cedar wood.

A black obsidian with tiger's eye is the newest combination. Ankle bracelets, earrings and keychains are also available.
 
Her story continues
Emmil is now sober for over four years, but continues the medication-assisted program and therapy with Ideal Option.

She also uses a social network app, Clubhouse, to join a sobriety club with people from all over the world every morning.

And she encourages others.

"Go get help. I fought getting help for so long. I didn't understand. Get help and be honest. When you are an alcoholic and an addict, we lie and manipulate. We know how to make it not about us. We have to be truthful with ourselves," she says.

She also followed her faith to sobriety, she says.

"When I say, 'God, I can't do this anymore,' he gives me the strength to keep going. Then I get that happy little email from a customer saying, 'This tool has helped me so much. Thank you so much,'" she says.

"I get so many wonderful messages," she says. "If I had to go through my hard day to help you, then I did what I needed to do."
Luann Dart is a freelance writer and editor who lives in the Elgin area.
To learn more: www.pamemmil.com

From Black Friday to the end of December, Emmil will be at a storefront at 401 East Broadway Ave. in Bismarck, with the hours posted on her website and Facebook page. She can also be found at most Pride of Dakota vendor shows. n