Let me tell you a story.

One of my daughters, 3-year-old Olivia, was sitting in the living room and heard one of her siblings mention "coronavirus." Her ears perked up, and she said, "Oh, the virus. I will draw it." The others didn't pay much attention until a few moments later, when little Olivia returned with her drawing of the "Verona virus," as she called it (see below). She said she was going to give it to her grandma as a birthday gift – the drawing, that is.

This happened. And the reality hit my wife and I like a freight train.

It is here. The novel coronavirus is in our communities, our state, our nation and our world. I write this editorial today, in mid-March, roughly one week after the first case of COVID-19 was confirmed in our state. While the coronavirus may not be directly affecting the physical health of the population majority, it is certainly having a game-changing impact on the way we live, work, learn, play, socialize and consume.

Many difficult decisions have been made by leaders on all levels to keep our people healthy and safe. The extent of precautions being taken are good and necessary. Still, more difficult decisions lie ahead. May we choose to show our support, not criticism, to those tasked with "making the call." Often "the call" was not popular, nor easy, but hopefully understood by reasonable people.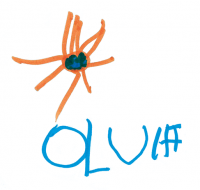 To parents, thank you for making the unpopular call and holding firm to avoid sleepovers, trips to the mall and play dates during this time of social distancing. Being the "strict" mom or dad isn't easy, especially when our kids grapple with the anxiety, fear and uncertainty of this pandemic.

As uncomfortable as this situation is for adults, we must recognize the effect it is having on our children. The lasting impact this COVID-19 pandemic will have on our kids remains to be seen. However, we can control how we react, what we say, what we watch and what we do, because it's noticed by some of the most vulnerable among us – our children. Kids are perceptive. It is important that we try to reassure them, relieve their anxieties and listen to what they are trying to tell us.

I hope and pray that by the time you receive this issue of North Dakota Living, the spread of the virus has subsided, and a sense of normalcy restored. And as the nation deals with the COVID-19 pandemic and its repercussions, know that North Dakota's electric cooperatives remain committed to safe and reliable service, and the safety and health of our members, our workforce and our communities.
Josh Kramer, editor-in-chief of North Dakota Living, is executive vice president and general manager of NDAREC. Contact him at jkramer@ndarec.com.