Keeping it simple (and delicious!)
Carol Fey, a lover of cooking quick, simple meals, was raised in the small township of Coldwater, just 21 miles east of Ashley, on a grain and cattle farm.

Family life on the farm was quite typical for Carol: Being born into a farm family, you're an automatic farmhand. Picking rocks, hauling hay and checking the cattle were regular chores. She recalls working in the field with her oldest sister for a time, before having to call it quits.

"I would always try to haul hay and pick rocks, but I would just keep sneezing and sneezing until I was sent inside," she recalls.

Carol had hay fever, an allergic reaction that causes sneezing, wheezing and watery eyes, so working outside was difficult.

With her days of hauling hay behind her, Carol found herself in the kitchen with "the best cook," her mother, Mavis Erlenbusch.

"She could make any meal in her one frying pan, and it was going to be the best meal you had," Carol says. "I still don't know how it was always better when Mom made it. It just was."

Carol shadowed her mom in the kitchen, where cooking lessons were born out of necessity, as Mavis was needed in the field with the rest of the family.

She watched her mom bake bread, and when she was lucky, her mom would rip off a piece of dough to snack on. Weekly bread baking is still a hobby Carol's 90-year-old mother practices to this day. And although Carol never made the bread as a child, she had no problem replicating the loaf for her own family after she married.

"I can just visualize her kneading and folding the dough. That's all I needed to know to make Mom's bread. I was always watching," she says.

According to Mavis, Carol was in fifth grade when she was preparing meals for the family regularly. Many of Carol's recipes came from a "learning to cook" children's cookbook, which offered simple and easily interchangeable recipes – except for the one time she made a chicken curry. (Just once.)

Throughout her 42 years of marriage to her husband, Lyle, and raising three kids together, Carol's cooking philosophy has stayed the same: Keep it simple and easily adaptable. Carol shares her "easy chicken and cheese enchiladas" and "broccoli cheese soup" recipes, which are both easily adaptable and don't take too long to prepare.

"The enchiladas, they're fun. Play around with it, and try all beef or beans. Make them your own!" she encourages.

Emily Seebold is an administrative specialist for NDAREC. She can be reached at eseebold@ndarec.com.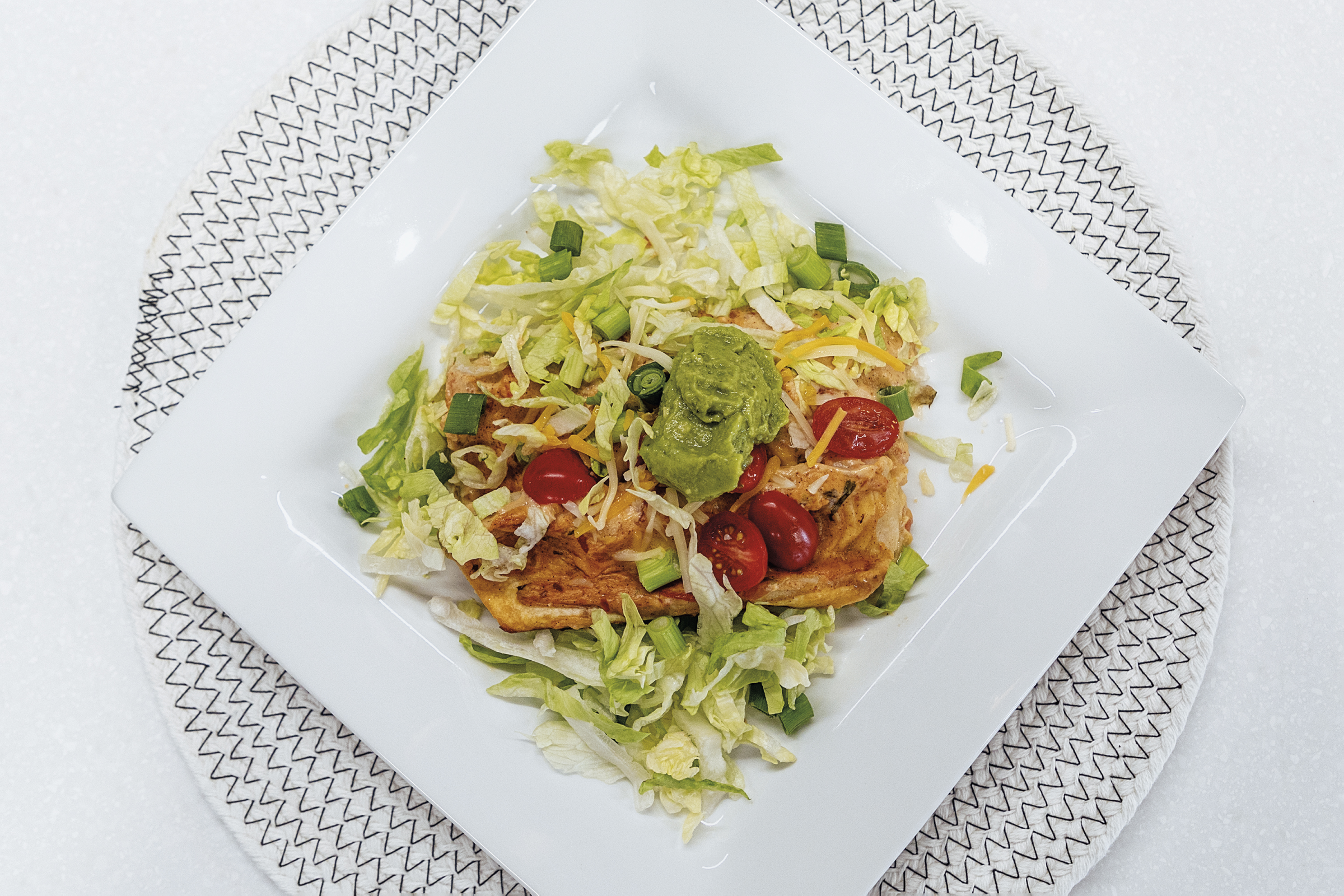 Description
    1    can condensed cream of chicken soup
   ½    can condensed cream of celery soup
   ½    cup sour cream
    1    cup Pace picante sauce, or other thick salsa
    2    tsp. chili powder
    2    cups cooked or canned chicken, chopped
    4    oz. can chopped green chilies
    1    cup shredded cheese
    8    small flour tortillas
         Green onions, tomatoes, black olives and more cheese, for garnish
Instructions
Combine soups, sour cream, salsa and chili powder in a bowl. In a separate bowl, combine chicken, green chilies, cheese and 1 cup soup mixture. Divide the chicken filling among the tortillas, roll up and place seam side down in a shallow baking dish coated with cooking spray. Pour the remaining soup mixture over the tortillas.

Cover with foil and bake at 350 degrees for 40 minutes, or until enchiladas are hot and bubbling. Serve with green onions, tomatoes, cheese, black olives or your favorite garnish.

Carol's note: Try the enchiladas with ground beef or beans!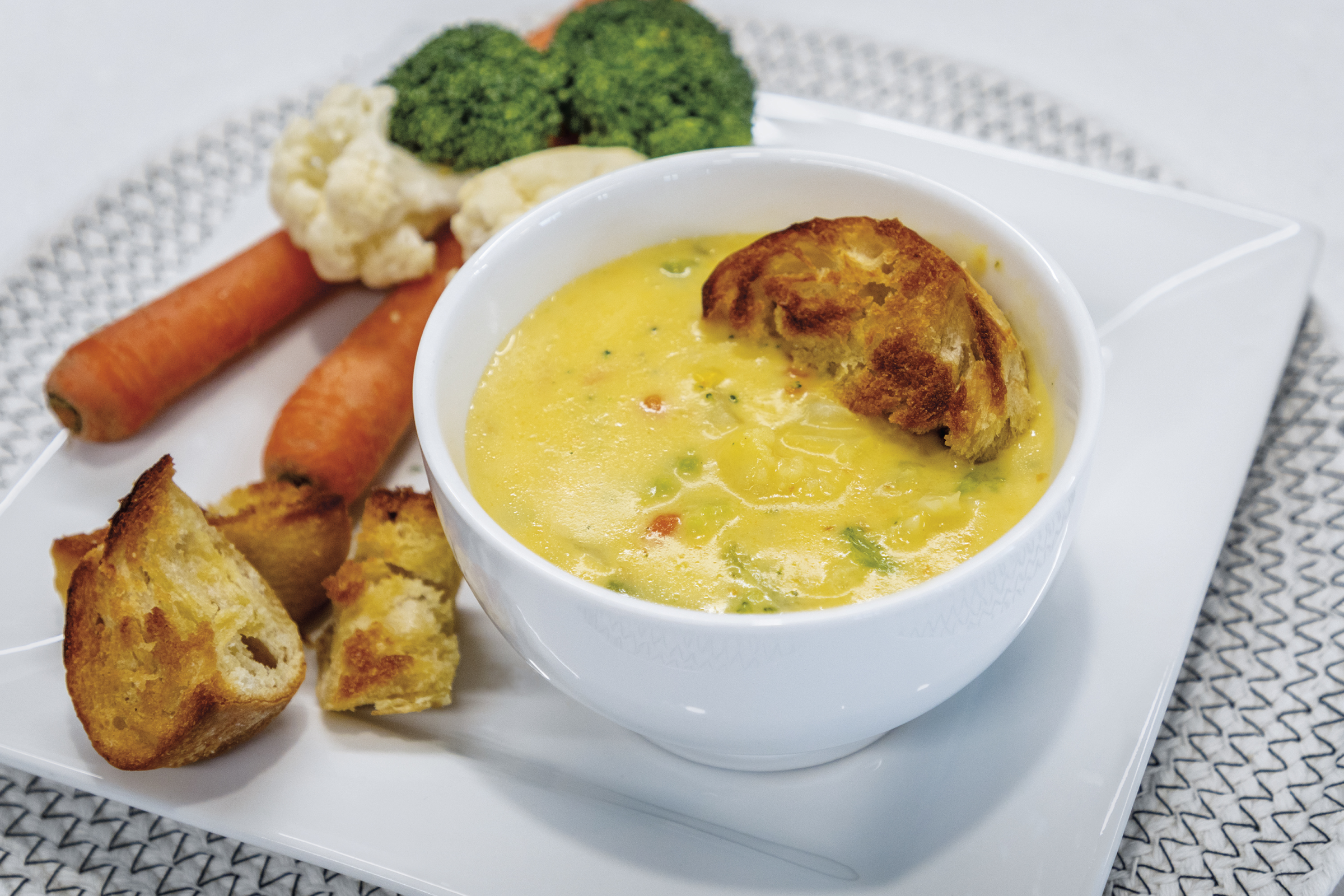 Description
    1    quart water
    4    chicken bouillon cubes
    1    onion, chopped
    1    cup chopped carrots
 2½    cups diced potatoes
    2    cans cream of chicken soup
   ½    lb. Velveeta cheese, cubed
 2½    cups California blend frozen vegetables
Instructions
In a large kettle, bring water, bouillon, onion and carrots to a boil, then simmer for 20 minutes. Add potatoes and vegetable blend and simmer until tender, about 20-30 minutes. Stir in the soup and cheese, simmer until melted and heated through. Serve with a crusty bread or homemade croutons.

To make homemade croutons, tear one loaf of day-old crusty bread, like French or ciabatta, into larger, bite-sized pieces. Spray with cooking spray, salt lightly and toast in 400-degree oven for 8-12 minutes, flipping halfway.
Notes
This recipe can be adapted to your family's tastes and preferences and is a good way to use up veggies before they are retired to the trash. Or, as Carol has done, try swapping sweet potatoes for carrots.