Whether you're packing for a picnic or packing a lunch, these pack-worthy recipes are sure to please.

The picnic pasta salad is light and packs a lemony punch. It can be assembled and served in a large bowl, or try it layered in a jar for a picnic-perfect look and easy transport.

These delectable s'mores bars pack the nostalgia and fun to elevate this classic campfire treat. The bars can be individually wrapped and frozen for a grab-and-go treat or to pack in your picnic basket. Wrap in plastic wrap, then tinfoil for the campfire feel.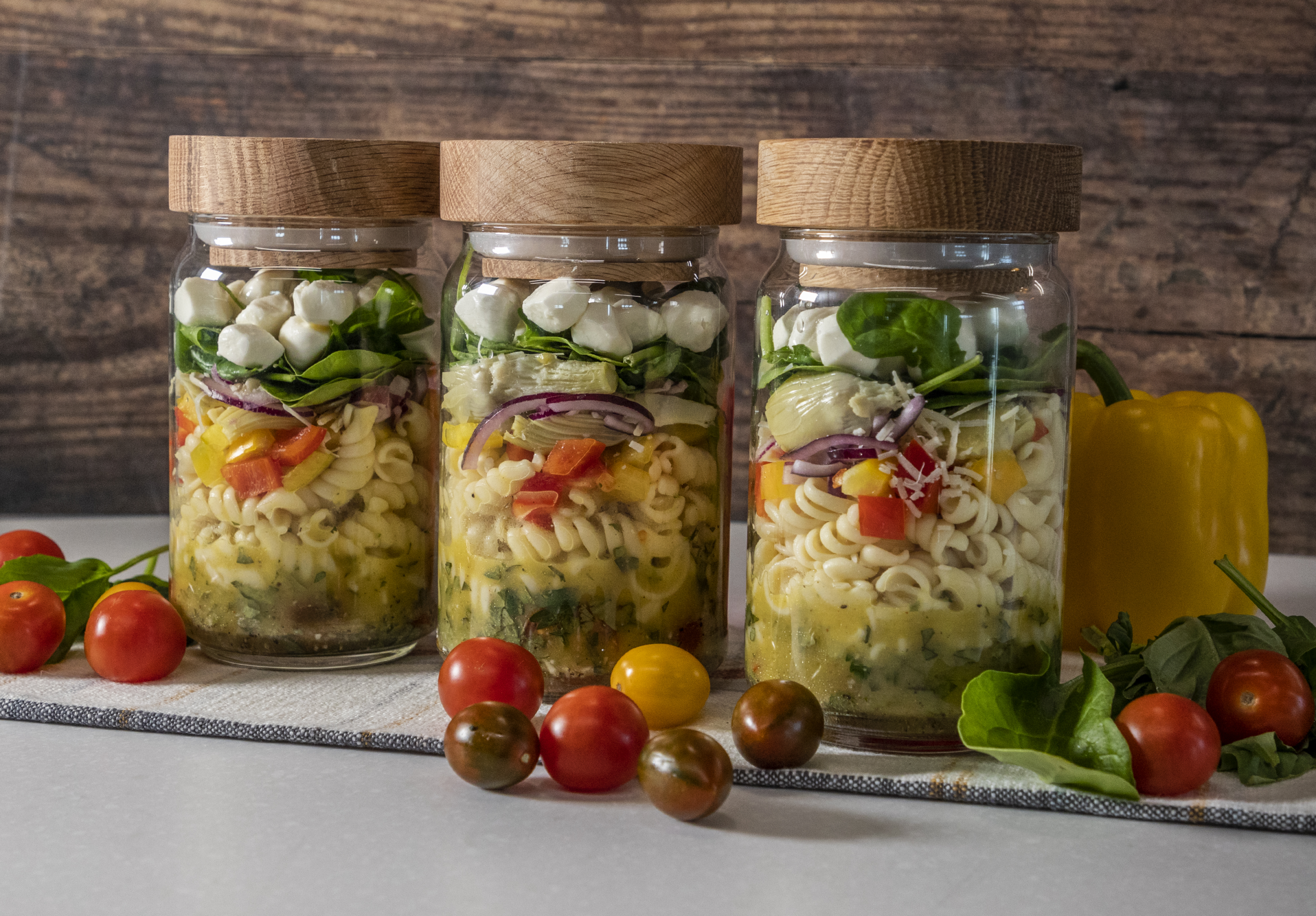 Description
    8    oz. rotini pasta
    3    cloves garlic, minced
    1    tsp. salt
    1    tsp. black pepper
   ½    cup lemon juice
    1    T. lemon zest
    1    cup olive oil
    2    T. chopped fresh basil, or 2 tsp. dried basil
    1    T. chopped fresh parsley, or 1 tsp. dried parsley
    2    cups cherry tomatoes, halved
   ½    cup bell pepper, chopped
   ¼    cup thinly sliced red onion
  14    oz. can quartered artichokes
    1    cup spinach
   ¾    cup shredded parmesan cheese
    8    oz. mozzarella balls
Instructions
Cook pasta in salted boiling water until al dente. Drain pasta and rinse with cold water.

In a food processor, pulse together garlic, salt, pepper, lemon juice and zest. With the food processor setting on low, slowly add oil until dressing incorporates. Transfer dressing to a liquid measuring bowl and stir in basil and parsley. Alternatively, use a whisk to combine oil slowly into a bowl with dressing ingredients.

To assemble the salad in four quart-sized jars, pour ¼ of the dressing into each jar. Layer in tomatoes, pasta, peppers, onion, artichokes, spinach, parmesan cheese and mozzarella balls. Secure lids on jars and refrigerate until ready to eat. Shake vigorously at least five minutes before serving to distribute dressing and yummy layers cohesively.
Notes
TIP: If refrigerating, allow pasta salad to sit at room temperature before serving, as the dressing may gel during refrigeration.
Source
RECIPE by North Dakota Living test kitchen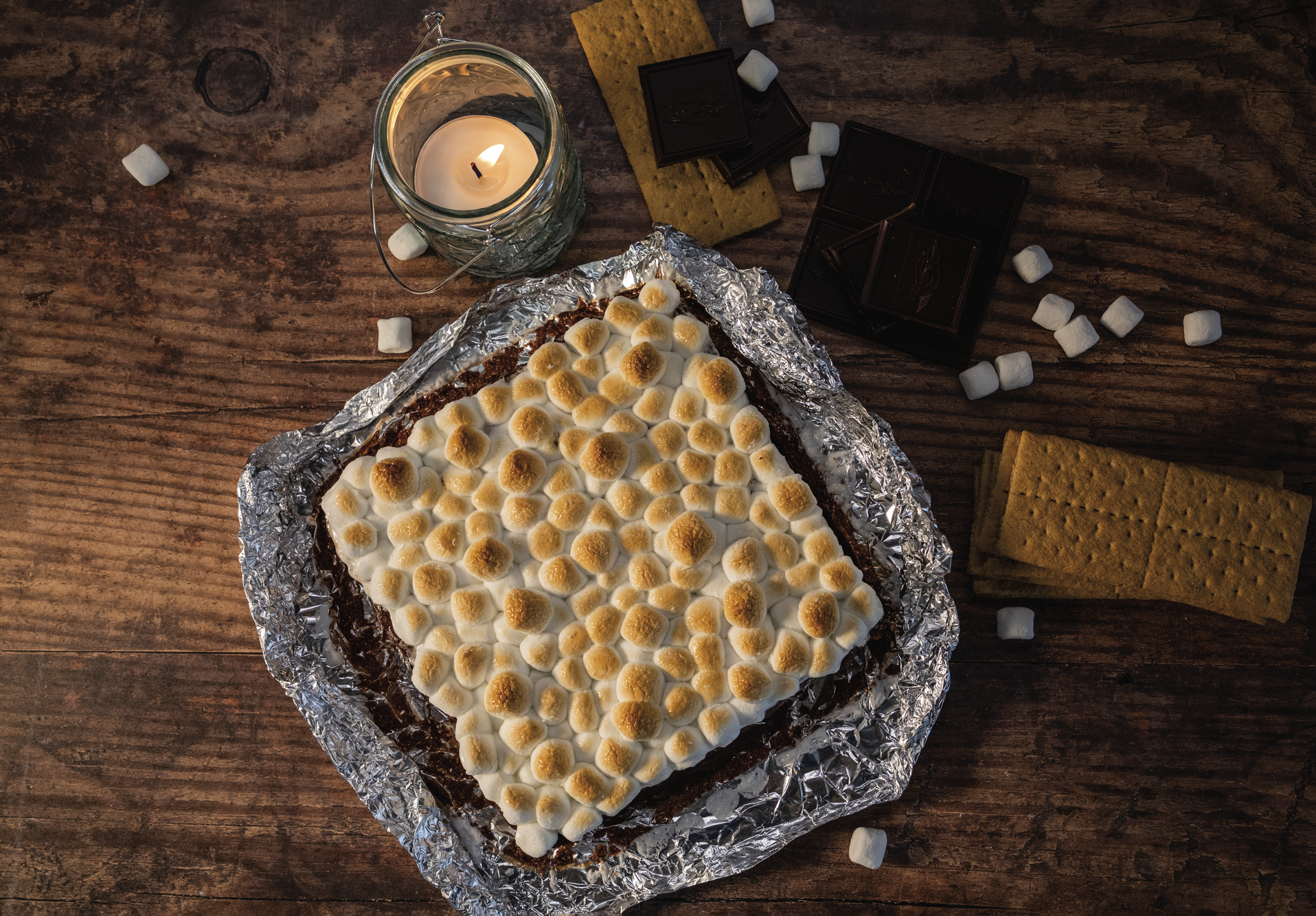 Description
    8    graham crackers
    4    T. melted butter
    1    cup heavy cream
   ½    cup whole milk
    8    oz. chocolate, chopped*
 1½    T. vanilla
   ½    tsp. salt
    2    eggs, at room temperature
    2    cups mini marshmallows
Instructions
Preheat oven to 325 degrees. Pulse graham crackers in a food processor until finely ground. Add butter and pulse until combined. In a foil-lined 8x8-inch pan, press crumbs firmly into an even layer. Bake crust for 10 minutes.

In a large saucepan, bring cream and milk to a simmer, whisking occasionally. (Be careful to control the heat during this step, so as not to burn the cream mixture or later cook the eggs.) Remove from heat and whisk in chocolate, vanilla and salt until smooth. Whisk in eggs one at a time. Pour chocolate mixture over baked crust. Bake for 25-30 minutes, until chocolate just sets in the center. Remove from oven and scatter marshmallows over the top, gently pressing into the chocolate filling. Return to oven and boil on high until marshmallows are golden brown. (This step will happen incredibly quickly, maybe 30 seconds to a minute or two, depending on the oven, so keep a close eye on the bars. Unless, of course, you're the kind of person who sticks your marshmallow roasting stick straight into the fiery campfire flames to char an innocent marshmallow into a flaky, blackened gob of goo, then you do you!)
Notes
*Use your favorite chocolate, or a combination of your favorite chocolates. If you're a traditionalist, milk chocolate is your pick. Opt for dark chocolate to satisfy not-so-sweet tooths. We used half semi-sweet and half milk chocolate to cut some of the sweetness, which yielded great results and rave reviews.
Source
RECIPE by North Dakota Living test kitchen