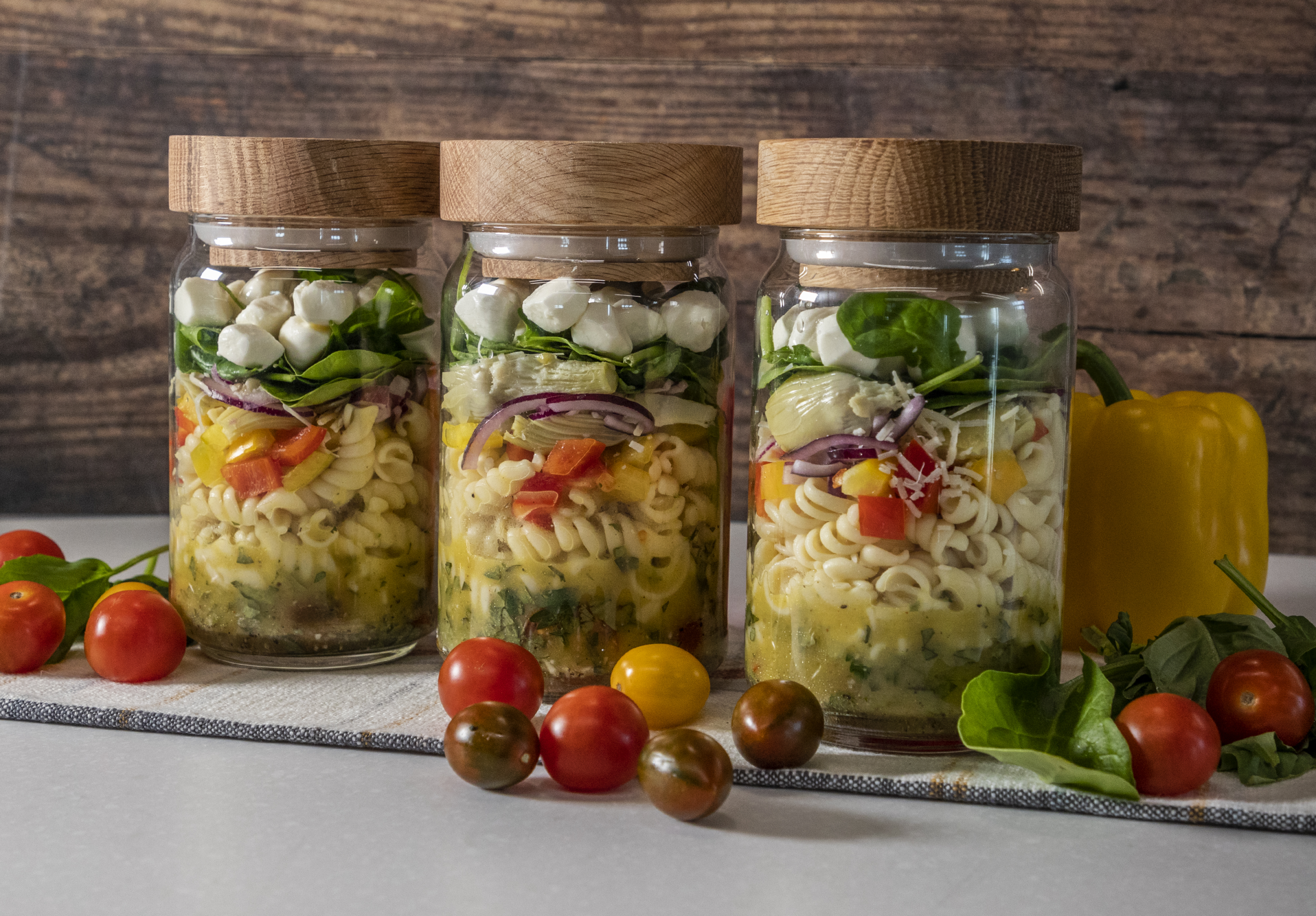 Description
    8    oz. rotini pasta
    3    cloves garlic, minced
    1    tsp. salt
    1    tsp. black pepper
   ½    cup lemon juice
    1    T. lemon zest
    1    cup olive oil
    2    T. chopped fresh basil, or 2 tsp. dried basil
    1    T. chopped fresh parsley, or 1 tsp. dried parsley
    2    cups cherry tomatoes, halved
   ½    cup bell pepper, chopped
   ¼    cup thinly sliced red onion
  14    oz. can quartered artichokes
    1    cup spinach
   ¾    cup shredded parmesan cheese
    8    oz. mozzarella balls
Instructions
Cook pasta in salted boiling water until al dente. Drain pasta and rinse with cold water.

In a food processor, pulse together garlic, salt, pepper, lemon juice and zest. With the food processor setting on low, slowly add oil until dressing incorporates. Transfer dressing to a liquid measuring bowl and stir in basil and parsley. Alternatively, use a whisk to combine oil slowly into a bowl with dressing ingredients.

To assemble the salad in four quart-sized jars, pour ¼ of the dressing into each jar. Layer in tomatoes, pasta, peppers, onion, artichokes, spinach, parmesan cheese and mozzarella balls. Secure lids on jars and refrigerate until ready to eat. Shake vigorously at least five minutes before serving to distribute dressing and yummy layers cohesively.
Notes
TIP: If refrigerating, allow pasta salad to sit at room temperature before serving, as the dressing may gel during refrigeration.
Source
RECIPE by North Dakota Living test kitchen