RECIPE ROUNDUP: A JOLLY HOLIDAY WITH MOLLY (YEH)!
When latkes and lefse show up at the same holiday party, you might be in Molly Yeh's farmhouse.

Yeh grew up in Chicago, but found her way to a farm on the Minnesota-North Dakota border, by way of New York City.

"I grew up in a household full of good food and good music! My mom is a really great cook and baker, and my dad is a musician," Yeh says.

Yeh, like her father, got the music gene. She moved to New York to study percussion at The Juilliard School, a premier conservatory for the arts. There, she met a farm kid from rural East Grand Forks, Minn., who was equally good at the trombone.

Later, the pair married and began their life together.

"After graduation, we were ready to leave New York and Nick (Hagen, Yeh's husband) brought up the idea of moving back to his hometown," Yeh recalls.

After spending most of her life living in big cities, Yeh relished the idea of farm life. And so, the couple packed up their belongings and headed west, leaving New York pizza and bagels in their rearview.
GIRL MEETS FARM

While in college, Yeh started a food blog, called "My Name is Yeh," putting her passion for food and baking, like her mother, to work. The success of Yeh's blog opened other doors. She wrote a cookbook, "Molly on the Range," which led to the 2018 launch of her own television show on Food Network, "Girl Meets Farm."

"Girl Meets Farm" takes viewers inside Yeh's farmhouse kitchen, where she makes food that connects her Jewish and Chinese heritage to life on a Midwestern farm.

"I love cooking the food from my Chinese and Jewish heritage, and I also enjoy learning about food in the Upper Midwest," Yeh says. Hotdish and cookie salad are among her favorites. "I love Midwest cuisine and living on a farm. I love having my own garden and eggs from my chickens, an apple tree and a rhubarb patch."

In addition to Yeh's farm-fresh produce, Hagen and his dad also raise sugar beets, wheat and soybeans on the same land that was worked 140 years ago by Hagen's great-great grandfather, who immigrated from Norway.

"I've been here for six years now and I still love it," Yeh says.
 
HOLIDAY TRADITIONS

Yeh and Hagen have honored their diverse heritage through a blending of traditions, celebrating Christmas, Hanukkah and three New Years! The food on the table is representative of that diversity.

"Food is one of those universal things that ties people together, especially around the holidays. We always have a Christmas and Hanukkah party, and we're sure to include latkes and my new favorite, lefse – two potato pancakes that are so different and both so delicious," Yeh says.

The December holiday season, complete with snow, coziness and Christmas movies, is Yeh's favorite time of year. This year, she will get to share her holiday traditions with someone new: her 8-month-old daughter, Bernadette Rosemary Yeh Hagen.

"I can't wait to build gingerbread houses with her and also make latkes for Hanukkah!" Yeh says.

Perhaps someday, for Bernadette, the holidays will mean latkes, lefse and gingerbread farms, too.

Watch Yeh Sundays at 10 a.m. on Food Network or follow her blog online at www.mynameisyeh.com(link is external).


"Brisket is traditionally the centerpiece of any Jewish holiday. It's such a delicious, hearty cut of meat that slow cooks and makes the house smell delicious," Yeh says.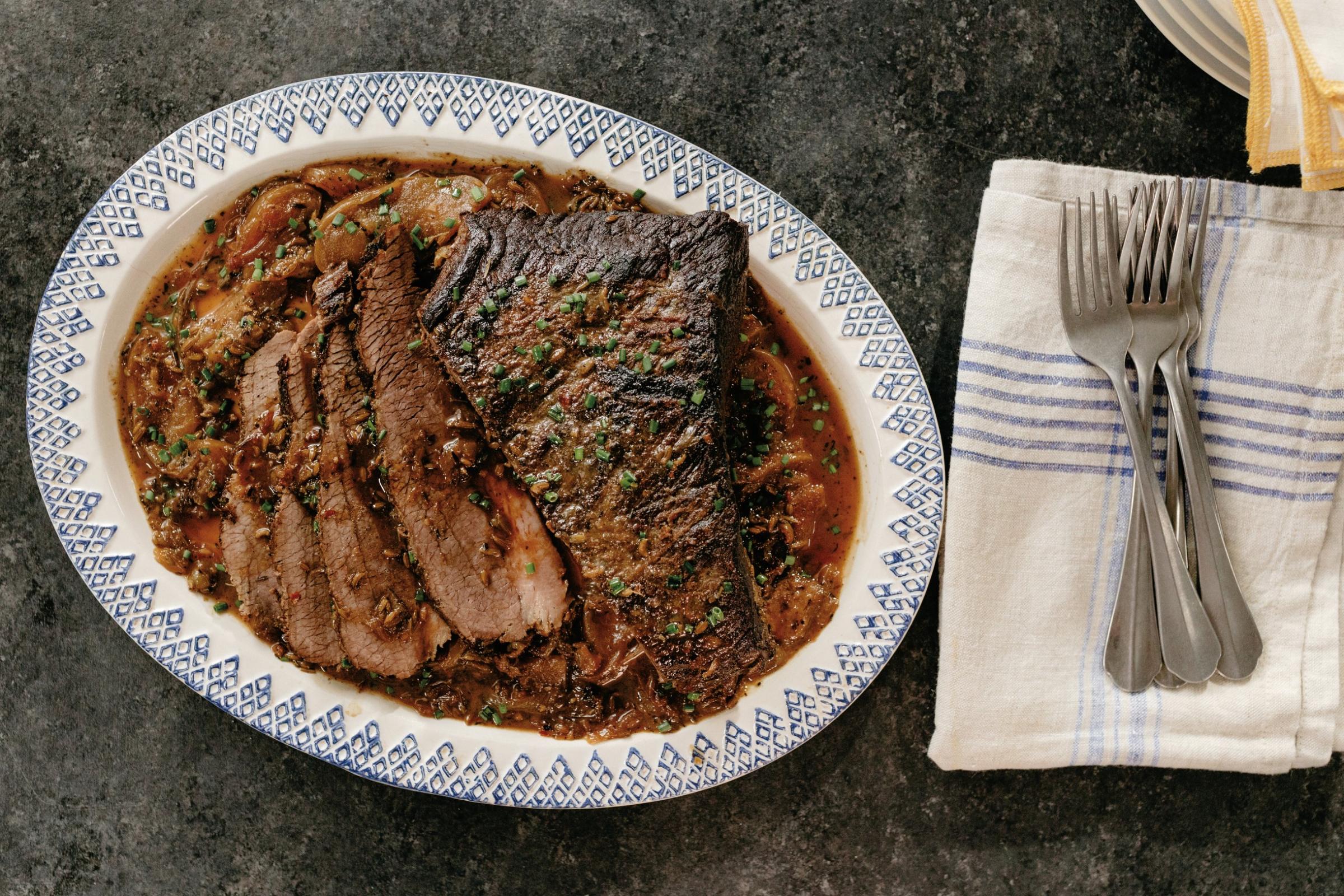 Instructions
Season both sides of brisket with salt and pepper.
In a large skillet or pot, heat the oil over medium-high heat. Sear both sides of the brisket until browned, 4 to 6 minutes. Transfer it to a slow cooker.

Add the onion to the skillet and cook, stirring, until soft, 5 to 7 minutes. Add the fennel seeds, sage, crushed red pepper, cayenne, thyme, rosemary and garlic and cook, stirring, for 2 more minutes. Pour ½ cup hard cider into the pan and allow it to loosen any browned bits stuck to the bottom of the pan. Pour the whole mixture into the slow cooker. Add the apple, maple syrup, wine, and remaining 1 cup cider to the slow cooker.

Cover and cook on low for 8 to 10 hours, or overnight. Remove the brisket to a cutting board and let it sit for 15 minutes. Trim off any excess fat, slice against the grain, and then transfer it to a serving dish. Carefully pour the mixture from the slow cooker on top of the brisket; sprinkle with the chopped chives and serve.
MOLLY'S NOTE: As a slow cooker alternative, cook everything in a covered baking dish or Dutch oven in a 325-degree oven until very tender, 3 to 4 hours.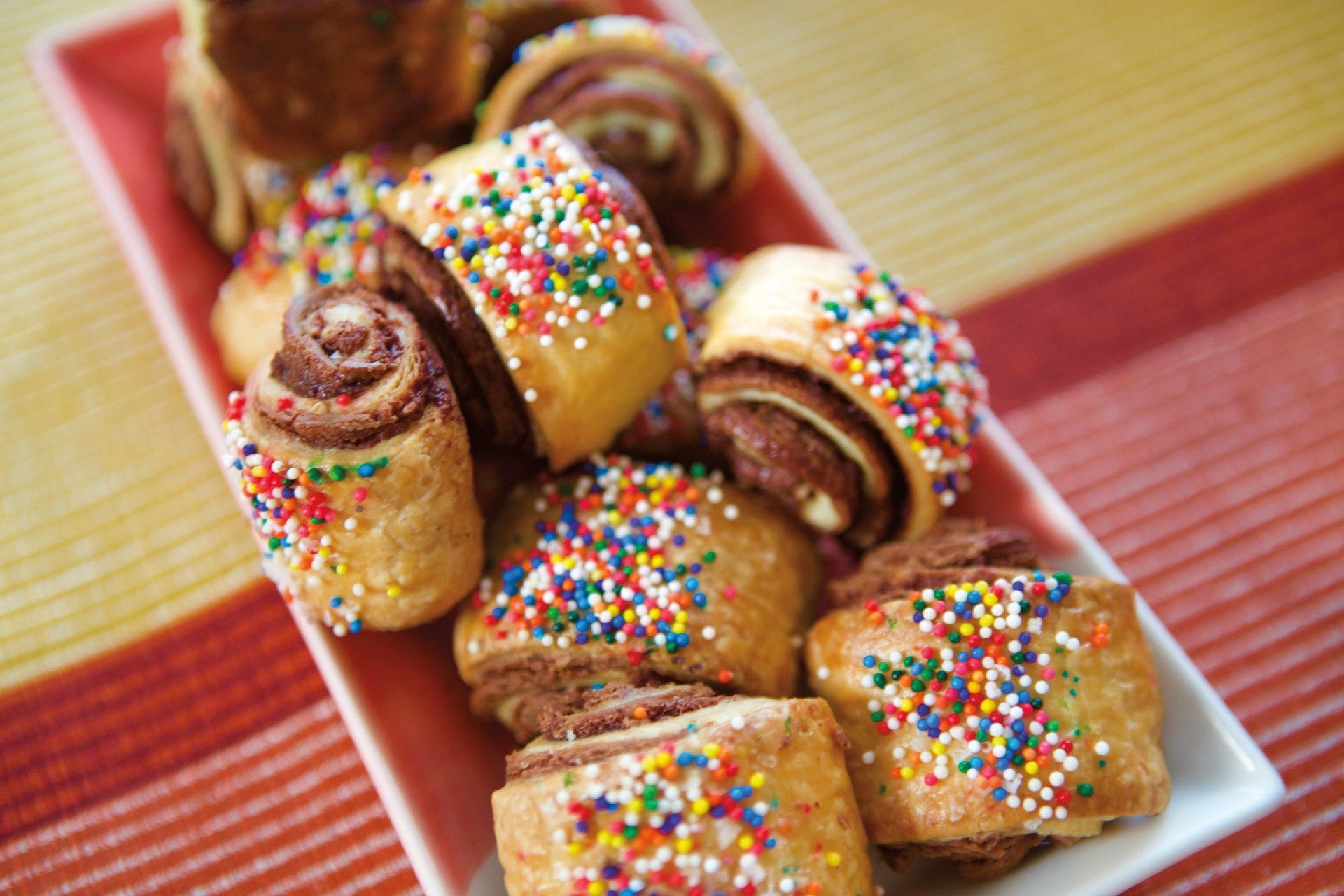 Instructions
"Rugelach is a traditional Jewish cookie that is made by making a flaky pastry and rolling it with different fillings," Yeh explains. "In this case, I used chocolate, sea salt and tons of sprinkles. What could be better?!"
Combine the flour, granulated sugar and salt in a stand mixer. Add the butter, then dollop in the cream cheese. Mix on low until mostly mealy and there are still some larger clumps of butter and cream cheese intact. Add the egg yolks, vanilla and almond extract, if using, until the dough comes together. Divide the dough in half and shape into two discs. Wrap each tightly in plastic wrap and refrigerate for at least 1 hour or up to two days.

Melt the chocolate in a double boiler, stirring constantly, or in a microwaveable bowl in 30-second increments, stirring after each. Set aside to cool briefly while you roll out the dough.

Beat the remaining whole egg with a splash of water for an egg wash. Roll out a dough disc on a lightly floured surface, until it is a wide rectangle, 18-by-9-inches. Spread half of the chocolate over the dough in a thin even layer, leaving a 1-inch border along the long edge that's farthest from you. (Try to work quickly so the chocolate doesn't harden.) Brush the border with a thin layer of egg wash. Starting on the long end closest to you, roll the dough into a long, tight log, then place it seam-side down on a cutting board or baking sheet. Repeat with the remaining dough and chocolate. Refrigerate for at least 1 hour or wrapped in plastic up to two days.

Preheat the oven to 375 degrees and line two baking sheets with parchment paper.

Brush the logs with a thin layer of egg wash, then sprinkle with a few pinches of flaky salt and a ton of sprinkles or sanding sugar. Cut into 1-1/2-inch slices and transfer to the baking sheets, spacing them 1 inch apart. Bake until golden brown on top, about 24 minutes. Let cool on the baking sheets for 5 minutes, then transfer to a wire rack to cool completely, or enjoy them warm!
Cally Peterson is editor of North Dakota Living. She can be reached at cpeterson@ndarec.com.
Download your free cookbook from 2018's recipes!
Download all recipe books from 2014 to 2018 at this page!
We pay $50 for publishing your recipes! Submit your recipe or email to NDL@ndarec.com or mail to North Dakota Living, PO Box 727, Mandan, N.D. 58554. Please include your name, address, daytime telephone number, email address and if you are a member of an electric or telecom cooperative.