Chocolate Sea Salt Rugelach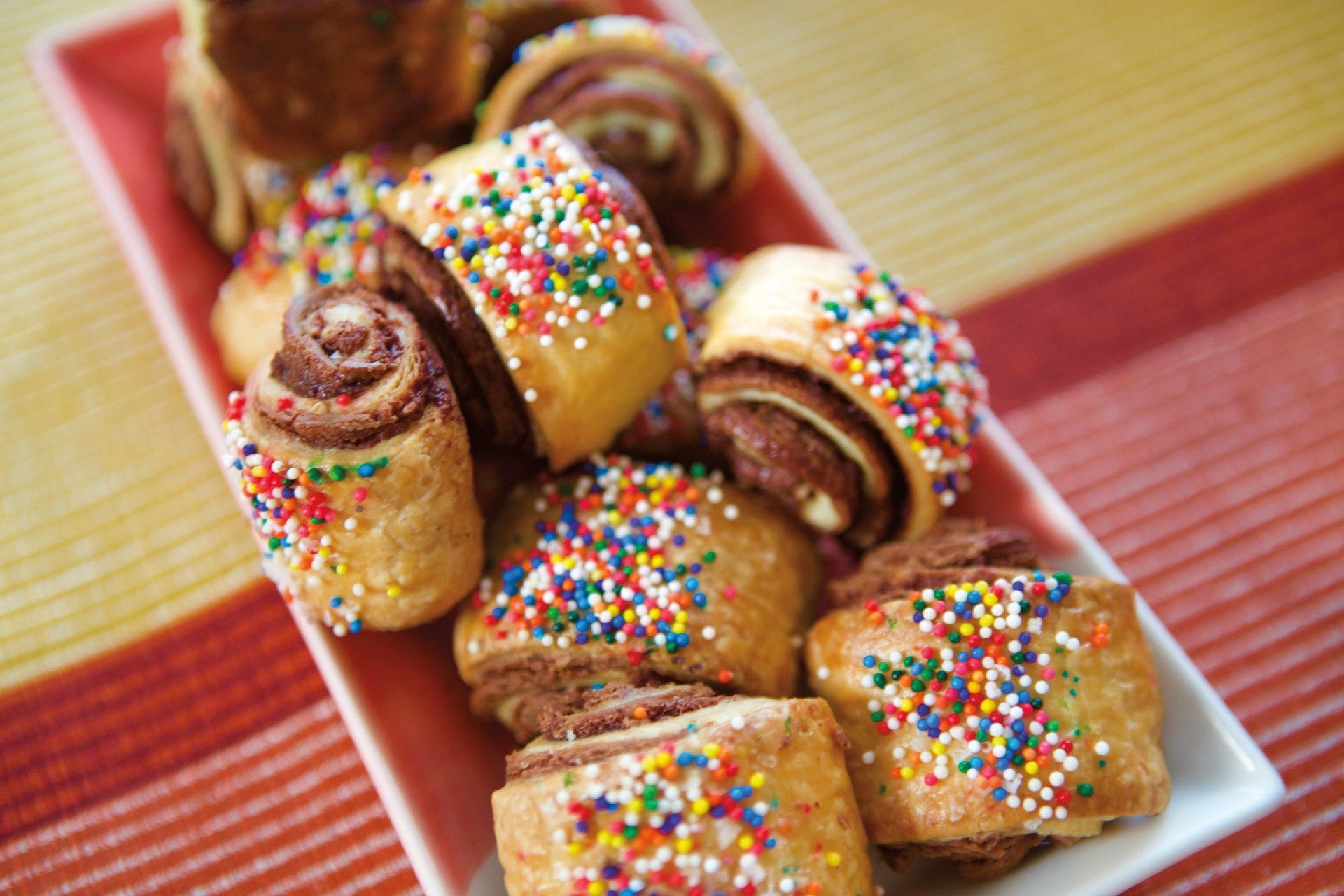 Instructions
"Rugelach is a traditional Jewish cookie that is made by making a flaky pastry and rolling it with different fillings," Yeh explains. "In this case, I used chocolate, sea salt and tons of sprinkles. What could be better?!"
Combine the flour, granulated sugar and salt in a stand mixer. Add the butter, then dollop in the cream cheese. Mix on low until mostly mealy and there are still some larger clumps of butter and cream cheese intact. Add the egg yolks, vanilla and almond extract, if using, until the dough comes together. Divide the dough in half and shape into two discs. Wrap each tightly in plastic wrap and refrigerate for at least 1 hour or up to two days.

Melt the chocolate in a double boiler, stirring constantly, or in a microwaveable bowl in 30-second increments, stirring after each. Set aside to cool briefly while you roll out the dough.

Beat the remaining whole egg with a splash of water for an egg wash. Roll out a dough disc on a lightly floured surface, until it is a wide rectangle, 18-by-9-inches. Spread half of the chocolate over the dough in a thin even layer, leaving a 1-inch border along the long edge that's farthest from you. (Try to work quickly so the chocolate doesn't harden.) Brush the border with a thin layer of egg wash. Starting on the long end closest to you, roll the dough into a long, tight log, then place it seam-side down on a cutting board or baking sheet. Repeat with the remaining dough and chocolate. Refrigerate for at least 1 hour or wrapped in plastic up to two days.

Preheat the oven to 375 degrees and line two baking sheets with parchment paper.

Brush the logs with a thin layer of egg wash, then sprinkle with a few pinches of flaky salt and a ton of sprinkles or sanding sugar. Cut into 1-1/2-inch slices and transfer to the baking sheets, spacing them 1 inch apart. Bake until golden brown on top, about 24 minutes. Let cool on the baking sheets for 5 minutes, then transfer to a wire rack to cool completely, or enjoy them warm!
Cally Peterson is editor of North Dakota Living. She can be reached at cpeterson@ndarec.com.
Download your free cookbook from 2018's recipes!
Download all recipe books from 2014 to 2018 at this page!
We pay $50 for publishing your recipes! Submit your recipe or email to NDL@ndarec.com or mail to North Dakota Living, PO Box 727, Mandan, N.D. 58554. Please include your name, address, daytime telephone number, email address and if you are a member of an electric or telecom cooperative.