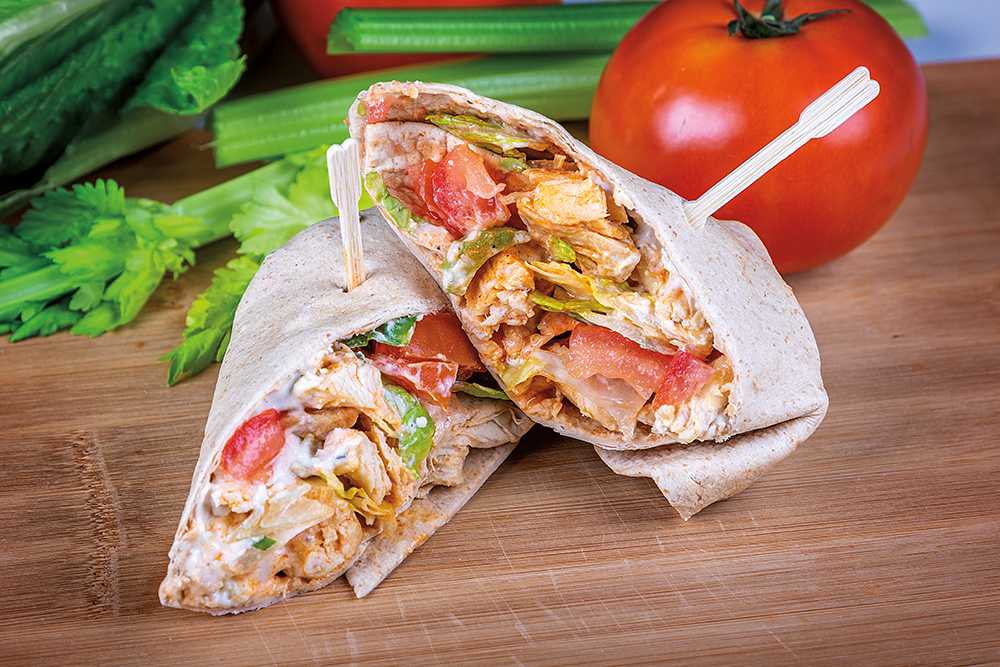 Instructions
Whisk hot pepper sauce, 2 T. vinegar and cayenne pepper, if desired, in a medium bowl.

Heat oil in large nonstick skillet over medium-high heat. Add chicken tenders and cook through, until no longer pink. Coat cooked chicken with hot sauce mixture.

Whisk mayonnaise, yogurt, pepper and remaining tablespoon of vinegar in a small bowl. Stir in blue cheese.

To assemble wraps: Lay tortilla on a work surface. Spread with 1 T. blue cheese sauce and top with chicken, lettuce, celery and tomato. Drizzle with any remaining hot sauce, if desired, and roll into a wrap. Try using the tuck-roll-and-flap method by tucking the filling in snug, rolling once, then fold in each end flap and continue rolling until you've reached the end. Secure with toothpicks, if cutting wrap in half.

 
Notes
This wrap offers nice heat with a cooling component from the blue cheese spread. For those with spice sensitivities, leave out the cayenne and test your hot sauce before cooking. Carrie prepares the chicken for her wraps ahead of time during a busy day, and uses whole wheat wraps.

 
Source
Recipe by Carrie Gerving, Mor-Gran-Sou Electric Cooperative member