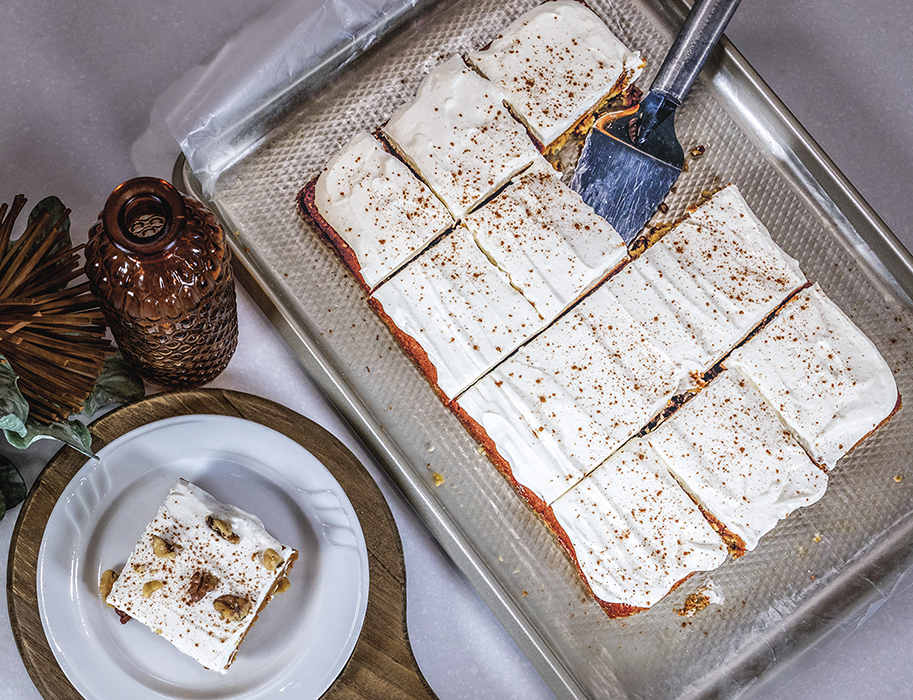 Description
    15    oz. can pumpkin
      2    eggs
     ¾    cup sugar
     ½    tsp. salt
      2    tsp. cinnamon
   2/3    can evaporated milk
     ½    box yellow cake mix
      1    stick butter, melted
      1    cup chopped pecans
      1    cup cream
   1/3    package light cream cheese
            Vanilla
            Powdered sugar
Instructions
Mix pumpkin, eggs, sugar, salt, cinnamon and evaporated milk together, then pour into a 9x13-inch baking pan greased with nonstick cooking spray. Sprinkle half a box of dry yellow cake mix on top, then drizzle melted butter all over. Sprinkle pecans on top. Bake at 350 degrees for 40-50 minutes, until golden brown and pumpkin is set. Cool completely.

Line lightly greased cake pan with wax paper. When dessert is cooled completely, invert onto cake pan.

For the whipped topping, whip cream and cream cheese together with a splash of vanilla and enough powdered sugar* to make the desired consistency. Serve with a dusting of cinnamon and more chopped pecans, if desired.
Notes
*TEST KITCHEN TIP: Start with 2 T. powdered sugar, then add in 1 T. increments to taste, until desired sweetness. We used about 4 T. for a mildly sweet whipped topping, so you could still taste the cream cheese, because the love of cream cheese runs deep in our Midwestern hearts. Need we say more?
Source
Recipe by Cheryl Erickson, Northern Plains Electric Cooperative member