Smoky Pork Tenderloin Tacos with Grilled Corn Salsa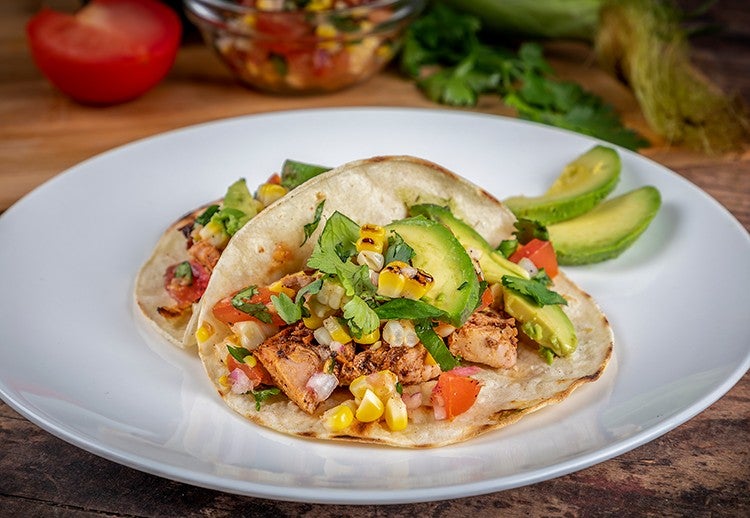 Instructions
TACOS
    2    pork tenderloins, 12-16 oz. each
          Corn tortillas
    8    sprigs cilantro, roughly chopped
    2    avocados, sliced
    1    T. red chili powder
    1    T. chipotle chili powder
   ½    T. smoked paprika
   ½    T. white pepper
    1    tsp. black pepper
    1    T. sugar
          Kosher salt, to taste

GRILLED CORN SALSA
    2    large ears corn
   ¼    red onion, diced
    2    tomatoes, diced
    1    jalapeño pepper, seeded and minced
          Lime, juiced
   ⅓    c. cilantro, chopped
          Salt and pepper, to taste

Tacos: Combine chili powders, paprika, peppers, sugar and salt in a bowl and coat the meat with the rub mixture. Cover and marinate for at least 15 minutes, or up to 12 hours or overnight. Place meat on grill over medium-high heat, searing on both sides, about 2-3 minutes per side. After searing, turn off a burner to set up grill for indirect cooking, moving the tenderloins to indirect heat, or continue cooking over low heat. Cook tenderloins until pork temperature registers 145 degrees on a meat thermometer, about 20-27 minutes. Remove from grill.

Let meat rest for 10 minutes. Slice or chop tenderloin into desired form for tacos. Serve with warm corn tortillas, cilantro, salsa and sliced avocados.

Grilled Corn Salsa: Grill corn, husk on, until charred. Then shuck the corn, and grill for a little color, about 2-3 minutes. Cool to touch, then slice corn off the cob. Add corn and remaining ingredients to bowl. Stir and adjust seasonings, to taste.
Source
Adapted from Pork Checkoff, through partnership with Yummly.