Butcher's Edge: Edgeley ranchers build small-town beef processing plant
In an industry dominated by giants, Butcher's Edge, a new beef processing plant located at the south edge of Edgeley, may seem like a small player.

Even so, Butcher's Edge will play a big role boosting the local economy by offering ranchers a place to process their beef, providing employment for at least six local workers and offering customers a reliable source for some of the most wholesome beef raised in the United States.

The company, which held its ribbon cutting in May, will process at least 20 cattle a week, compared to as many as 35,000 cattle a day processed at the industrial-scale plants operated by the giant conglomerates monopolizing the beef industry today.

The current industrialized system, while efficient, is fragile.

In an industry where four large conglomerates now dominate 85% of the beef processing market, the impact of COVID-19 shutdowns rippled through the beef industry like a tsunami, shutting down plants and putting the entire food supply chain in peril.

The disruptions caused scarcity, and grocery store prices rose to unprecedented levels.

With processing plants shut down, fed cattle ready for harvest found no market and live cattle prices dropped like a rock.

The impact was felt locally, too.

Jay Mathern, Edgeley, who with his brother, Grant, owns and operates Mathern Cattle Co. feedlot, explains, "Our lots were full, and there wasn't any place to get beef processed, since so many small-town meat lockers had shut down. Those that were open were booked out for a year or more."
 
'Look before you leap'
That's when five Edgeley men, including farmer/ranchers, Jay and Grant Mathern, Mike Schlosser and Tim Moch, and Edgeley business owner, Garitt Irey, decided to get serious about launching a new beef processing business.

The five men, who had known each other for years, shared a vision of developing a beef processing business that would provide an outlet for the high-quality beef they raise.

"We had been tossing around ideas of doing our own processing for about 10 years, but this really brought things to a head," Moch explains. "We decided if we are ever going to do something, now was the time."

As third- and fourth-generation farmers, the men knew how hard their fathers, grandfathers and great-grandfathers had worked. Most were descendants of "Germans from Russia" families, who immigrated to North Dakota in the early 1900s and faced extreme hardships, yet somehow managed to pass their successful farms to their families.

"We didn't want to risk that heritage. We had a dream, but we believe in 'look before you leap,'" Schlosser says.

With help from the Rural Electric and Telecommunications (RE&T) Development Center, the group applied for a N.D. Agricultural Products Utilization Commission (APUC) grant to cover the cost of a feasibility study, which was approved.

The APUC-funded feasibility study determined there is a substantial demand for beef processing in the area, with high likelihood of commercial success.

Even so, the men decided to do more research and toured facilities in Carrington, Enderlin, Moffit, New Salem, Kansas City, Mo., and Ord, Neb., to see their design and get ideas to improve their chance of success.
 
A vision comes to life
Their decision to move ahead was sealed in spring 2021, when Butcher's Edge closed the deal on a vacant 10,000-square-foot building located along U.S. Highway 281 in Edgeley's Industrial Park.

The building has access to Edgeley's municipal sewer and water system and receives electric service from Dakota Valley Electric Cooperative (DVEC).

The extensive process of turning the building into a state-of-the-art beef processing facility began "for real" by midsummer, when a 3,000-square-foot structure was added to the original building.

Professionals installed a new electrical heating and cooling system and the special refrigeration equipment required, but much of the interior remodeling was completed by the five Butcher's Edge owners.

Irey estimates that each of the five owners contributed at least 1,000 hours of labor during the pre-planning and construction phase, as they did demolition, built new walls, constructed pens for humanely handling cattle and applied special finishes on walls and ceilings.

"All of us are pretty easy going. It was just like a bunch of brothers working together," he explains. "We saved a lot of money and it helped all of us understand the system better."

Butcher's Edge also received a $125,000 subordinated loan in participation with the Edgeley Jobs Development Authority from the Rural Development Finance Corporation (RDFC), of which DVEC is a member-owner, and the RE&T Center helped secure $177,000 in grant funding as equity for the loan.
 
Walk before you run
For the next few months, Butcher's Edge will operate under regulations the U.S. Department of Agriculture identifies as "custom-exempt," meaning they are exempt from continuous state or federal inspection, but can only process meat for the sole use of the livestock owner.  The meat cannot be resold or donated.

That means a person must own the animal prior to harvest. However, this regulation doesn't place restriction on the number of persons sharing ownership of the animal.

Moch, who manages the plant, says Butcher's Edge will operate under custom-exempt regulations during their early startup and training period to ensure they have the "flow of work down" and employees are properly trained.

Their goal is to begin operating as a state-inspected facility by year-end.

The move to state inspection will give Butcher's Edge the option to purchase animals from local producers and process and sell the fresh or frozen meat – like steaks, hamburger or sausage – directly to customers at their onsite retail store.

"Feedback from the community has been very positive," Irey says. "We are thankful and excited to get this going in Edgeley."
 
A cut above the rest
"Our cattle are born and raised on grass pastures and when we start growing them out, they go into our own feedlots, where they are fed high-quality hay and alfalfa, silage and grains that come out of our own fields or from our neighbors' farms," Jay says. "We raise some of the best beef in the world, but it ends up getting mixed with other animals, and with the existing food labeling laws, no one knows where most beef really comes from."

"Our customers deserve to know where their food comes from, where it is raised and how it is handled, and Butcher's Edge is making that possible," he says.

Pat Schaffer is communications manager and North Dakota Living local pages editor for Dakota Valley Electric Cooperative.
 

This classic pot roast puts locally grown beef centerstage. A roast from your local butcher, such as the Wagyu/Angus cross available at Butcher's Edge in Edgeley, provides the rich marbling that makes this simple meal extra special. Serve with creamy mashed potatoes and crusty bread for a comfort meal to please everyone at your table.
CLASSIC POT ROAST
 3-5    lb. chuck roast
          Salt, pepper, garlic powder and onion powder
 2-3    T. olive oil
    2    onions, cut into large chunks
    1    lb. carrots, cut into 2-inch pieces
 3-4    peeled garlic cloves
    1    cup red wine (or beef broth)
    3    cups beef broth
    2    T. Worcestershire sauce
    2    sprigs fresh rosemary (or 1 tsp. dried)
    2    sprigs fresh thyme (or 1 tsp. dried)

Preheat over to 275 degrees. Generously season chuck roast on all sides with seasonings. Heat oil in large pot or Dutch oven over medium-high heat. Sauté onions and carrots for 2-3 minutes, until beginning to brown, then add garlic for 30 seconds. Remove from pan and set aside. If necessary, add more oil to pot. Sear chuck roast on all sides for 1-2 minutes, until browned, and remove from pan. Deglaze pan with red wine (or 1 cup beef broth), scraping the brown bits off bottom of the pan. Place roast back in pan and add beef broth, Worcestershire sauce, vegetables, garlic and herbs. Cover and roast in oven until meat is tender and falls off the bone, approximately 1 hour per pound.

Recipe by Garitt Irey, Butcher's Edge, Dakota Valley Electric Cooperative member
Electric cooperatives support rural economic development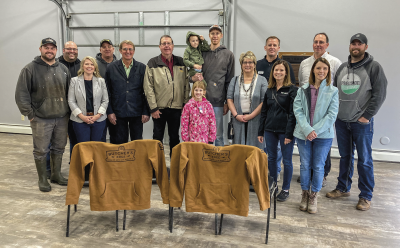 Butcher's Edge celebrated their opening alongside electric cooperative staff and local and state dignitaries in May with a ribbon-cutting ceremony. Courtesy Photos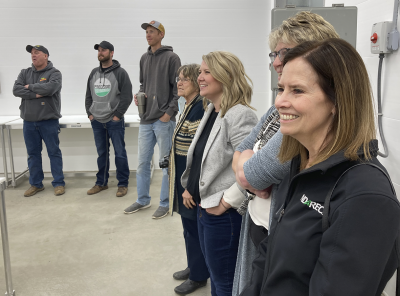 Erin Oban, North Dakota director for USDA Rural Development, third from right, visited Edgeley's new meat processing plant, Butcher's Edge, on her listening-and-learning tour across rural North Dakota.
When five Edgeley men began exploring the idea of a meat processing facility in their community, they accessed valuable rural development assistance from the Rural Electric and Telecommunications (RE&T) Development Center, of which their local electric cooperative, Dakota Valley Electric Cooperative, is a member.

In 1994, North Dakota's electric and telecommunications cooperatives created the North Dakota Rural Electric and Telecommunications (RE&T) Development Center to support rural economic development. The center's mission is to promote and support development of cooperatives and economic development through consultation, technical assistance, financing programs and education.

The RE&T Center worked with the group to prepare an N.D. Agricultural Products Utilization Commission grant for the Butcher's Edge feasibility study and served as the fiscal agent. And through the Rural Development Finance Corporation (RDFC), the center's financing arm and $8.4 million revolving loan fund, Butcher's Edge received a $125,000 low-interest, subordinated loan in participation with the Edgeley Jobs Development Authority. The cooperative development center also secured $177,000 in grant funding to use as equity to complete the finance package.

 "At Dakota Valley, we understand how difficult it can be to keep and maintain families, businesses and services in our small towns and rural communities, because we live, work and raise families in these places, too," says Michelle Berry, RDFC board member and Dakota Valley Electric Cooperative manager of member services and rates. "Through RDFC and the cooperative development center, we are proud to support rural people and efforts that improve our members' quality of life. We are thrilled for the Edgeley community with the opening of Butcher's Edge and commend this group of local folks, who cared enough about this community to make it happen."

RDFC has provided more than $8 million in low-interest financing to North Dakota's rural communities, helping ensure access to many essential services, including food, child care and health care. To learn more, visit www.ndarec.com or contact your local electric cooperative.