RECIPE ROUNDUP: DECEMBER 2020
As sweet as the cakes she bakes!
Getting kids involved in the kitchen may make them more likely to choose healthy foods, suggests a 2014 review by the Minneapolis Heart Institute Foundation. Whether involving kids in the kitchen makes them more likely to do the dishes, however, remains to be seen.
 
"Clean-up is the hardest part about cooking!" says 10-year-old Adelyn "Addy" Boling.

(Agreed, Addy. Agreed!)

And based on the sheer volume of meals, recipes and cakes Addy has made, she's done her fair share of dishes.

A fifth-grader in Miss McDonald's class at Des Lacs-Burlington Elementary School, Addy plays volleyball, flute and ukulele, enjoys art and has become quite the chef.

"She's been cooking since she was 4," Addy's mom and mother of four, Aftin Boling, says. "She's always been my creative one."
 
CREATIVELY CARING
Addy developed an interest in cooking and baking early, helping her mom and grandma, Darla Fimrite, a member of Verendrye Electric Cooperative, in the kitchen. Her earliest dishes, Aftin says, were of Addy's own creation. As her kitchen skills evolved, Addy's creations have, too. She recently made a batch of cupcakes that resembled hamburgers. The burger patty was a brownie, placed in a cupcake she had cut in half.

"It's more fun when you can be creative with it," Addy says.

"You have to be willing, as a parent, to let them be a mess," Aftin says. "I always say our whole house is a bit of a jungle gym. We've always kind of let them explore and figure out what they want to do for fun."

Beyond the fun of the kitchen, Addy shows her love and care for others through food.

On her parents' anniversary, Addy asked Grandma Darla to run to the store for a few groceries. She surprised her parents, who were working late that day, with a homemade two-layer cake with frosting and ganache to celebrate.

While home from school this summer, Addy made lunch for her brother, Graham, each day. And on the family's busiest days, she helps prepare supper. Some of her favorites include Swedish meatballs and chicken enchiladas.

"There's some days we don't have a lot of time, so we pick recipes she can do, ones we can eat quick and head out the door," Aftin says.

And, Addy doesn't miss the chance to bake a family member's birthday cake. Her mom and aunt, Brenna Ohman, who is the finance director for the North Dakota Association of Rural Electric Cooperatives, are twins. Addy didn't like the thought of them having to share a birthday cake, so naturally, she made two. She also recently made Sonic the Hedgehog-themed birthday cupcakes for her brother, after learning some tricks from her aunt, Nyla, who is a professional cake decorator.

When her uncle, Eric Ohman, suffered a heart attack earlier this year, Addy whipped up a pan of breakfast burritos to keep the family fed.

Her heart is, surely, as sweet as the cakes she bakes.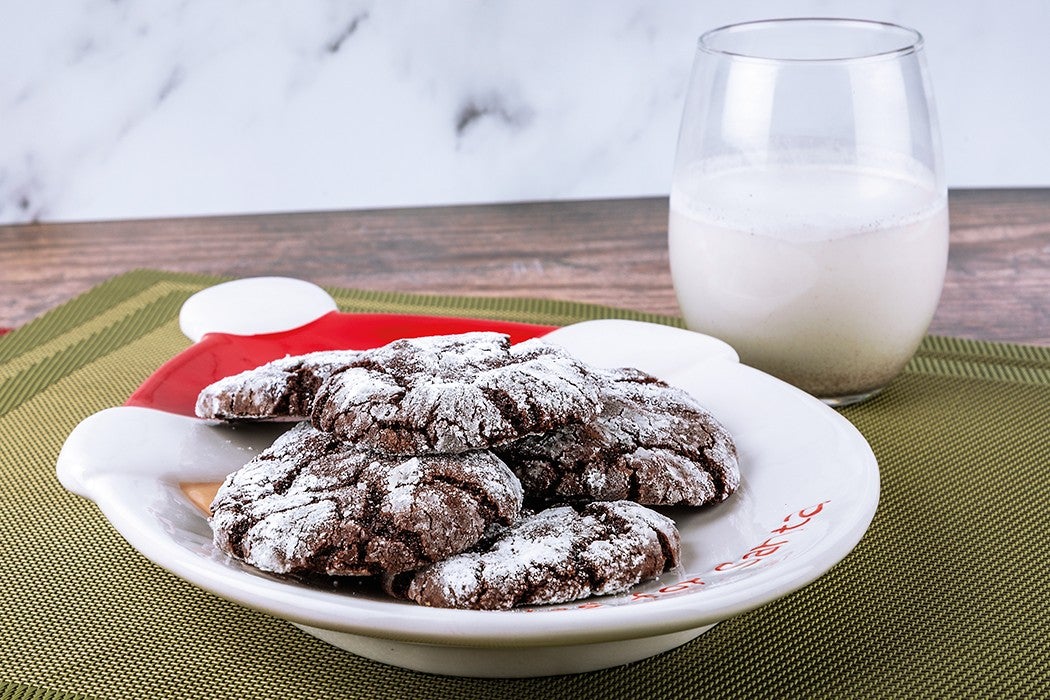 Description
Add these deliciously fudgy sweet treats to your Christmas cookie platter! These cookies are a top pick for Addy, because they resemble her favorite cookie on the Panera Bread Company menu.
Adjust oven rack to middle position and heat oven to 325 degrees. Line rimmed baking sheet with parchment paper.

In medium bowl, whisk together flour, cocoa, baking powder, baking soda and salt. In large bowl, whisk brown sugar, egg and egg yolk and vanilla, until combined.

Place chocolate in large zipper-lock plastic bag and seal, removing as much air as possible from bag. Use rolling pin to gently pound chocolate into small pieces. In small microwave-safe bowl, combine pounded chocolate and butter. Heat in microwave until melted, 1-2 minutes. Use rubber spatula to stir chocolate mixture until well-combined and shiny.

Add chocolate mixture to brown sugar mixture and stir to combine. Stir in flour mixture until no dry flour is visible. Let dough sit at room temperature for 10 minutes.

Place sugar in one shallow dish and powdered sugar in second shallow dish. Use your hands to roll dough into 12 balls (about 2 T. each). Drop balls directly into shallow dish with sugar and roll to coat. Transfer dough balls to shallow dish with powdered sugar and roll to evenly coat. Place on parchment-lined baking sheet, leaving about 2 inches between balls. Bake cookies until puffed, cracked and edges have begun to set, but centers are still soft (cookies will look raw in cracks and seem underdone), about 11 minutes. Cool cookies on cooling rack for 30 minutes.

Makes 12 cookies.

Recipe by Addy Boling, granddaughter of Andy and Darla Fimrite, Verendrye Electric Cooperative members
Instructions
 ½    cup all-purpose flour
    ¼    cup Dutch-processed cocoa powder
    ½    tsp. baking powder
    ⅛    tsp. baking soda
    ¼    tsp. salt
    ¾    cup brown sugar
    1    large egg, plus 1 large egg yolk
    ½    tsp. vanilla
    2    oz. unsweetened chocolate
    2    T. unsalted butter
    ¼    cup sugar
    ¼    cup powdered sugar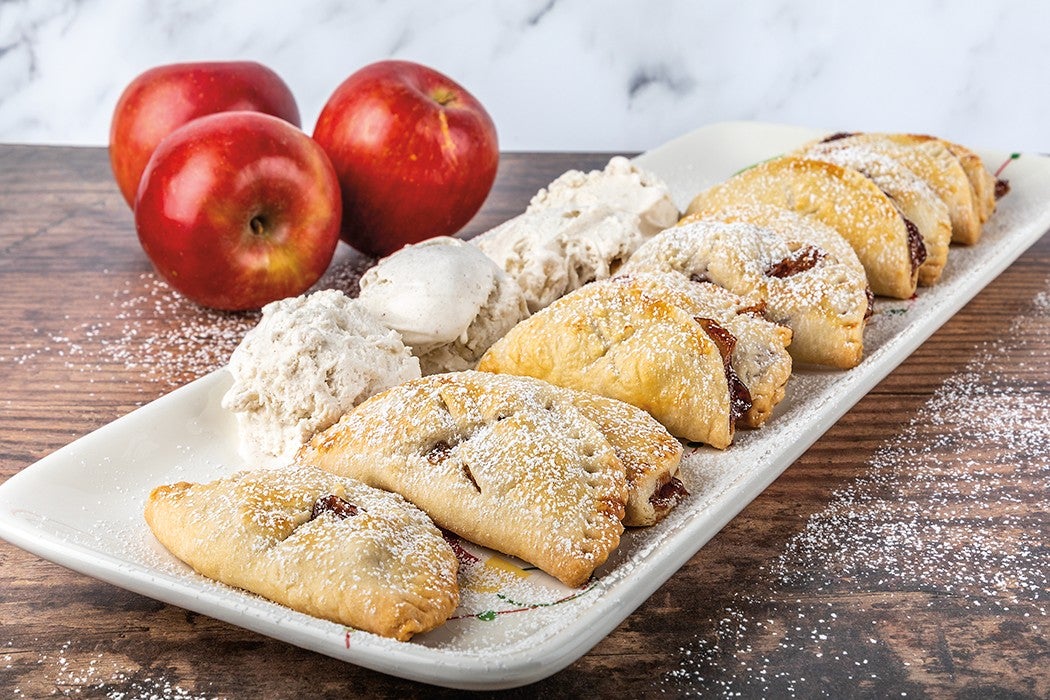 Description
Addy made up this apple pie filling recipe to stuff into pie crust for a perfect individual hand pie. Grandpa Andy Fimrite is still (impatiently!) waiting for his apple hand pies. Perhaps he'll find some under the Christmas tree this year?
PIE DOUGH: Place flour, sugar and salt in food processor. Process for 3 seconds. Remove lid and sprinkle chilled butter pieces over flour mixture. Lock lid back into place. Pulse in 1-second increments, until mixture looks like coarse crumbs, about eight 1-second pulses. Remove lid and pour ice water over mixture. Lock lid back in place. Process until little balls of butter form and almost no dry flour remains, about 10 seconds. Remove mixture and form and shape dough into 6-inch disc. Refrigerate dough for at least 2 hours, or up to two days before using.

APPLE FILLING: Add all ingredients to a medium-sized pot and stir over medium heat for about 10 minutes, until apples soften and liquid thickens.

Roll out pie crust and cut out 6-inch circles. Place 1-2 T. of apple pie filling in the middle of the circle. Dip finger in water and lightly moisten the edge of the pie dough. Fold dough over filing to create half-moon shape. Use your fingers to press edge together and seal. Use fork to crimp sealed edges together. Brush top and sides of hand pies with egg wash. Cut two slits in the top of each hand pie to let steam escape. Bake at 375 degrees for 20-25 minutes. Let cool 5-10 minutes.

Recipe by Addy Boling, granddaughter of Andy and Darla Fimrite, Verendrye Electric Cooperative members
Instructions
PIE DOUGH
    1½    cup all-purpose flour
    1    T. sugar
    ½    tsp. salt
    12    T. unsalted butter, cut into 12 pieces and chilled
    6    T. ice water

APPLE PIE FILLING
    2    large apples, diced
    ½    tsp. cinnamon
    ⅛    cup cornstarch
    ⅓    cup brown sugar
    1    cup water
    ⅛    tsp. nutmeg
    ⅛    tsp. ground cloves
    ½    tsp. vanilla