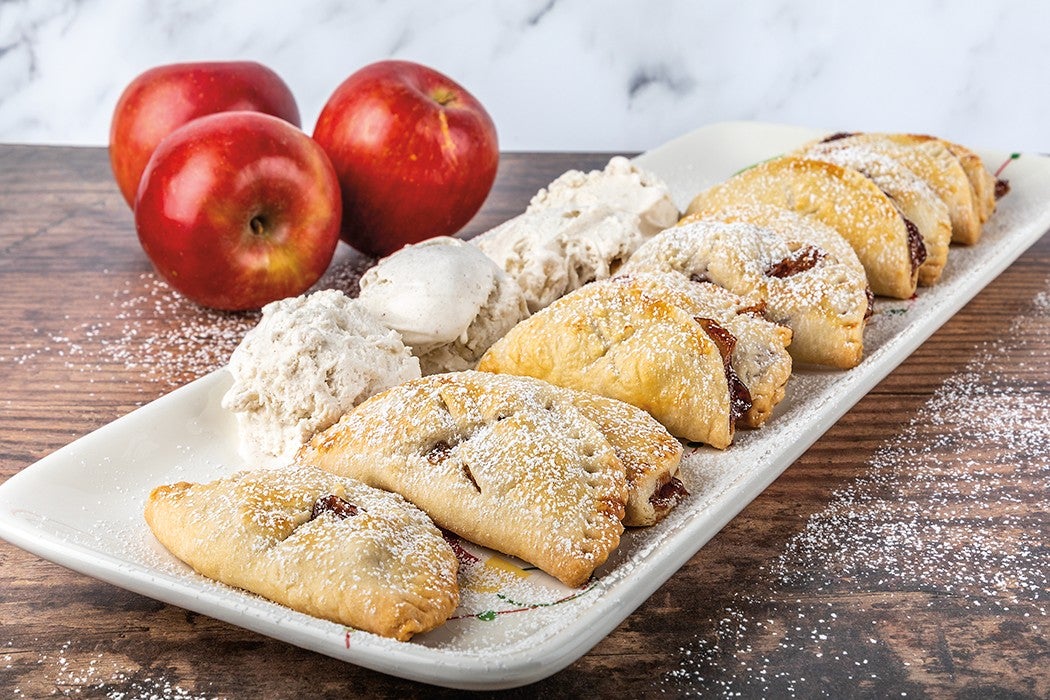 Description
Addy made up this apple pie filling recipe to stuff into pie crust for a perfect individual hand pie. Grandpa Andy Fimrite is still (impatiently!) waiting for his apple hand pies. Perhaps he'll find some under the Christmas tree this year?
PIE DOUGH: Place flour, sugar and salt in food processor. Process for 3 seconds. Remove lid and sprinkle chilled butter pieces over flour mixture. Lock lid back into place. Pulse in 1-second increments, until mixture looks like coarse crumbs, about eight 1-second pulses. Remove lid and pour ice water over mixture. Lock lid back in place. Process until little balls of butter form and almost no dry flour remains, about 10 seconds. Remove mixture and form and shape dough into 6-inch disc. Refrigerate dough for at least 2 hours, or up to two days before using.

APPLE FILLING: Add all ingredients to a medium-sized pot and stir over medium heat for about 10 minutes, until apples soften and liquid thickens.

Roll out pie crust and cut out 6-inch circles. Place 1-2 T. of apple pie filling in the middle of the circle. Dip finger in water and lightly moisten the edge of the pie dough. Fold dough over filing to create half-moon shape. Use your fingers to press edge together and seal. Use fork to crimp sealed edges together. Brush top and sides of hand pies with egg wash. Cut two slits in the top of each hand pie to let steam escape. Bake at 375 degrees for 20-25 minutes. Let cool 5-10 minutes.

Recipe by Addy Boling, granddaughter of Andy and Darla Fimrite, Verendrye Electric Cooperative members
Instructions
PIE DOUGH
    1½    cup all-purpose flour
    1    T. sugar
    ½    tsp. salt
    12    T. unsalted butter, cut into 12 pieces and chilled
    6    T. ice water

APPLE PIE FILLING
    2    large apples, diced
    ½    tsp. cinnamon
    ⅛    cup cornstarch
    ⅓    cup brown sugar
    1    cup water
    ⅛    tsp. nutmeg
    ⅛    tsp. ground cloves
    ½    tsp. vanilla