A family tree – where apples grow
Cottonwood Cider House nourishes bellies, souls
Cottonwood Cider House is rooted in family – both blood relatives and the family that exists only in rural America.

For Stacy Nelson-Heising and her husband, Dan Heising, the fourth-generation farmstead provides for their family. It also provides a place for the community to gather and connect.

Located near Ayr, about 20 miles northeast of Tower City, Cottonwood Farm is an 11-acre orchard with thousands of semi-dwarf apple trees. The couple planted 100 apple and 50 cherry trees there in 2012. Since then, they've planted thousands more. Organically, both the apples and the business grew. Organic farming is what Stacy's dad, Charles, started when he grew grain crops there in the 1980s.

The Nelson farm was the first certified organic farm in Cass County, with more than 2,000 certified acres of farmland. At Cottonwood Farm, the apples grow alongside alfalfa, native prairie flowers and grasses. This assorted plant life attracts pollinators like butterflies and bees. Birds make nests in the apple trees, too, and offer natural pest control.

"We will have a peck on an apple from time to time, but we don't have chemical residue on our apples," Stacy writes on her website.

"I wouldn't know how to do it any other way," Stacy says. "We grow organically to give back to the earth that's given to us for years and years."

The farm supported the Nelson family for generations, and Stacy is proud of her family history.

"Growing up, I spent most of my time with my family," she says. "These people made me who I am today."

Stacy's great-great-grandparents, Karolius and Olianna Nelson, moved to the Dakota Territory from Norway in 1884. They farmed in Ransom and Sargent counties. By 1910, one of their sons, Nels, had moved to Cass County, settling near Ayr. There, he and his wife, Nellie, and their children raised animals.

In 1938, during the Great Depression, Nels planted the cottonwood trees that continue to tower over the family home and outbuildings. These trees are one of the reasons the couple named their business Cottonwood Farm.

Nels' son, Norman, took over the family farm in 1952. Norman transitioned the farm from animals to grain crops, until the early 1980s, when his sons, Charles (Stacy's dad) and Larry, took over. Together, the brothers converted the land from conventional farming to using organic-only methods. When they retired from farming in 2006, they sold the machines and equipment and rented out the land.

No machinery meant grain farming was no longer an option. Then, one day, Stacy and her mom had an idea to continue the farming heritage. The Nelson family farm legacy could continue if they transformed the grain farm into an apple orchard.

Stacy calls these leaves of change "innovative reshaping." The transformation tradition is one she continues into the 21st century.
 
BRANCHING OUT
Today, the orchard includes a cidery and family- and pet-friendly restaurant. Cottonwood Cider House is Stacy's full-time job. The Cider House is also a part-time job for Dan and about eight others who help serve and cook at the restaurant, as well as sell cider at vendor shows across the state.

"Pride of Dakota definitely made a difference," Stacy says. "The people at those vendor shows want to purchase North Dakota products and support North Dakota businesses."

Often, Cottonwood teams are slinging cider at two to three vendor shows each weekend. Cottonwood creates more than a dozen cider varieties, with names like "Ayr Mule" and "Peach Me."

"Because we are so secluded, we take Cottonwood Cider House all over the state," Dan says, adding the couple usually runs out of product each year.

Connoisseurs won't find it in liquor stores.

"I can't make enough to do that," he says.

The operation is mostly by hand. Stacy picks apples from August to November. Since the trees are semi-dwarf, she can reach them from the ground. No ladder or equipment is needed. From there, she collects the apples in a picking apron and then stores them in totes loaded in the back of a pickup.

The biggest challenges are the late-season varieties.

"These last few years, I've dug through snowbanks to get apples," she says.

More than 40 apple cultivars grow in the orchard, creating a variety of tastes and textures. No two apple trees or apples are alike, and each apple has its own special flavor. The variety creates a more complex fermented cider.

The couple built the cidery in 2017, renovating one of the farm's old Quonsets. The Cider House experienced significant growth in 2020. With outdoor seating, Cottonwood could accommodate guests and visitors throughout the pandemic.
"People actually came out," Dan says. "We didn't think they would."

Residents often utilize the space too, for bridal showers and birthday parties. Sometimes, the school's parent-teacher association or individuals just wanting to play cards and board games use the space, too. In the winter, the couple also offers one Sunday brunch a month.

On any given Friday, Saturday and Sunday, more than 70 people spend their suppers at Cottonwood. That's a hearty number – considering the town of Ayr ranges in population between five and 12 residents.

"They usually come for the cider and stay for the food," Stacy says. Residents of nearby towns also swing through, along with guests from larger areas like Fargo, Casselton and Valley City.

Stacy's background is in the culinary arts. She was a professional chef, specializing in desserts, before operating her own orchard.

"Her meals are great. First class," says Bruce Hagen, Ayr resident and former mayor.

Meals range from tater tot hotdish to coq au vin, a French-style, hearty chicken stew, to queso fundido – all in the same weekend. Desserts that same weekend included a peanut butter mousse tartlet and apple bread pudding with ice cream and caramel sauce.

Hagen and his wife dine at the Cottonwood Cider House almost every Friday. The portions there are generous, though he has one complaint.

"The helpings are too much," he says with a smile. "It's real critical that I get my dessert."
 
COMMUNITY TO THE CORE
The restaurant nourishes the region's belly and its soul.

Ayr no longer has businesses like a grocery store, bar or even a church.

"When you come here, you see people you may otherwise not see," Hagen says, as people who do live there often work in larger towns.

Marsha Kasowski agrees. She lives on a farm near Buffalo and serves as the board president of Buffalo Food Market, which manages the town's grocery store.

"It's just fun to see small businesses start up in these smaller communities," she says. "It's another way to draw people to the area."

Kasowski donates her own apples to the Cider House, as do several area residents.

Cottonwood sometimes supplements the farm's apples with what it calls "found" apples. These are apples they harvest from family, friends and neighbors' trees. This helps them meet demand and complements their own supply.

Stacy and Dan say they are grateful for the community and the opportunity.

"We just have great customers. People are so supportive," she says.

That's why the Cottonwood Cider House logo is shaped like it is – the leaf of the cottonwood tree supports the apple the way the community and their families supported the farm.

As for the future, the couple says they'll stay the course for now. They don't plan too far ahead, knowing that times could change.

"We pay attention to what the world is saying to us at each particular moment," Stacy says.

Cottonwood Cider House is open Fridays, Saturdays and Sundays in March through October. Visit it on Facebook at facebook.com/cottonwoodciderhouse or online at www.cottonwoodciderhouse.com.

Katie Ryan-Anderson is a freelance writer and former co-op communicator. She is a Dakota Valley Electric Cooperative member and lives in Marion with her husband and two boys.
Fall is in (the) Ayr!
Stacy Nelson-Heising was a professional chef before operating her own orchard, cidery and restaurant on her family's fourth-generation farm near Ayr, about 20 miles northeast of Tower City. These apple-forward recipes are perfect for fall, and trust us, Stacy's apple cranberry crisp belongs on your Thanksgiving table!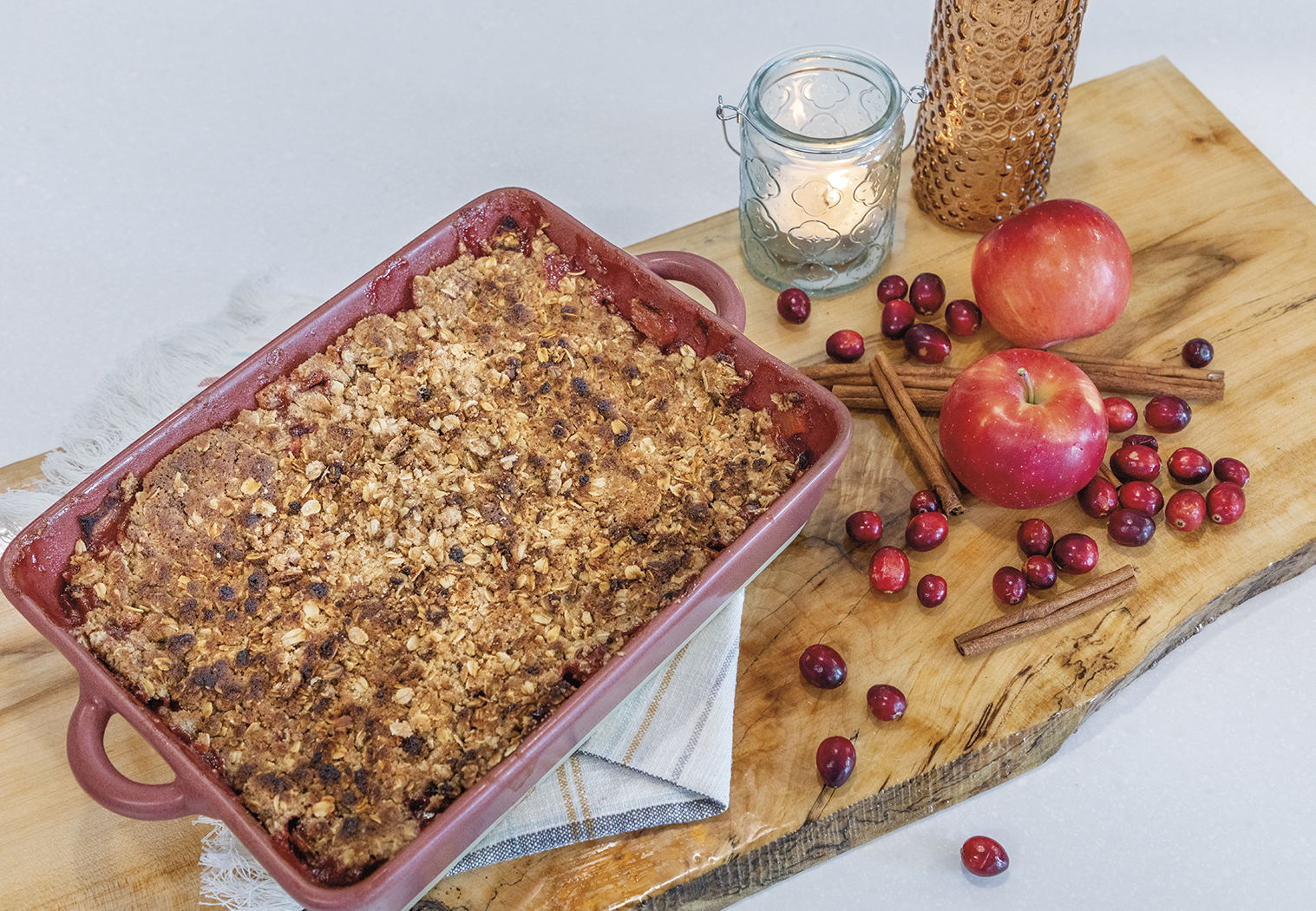 Description
FRUIT BASE:
    2    cups fresh cranberries
    1    cup sugar
    1    cup hard cider, such as Cottonwood Cider House's "The Action," cranberry or apple juice
 4-5    lbs. room-temperature apples, about 12-15*
   ¼    cup flour
 1-2    tsp. cinnamon
   ½    cup sugar

OAT CRUMBLE TOPPING:
    1    cup regular old-fashioned oats
    1    cup flour
    1    cup sugar
1-2    tsp. cinnamon
    1    tsp. salt
    1    tsp. baking soda
   ¾    cup room-temperature butter
Instructions
Combine cranberries, 1 cup sugar and hard cider in a pot over medium heat. Cook mixture until cranberries begin to burst and thicken a bit, about 20 minutes. Remove from heat and set aside.

Preheat oven to 350 degrees. Peel, core and dice apples. Toss apples with flour, cinnamon, ½ cup sugar and cranberry mixture. Pour into 9x13-inch baking dish and bake for 15 minutes. Stir, then bake an additional 15 minutes.

While apple-cranberry mixture is baking, prepare topping. Combine all topping ingredients together, mixing until crumbly. Put on top of pre-baked fruit. Bake an additional 20-30 minutes, until topping is browned and crispy. Serve warm or at room temperature with real whipped cream or ice cream.
Notes
* Try Haralson, Honeycrisp or Granny Smith varieties.
Source
Recipe by Stacy Nelson-Heising, Cottonwood Farm and Cider House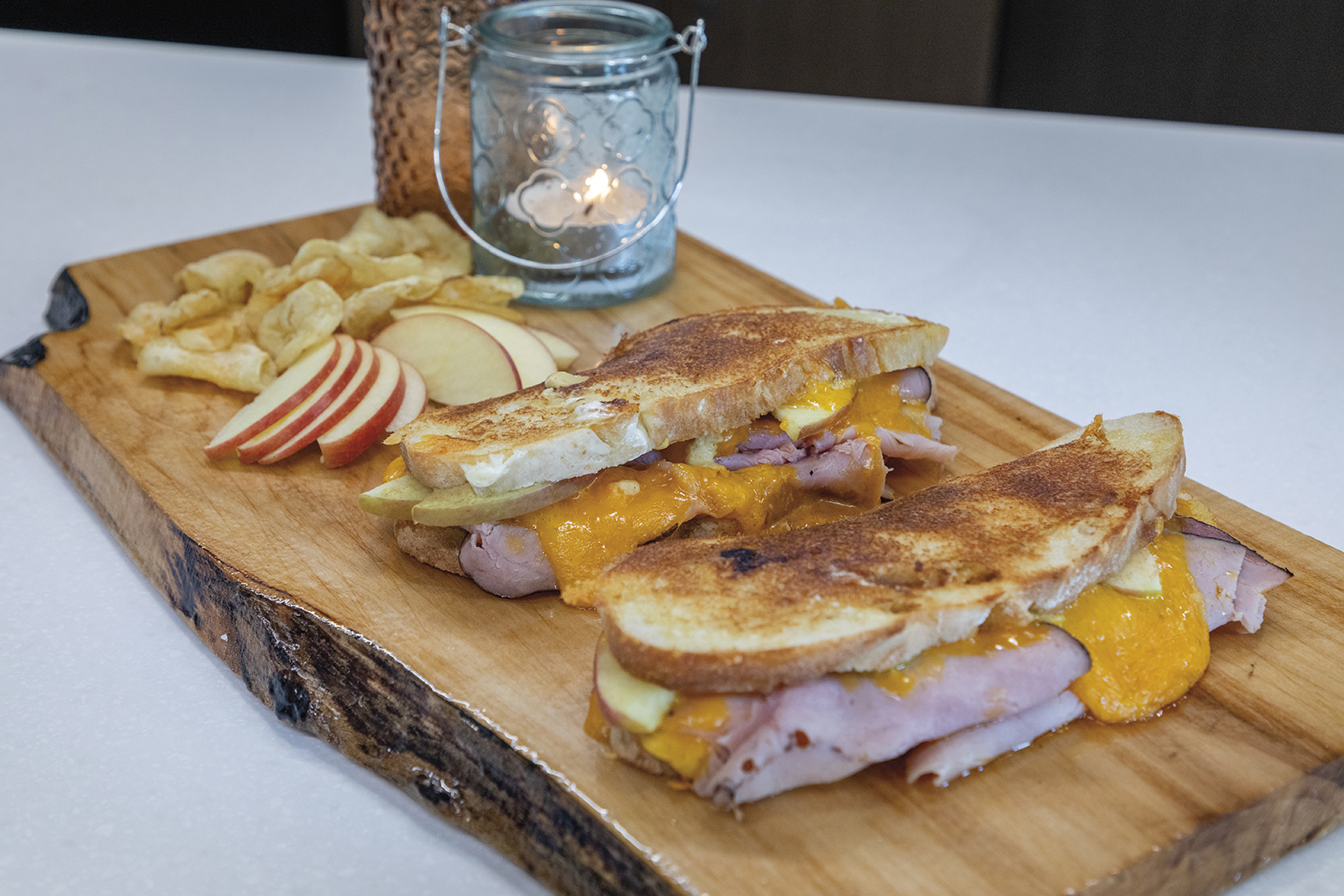 Description
    2    slices crusty bread, like sourdough
 3-4    slices Black Forest ham
    1    T. Dijon mustard
    2    tsp. apple butter
   ½    cup grated sharp cheddar cheese, or sliced cheese
   ¼    thinly sliced apple
          Softened butter
Instructions
Warm pan. Butter two slices of bread. In-between the non-buttered sides of the bread, layer apple butter, Dijon mustard, apple slices, cheese and ham. Don't be stingy with the ham! Grill until cheese is melted and both sides are toasted.
Source
Recipe by Stacy Nelson-Heising, Cottonwood Farm and Cider House