Cooperatives climb to the top
Lineworker Training Center invests in workforce, training
From Pearl Street to the Pierson farm. From New York to near York.

On Sept. 4, 1882, Pearl Street station, Thomas Edison's complete direct-current electric system, was publicly unveiled in Lower Manhattan. Edison's electric idea eventually reached North Dakota farm country, where the Ray and Evangeline Pierson farm, 3.5 miles south of York, was energized by Baker Electric Cooperative on Thanksgiving Day 1937. It was the state's first farm to receive electricity.
More than the Baker farm was energized that day – for which Edison is not owed the credit. It was the signal to a growing base of rural people, of farmers and ranchers, that their $5 investment and membership in newly formed electric cooperatives might bring big-city lights to life on the prairie.

Today, North Dakota's electric cooperatives serve members in each county of the state, delivering power to more than one-third of North Dakotans and maintaining more than 65,000 miles of distribution line and 10,000 miles of transmission line. Collectively, electric cooperatives have made significant investments to build and maintain North Dakota's multi-billion-dollar power supply system – and develop the workforce to sustain it.

In October, North Dakota's electric cooperatives unveiled their latest investment – the newly constructed 26,337-square-foot Lineworker Training Center. The all-seasons facility includes an 18,000-square-foot indoor training arena and will provide enhanced, year-round training for Bismarck State College (BSC) lineworker students and the electric cooperative workforce.

"For more than 80 years, North Dakota's electric cooperatives have evolved to meet the needs of their members. These investments show that, as cooperatives, we are focused on the future and ready to meet the challenges ahead for our industry," says Josh Kramer, North Dakota Association of Rural Electric Cooperatives (NDAREC) executive vice president and general manager. "What you see here today is a collective effort made possible because of generations of cooperative leaders, directors and employees that positioned us for the future."
 
WORKFORCE TRAINING
Early cooperative leaders identified workforce training and development as critical for rural electrification success.

By 1945, North Dakota's electric cooperatives set a goal to electrify 10,000 farms per year for the next five years. Recognizing the need to find sufficient, trained labor to reach this goal, and seizing the workforce opportunity of returning World War II veterans, the statewide board passed a resolution requesting the N.D. State School of Science, the Veterans Administration (VA), the U.S. Employment Service and the State Extension Service to cooperate in recruiting and providing training to carry out Rural Electrification Administration (REA) development in North Dakota.

For its planning efforts, NDAREC was recognized by an REA representative at the time as being "further advanced than any other state in the Union in its postwar planning."

The statewide association hired its first safety and job training instructor in 1948, with program activities being coordinated through the State School of Science in Wahpeton.

In 1966, NDAREC moved into its new headquarters building in northwest Mandan, off the newly constructed superhighway, Interstate 94, where it remains today.

At that same location, NDAREC developed an apprenticeship program with the International Brotherhood of Electrical Lineworkers and constructed a training center for lineworkers in partnership with BSC.

"More than 50 years ago, North Dakota's electric cooperatives answered the call to meet the needs of a growing electric industry by partnering with BSC to develop a premier lineworker training program," Kramer says. "This public-private partnership has been one of the hallmarks of electric cooperative success and investment in North Dakota."

The nine-month training program has grown since its first class of eight students in 1970 to accepting 60 students each year, while maintaining a wait list of 15 to 20 student hopefuls. The BSC lineworker program – the only one of its kind in North Dakota – is the longest-running energy training program at the college.

Lineworker students receive intense, hands-on instruction in all facets of powerline construction, equipment operation and maintenance. Study includes classroom instruction, courses to prepare students for North Dakota's commercial driver's license (CDL) exam, and indoor and outdoor lab work.

In October, construction was completed on the new Lineworker Training Center, and the BSC lineworker program moved into its new home.
 
A NEW HOME
Owned by NDAREC and its members, the Lineworker Training Center is leased to BSC to offer the lineworker program. Since 1970, this public-private partnership has trained more than 1,700 skilled apprentice lineworkers.

Features of the new 26,337-square-foot Lineworker Training Center include:
• An 18,000-square-foot indoor training arena with 50-foot walls, a 44-foot ceiling clearance and a dirt floor
• An observation deck
• A training room for two CDL simulators
• Two classrooms, additional learning space and student break area
• Lockers for students to secure their specialized equipment and tools
• Four offices and a workroom for instructors
• All interior and exterior lighting use light-emitting diode (LED) sources

The training center will provide students opportunities unlike ever before.

Lineworker students are not allowed to climb outside if the temperature drops below zero or wind speed is over 35 miles per hour. On average, students lose 15 days of outdoor instruction each year due to weather.

"We make sure our students get plenty of experience climbing poles out in the elements," says Dr. Douglas J. Jensen, BSC president. "But in high wind and 50-below-zero windchills, it can create safety issues for our students and faculty."

Having the ability to move outdoor instruction and skills work inside optimizes students' time spent in the program, providing more hands-on training opportunities to prepare for careers in linework. An observation deck in the training arena also allows instructors to observe and teach at eye level, providing corrections when a student is working at the top of a utility pole, for example.

"This indoor facility will be a critical addition that will take our award-winning program to the next level," Jensen says. "We are very fortunate to have this partnership with NDAREC to give our students the best opportunity to prepare for the workforce."

NDAREC's member-cooperatives provided critical support for the training center, and a $4 million grant from the Economic Development Administration covered about 70% of the total project costs.

"North Dakota's electric cooperatives have doubled down on their commitment to improving the quality of life of the people they serve by reinvesting in this critical workforce," Kramer says. "The new Lineworker Training Center stands as a testament of the electric cooperative commitment to our current and future workforce, to meeting the needs of our industry and, above all, powering the lives of our members and the communities we serve."

Cally Peterson is editor of North Dakota Living. She can be reached at cpeterson@ndarec.com.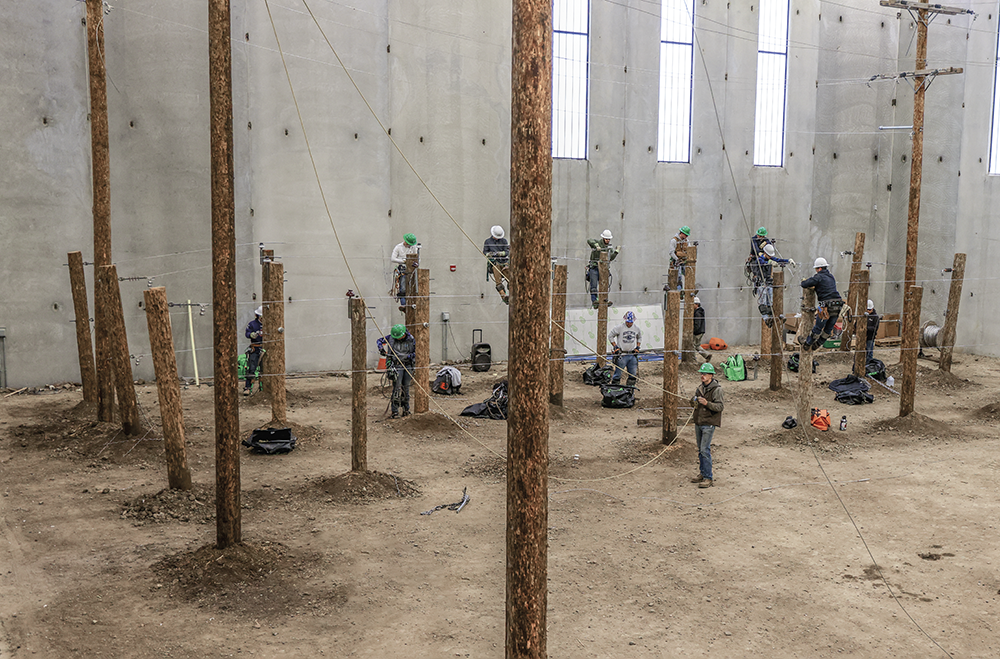 CONTINUED TRAINING
The Lineworker Training Center will also be used by the existing electric cooperative workforce to provide continuing safety training opportunities and accommodate additional training needs of co-op apprentices and journey lineworkers.

"Education for this critical trade starts in college, progresses to apprenticeship and continues through one's career," says Christina Roemmich, North Dakota Association of Rural Electric Cooperatives (NDAREC) safety director, who directs a safety training program utilized by numerous electric co-ops across the state. "Continued training of a skilled workforce is essential to maintain the resilience of the electric grid."

Lineworkers, who make up about 70% of the electric cooperative workforce in the state, may utilize the 18,000-square-foot arena to perform training in the areas of:
▶ Auguring for pole setting
▶ Climbing, pole-top rescue
▶ Personal protective bonding and grounding techniques
▶ Installation of overhead and underground lines, transformer connections and electrical apparatuses
▶ Equipment operation training, including excavation, trenching and shoring
▶ Fall hazard and prevention.