EDUCATION EXODUS: Why I'm still teaching
"You're letting her do that?"

Bret Dockter was asked this question when his daughter, Emma, decided to pursue a career in teaching.

"Absolutely," Bret responded, knowing he hadn't looked at the profession through rose-colored glasses. Twenty-six years in teaching – and 27 as a football coach – will do that. Still, he loves it.

"It's so rewarding. I don't know if there's a job as rewarding as teaching," he says.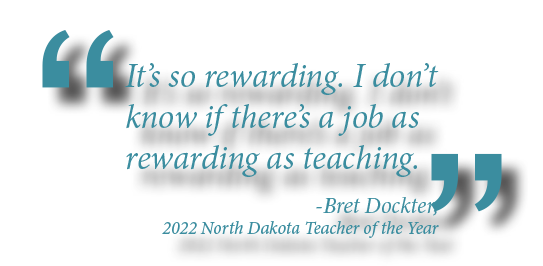 Yet, today's educators are less likely to recommend students enter the profession. Only 14% of teachers and education support professionals polled in August 2022 said they would recommend or encourage students to enter the education profession, down from 26% in January 2021.

In the same polls, which surveyed members of the state's teachers union, 35% of respondents said they were still considering leaving the profession after considering it the previous year. Teacher burnout was the No. 1 reason educators were considering leaving the profession (82%), followed by current salaries (61%), extra duties becoming burdensome (60%), the school administration (55%), a lack of substitute teachers (42%) and political discourse (40%).

The evidence of an education exodus is mounting. More than half of public schools reported feeling understaffed entering the 2022-23 school year, per a report by the U.S. Department of Education's National Center for Education Statistics. Approximately 360,000 fewer people are working in public education nationwide than before the COVID-19 pandemic, according to August 2022 data from the Bureau of Labor Statistics. Anecdotally, tales of teachers leaving the profession proliferate.

"We had some great young teachers, and they left the profession, from our own district, and they were even homegrown," says Bret, who teaches sixth-grade science, social studies and math at B.M. Hanson Elementary in Harvey.

It was his eye-opening year spent as the 2022 North Dakota Teacher of the Year, however, that provided new perspective.

"How teachers are maybe looked upon has changed. Sometimes, it feels like as teachers, we have lost a little respect. I still feel very welcomed and respected here in Harvey," Bret says, "but I hear stories from a lot of my colleagues of some rough things they're going through. I never really paid attention to that before, because I've never had that issue, but hearing some of my colleagues opened my eyes a little bit."

Like teachers having to teach multiple classes, often in subjects different from their training. Or not getting prep hours, because schools aren't adequately staffed. A teacher might be asked, for example, to pick up an extra lunchroom or recess duty, pulling them away from the classroom and squeezing their time to prep for the next class or help a struggling student.

"I'm nervous, because I think we're hurting our kids more than anything if we can't fill these jobs," Bret says, wearing his giant heart for kids on his sleeve. "I want people to understand it's so important that we keep people in the profession. I've heard some colleges only graduating eight or nine teachers, or some schools not graduating a single music teacher, and that's unbelievable to me, because when I first (graduated from college), we had sections full (of teachers). That scares me a lot, because that's our future."
 
WHY I STILL TEACH
Recognizing one of the best ways to help students is to help teachers, Bret chose teacher recruitment and retention as his teacher of the year platform. In his message – why I'm staying in education – Bret shares his reasons for staying in the teaching profession, and encourages others to do the same.

"I want to speak from my heart while I'm still doing this, because it would be hollow if I said, 'You need to teach,' and not be doing it (myself)," he says. "If I'm still teaching, I want to share why I'm still teaching."

Bret has spoken at schools across the state and to educators across the nation about his "why." He even received a $15,000 federal grant, which will be awarded to future North Dakota Teachers of the Year as long as funding remains available, to promote his platform.

"I spoke to teachers at schools and in-services, to students at high school career fairs and colleges, trying to motivate and inspire others. I think it helps that I am in the classroom, and I get it. It's not always rainbows and unicorns. But there are more great times and that is why we all got in it. Sometimes we need to look at those 'whys' – why we got in it in the first place," Bret says.

Other teachers have also shared their "whys" in a podcast series Bret started with the help of North Dakota United.

"To hear their whys, it's the greatest thing to hear teachers talk about why they still love it," Bret says.

So, what is his why? Why does the 2022 North Dakota Teacher of the Year still teach?

"Teaching has given me 26 years of some the greatest memories I could ever ask for," he says. "To see kids succeed, to see them feel good about themselves and to see them work together … those are the things that I just get a kick out of. Seeing a kid walk across the stage when people thought that kid was going to drop out. Those are the things I tell people you can't put a dollar amount on."
 
HERE'S YOUR CHANCE
August is a busy time in education, and the Dockter family knows the drill. Bret begins another season as head football coach of the Harvey-Wells County Hornets, and he'll be preparing to welcome another class of students. He'll also have to say goodbye to Emma, who will enter her freshman year at Valley City State University, pursuing a degree in elementary education. Luckily, Emma is making time before she leaves to help her dad get his classroom ready – a tradition since she was a little girl.

"My daughter, she sees the good and the bad, and still wants to (teach) and she's really excited about it, so I don't ever want to kill that," Bret says. "If I'm recommending (teaching) to someone, I say, 'If you want to make a difference, here's your chance. If you say we have to change something, here's your chance.'"

Bret envisions a future where "everyone has the teachers they need, qualified teachers," because we can't afford to keep losing them, he says. He hopes his message, his "why," will resonate with teachers and future teachers.

It's certainly resonated with one very important person – his daughter, Emma.

"On a scholarship application, she wrote she was following in her dad's footsteps, and maybe someday she would be teacher of the year. Your kids don't normally tell you they're proud of you," Bret says. "It makes me really proud. She sees you're burnt out and tired, but she also sees the rewards. I think she's going to be a tremendous teacher."

___
Cally Peterson is editor of North Dakota Living. She can be reached at cpeterson@ndarec.com.