How are North Dakotans doing, really?
A new study on the health and well-being of North Dakotans reports slight improvements in overall health, yet social and economic disparities persist across communities.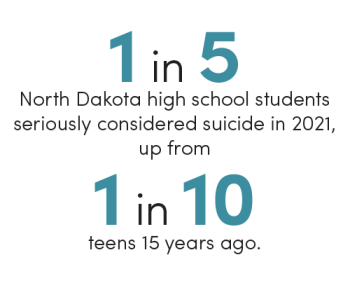 Findings show the average life expectancy for North Dakotans dropped to 77, which is down from 79 two years ago. In addition to shorter life spans, rates of poor mental health are on the rise. One in five North Dakota high school students seriously considered suicide in 2021, up from one in 10 teens 15 years ago.

Insufficient early education programs and economic gaps are also among the risk factors. North Dakota has the lowest percentage of young children enrolled in early learning programs nationwide, and most of the state's third-graders do not read proficiently.
Nearly 80,000 North Dakotans are living in poverty and another 107,564 live near poverty. Many families are facing difficult choices between food, transportation, medical care and housing.

The study, "Health and Well-Being in North Dakota, 2022 – A Social Determinants of Health Perspective," offers insight into the state of the social determinants of health – the conditions in which people are born, grow, live, work and age – in North Dakota. It was carried out by the Blue Cross Blue Shield of North Dakota (BCBSND) Caring Foundation in conjunction with the Center for Social Research at North Dakota State University.

"There is much more to a person's health than medical care," says Dr. Nancy Hodur, director at the Center for Social Research.

Repeated studies have found the conditions in which people live and work have an enormous impact on their health, long before they're seen in a doctor's office, the report states. Observing the health of a community cannot be done through a medical lens alone. Rather, the report continues, it starts in families, schools and workplaces, in playgrounds and parks, in the air people breathe and the water they drink.

"The circumstances and conditions in which people live and work have a substantial impact on health and well-being," Hodur says. "Recognizing the importance of social considerations and taking a comprehensive approach that incorporates quality-of-life considerations and social disparities is necessary to advance health and well-being in North Dakota."

"Gaining insight into North Dakota's social determinants of health will help us identify barriers that impact people's health," says Dan Conrad, Caring Foundation board chair and BCBSND president and CEO. "Our hope is that the report will lead to greater collaboration and alignment among government, industry, academia and community organizations as we work to elevate the state of health in North Dakota."

The full study is available at www.bcbsnd.com/sdoh. To learn more about the Caring Foundation, including its grantmaking activities to support and improve the health and well-being of North Dakotans and their communities, visit www.bcbsnd.com/caring-foundation.

Cally Peterson is editor of North Dakota Living. She can be reached at cpeterson@ndarec.com.
POOR MENTAL HEALTH
According to the 2021 Youth Risk Behavior Survey, a questionnaire administered to middle and high school students in the United States, approximately one-third of N.D. high school students reported feeling sad and hopeless nearly every day for two weeks in a row – so much they stopped engaging in their usual activities (36%). While trending slightly below the national average, the N.D. percentage of students feeling sad and hopeless increased steadily and substantially over the past 15 years, doubling from 17% in 2007.
Adults are also reporting poor mental health. In 2021, one in every eight adults in North Dakota reported at least two weeks of mentally unhealthy days in the past month (13%), which is up from 8% in 2013 and 11% in 2020.
Health and Well-Being in North Dakota, 2022 – A Social Determinants of Health Perspective
SENIORS LIVING ALONE
In North Dakota, nearly one-third of all people ages 65 and older live in their own home by themselves (31%), a higher rate than any other state in the United States.
Research has linked social isolation and loneliness to higher risks for a variety of physical and mental conditions, including high blood pressure, heart disease, obesity, a weakened immune system, anxiety, depression, cognitive decline, Alzheimer's disease and even death. People who find themselves unexpectedly alone due to the death of a spouse or partner, separation from friends or family, loss of mobility and lack of transportation are at a particular risk.
Health and Well-Being in North Dakota, 2022 – A Social Determinants of Health Perspective