Secretary of State retiring after 30 years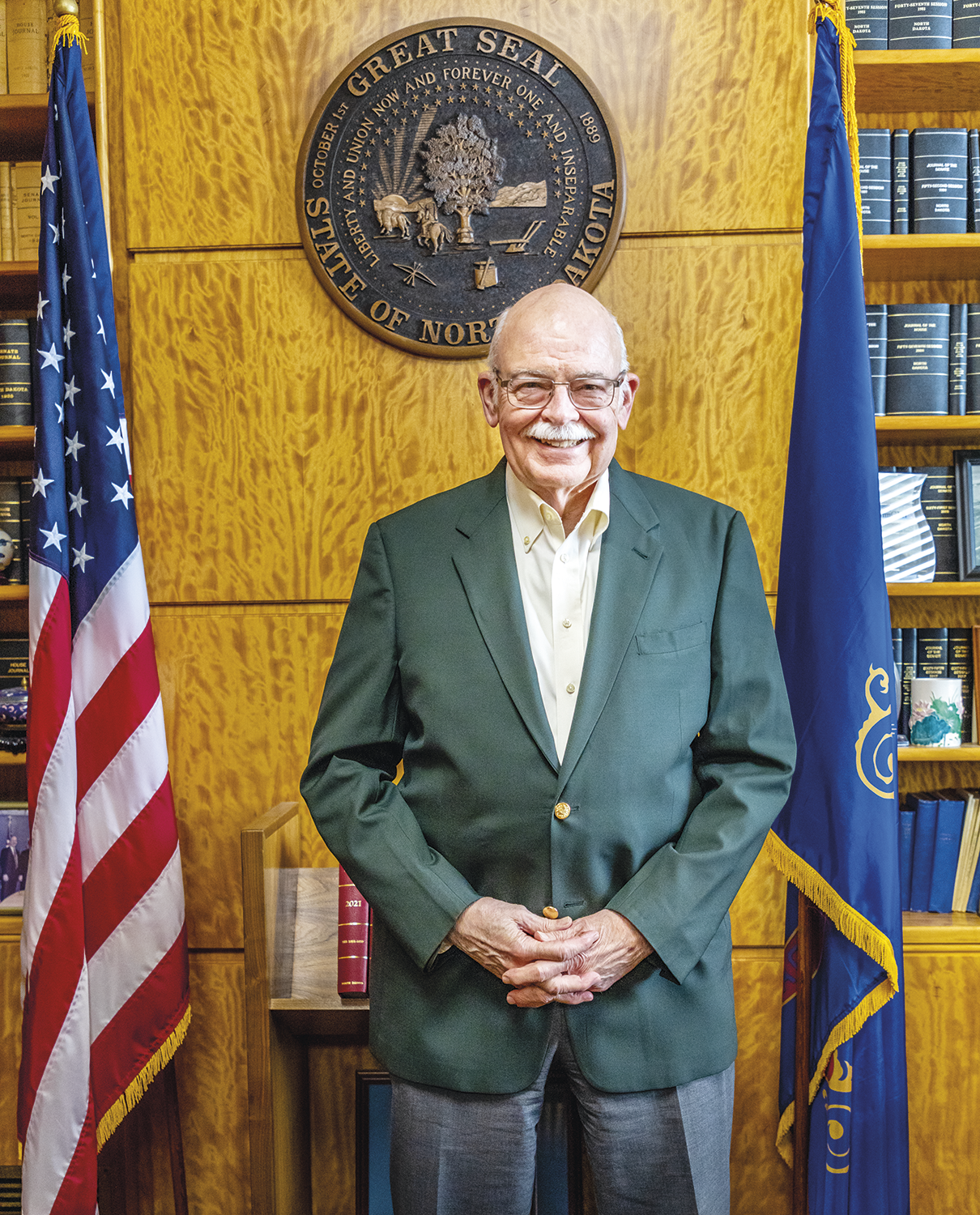 Al Jaeger has been elected secretary of state by North Dakotans eight times and will retire at the end of 2022.
Photo by NDAREC/Liza Kessel
This month, Alvin "Al" Jaeger, the son of a North Dakota coal miner and Beulah native, presides over his last election. Jaeger, a Republican, will retire as North Dakota's secretary of state at the close of the year.

"There's nobody in the class I graduated with (in high school) that would someday think I'd be secretary of state," Jaeger says with a laugh. "I know I didn't."

But the voters who elected him to his first four-year term in 1992 – and seven more times over the course of three decades – sure did.

The stories Jaeger tells of running a backhoe, tarring septic tanks or putting in water lines with his dad are relatable. So is his admission, like others of his make and model, that he has no desire to leave the state or travel outside of North Dakota in retirement.

And despite his towering stature, Jaeger's delivery is soft, passionate and sincere. Perhaps that comes from being a dad of daughters.

Whether the voters elected him eight times because of his politics, persona or his ability to do the job, Jaeger has taken his oath of office seriously.

"I'm very appreciative of the confidence they put in me. I've tried to do the right thing for them," Jaeger says.

That means leaving the politics at the door, he says.

"You get this job through a political process, but our job is to do the right thing," he says. "You look at situations, you determine the best way of doing it, and you make your decisions based on that, not based on political considerations. The goal is to do the right thing. That's what we do. We treat everybody the same."
 
THROUGH MANY SEASONS
Jaeger has many duties as secretary of state. He oversees the elections process, candidate filings, campaign disclosure reports and petitions for initiated, constitutional and referred measures. He licenses contractors, commissions notaries public and registers lobbyists. He files and maintains records for business entities, including cooperatives. Plus, he serves on numerous boards and commissions in his capacity as secretary of state, including the state's Emergency Commission, State Historical Board and Board of University and School Lands.

Over 30 years, Jaeger has led the office through many seasons, including the transition from a paper office to computers, with its first online presence occurring around 1997. Today, Jaeger estimates about 90% of the work is done by computer, with business and other filings done online.

The growth of the oil and gas industry in the Bakken around 2012 posed challenges. Jaeger made the decision to shut down his office to the public one day a week, so his staff could work. The work turnaround in the office was about six weeks at the time, compared to the one- or two-day turnaround North Dakotans experience today, Jaeger says.

During his tenure, more than 90 ballot measure petitions were approved by his office for circulation, though not all made it to the ballot. He cautions citizens to know what they're signing and what they're voting for, noting some ballot initiatives in recent years have been funded by out-of-state interests.

"The initiated measure process is for the people of North Dakota," he says.

And, Jaeger is concerned by recent attempts to cast doubt on the security and accuracy of U.S. elections, which has spilled into North Dakota.

"This element of distrust has been launched," he says. "Despite what we say, what we show, what we can prove, there is this element of distrust. I don't know how we deal with that."

"When naysayers don't believe the result, it concerns me," he continues. "We have an excellent history in North Dakota of elections. They've been done well. They've been done accurately. We can be proud of that. If I had any thought that any of it could be compromised, I wouldn't have any part of it. I wouldn't have been able to do this job."

He has weathered the seasons of politics, too.

Jaeger, a Republican, failed to garner his party's endorsement for reelection in 2018. When the Republican-endorsed candidate that year dropped out after a disorderly conduct charge came to light, Jaeger reentered the race as an independent on the primary ballot. He went on to win his eighth election – and first as an independent – in November's general election.

As Jaeger reaches the end of his political career, he does so at a time when other elected officials are doing the same.

N.D. Senate Majority Leader Rich Wardner and House Majority Leader Chet Pollert will be noticeably absent from the 2023 legislative session. Together, the majority leaders served in the legislature for more than 50 years.

Last November, state Sens. Nicole Poolman, R-Bismarck, and Erin Oban, D-Bismarck, announced they would not seek reelection. Both cited the erosion of civility in public discourse as factors in their decisions.

While not a factor in his retirement decision, still, Wardner urged civility.

"As I pass the torch, my greatest hope is we can come together as a party and as a state to focus on our shared needs and common goals," Wardner told the Williston Herald. "That our actions would be rooted in civility; building each other up, recognizing each other's inherent worth, and disagreeing respectfully when necessary. Not only is this critical to ensure that good people are willing to serve, but also for the greater good of the people we represent."

Jaeger expresses similar sentiments.

"People need to know what's going on, stay engaged and involved, and I really hope they do it with kindness and tolerance and without name calling. Two people can disagree and still be friends," he says. "If there is something that will be good for the community, state or school, talk about it – the idea, not the personality."
 
WHAT I AM
Many people, in North Dakota or elsewhere, have used the office of secretary of state as a steppingstone to higher political office. Not Jaeger.

On his first day in office, Jan. 1, 1993, Jaeger sat at the sturdy, faded wooden desk of his predecessors, that was now his.

"I went over to Dan's (Supermarket), and I bought some Liquid Gold," he recalls. "I rubbed down that desk and the color really came out."

On Jan. 1, 2023, a new secretary of state will sit at that same desk to work for North Dakotans, hopefully with the same care, attention and detail Jaeger paid the office.

"The work of the office continues, and it's going to continue beyond me," Jaeger says. "I was very blessed. I've never wanted to be anything other than what I am."

Cally Peterson is editor of North Dakota Living. She can be reached at cpeterson@ndarec.com.