Recipe Roundup: More than something to eat
Mor-Gran-Sou Electric Cooperative member Annette Broyles drives 80 miles roundtrip each workday, to get from her home in rural New Salem to her classroom at United Tribes Technical College (UTTC) in south Bismarck. She doesn't mind the drive, because she loves her job. In fact, she celebrated her 16-year work anniversary in December.

"Every job I have had has kind of led me to this," Broyles says.

A teacher for over 30 years, Broyles first taught family and consumer science in Halliday, Sawyer and New Salem. Her fondness for travel took her abroad for two years, teaching at a military command center in Belgium. Now, she chairs the culinary arts and nutrition program at UTTC.

The UTTC program offers a certificate or associate of applied science degree. Students gain hands-on experience in food preparation, kitchen management and the use of commercial kitchen equipment, while learning to identify the relationship between cooking skills and nutrition.

"Students learn culinary skills required to work in a professional kitchen, and all are ServSafe® certified," meaning they have the food safety skills and training to work in the food service industry, Broyles says. "Nutrition and healthy eating run throughout all the classes, especially with the availability of fresh garden produce and the health disparities among Native people."

Current students in the program say the gardening portion of their curriculum is a favorite. As a land-grant institution, UTTC manages a large gardening operation to support its mission of strengthening tribal communities and promoting healthy lifestyles for citizens of tribal nations. Since last fall, UTTC now offers a sustainable agriculture and food systems degree.

While the tribal college's student body is primarily Native American, non-Natives do attend at a varying rate. Last semester, non-Native students made up 12 percent of the student population, and 6 percent of current students are non-Natives. The student body is also diverse in age, the mean age being 26, with 28 percent age 30 and over.

Other unique aspects of the UTTC culinary arts and nutrition program include a "Quantity Foods" course and a culinary exploration section. In "Quantity Foods," students plan a meal for 50 people, from start to finish. They choose the menu and décor and manage a team of classmates to prepare and serve the meal.

"Something that was missing, I thought, was the chance to explore more," Broyles says of the addition of the culinary exploration section of the coursework. Some have since participated in a "cupcake wars" competition, putting their unique cupcakes up against those of their peers, and then selling the product at a winter market on campus.

Students apply their learned skills in a final semester foodservice internship. Broyles says her students find work after graduation in assisted living centers, education institutions, restaurants, casino kitchens, grocery stores, catering and more.

The success of UTTC students is encouraged by the larger organization that is UTTC, including the staff, educators and network of support services. On-campus child care is offered to UTTC students and an on-campus elementary school, Theodore James Elementary School, provides education for Native American children in grades pre-K through seventh. Like in Native American culture, family is valued at UTTC.

"Native culture is focused on being together," Broyles says. "Sharing food together is part of that. Food is more than just something to eat."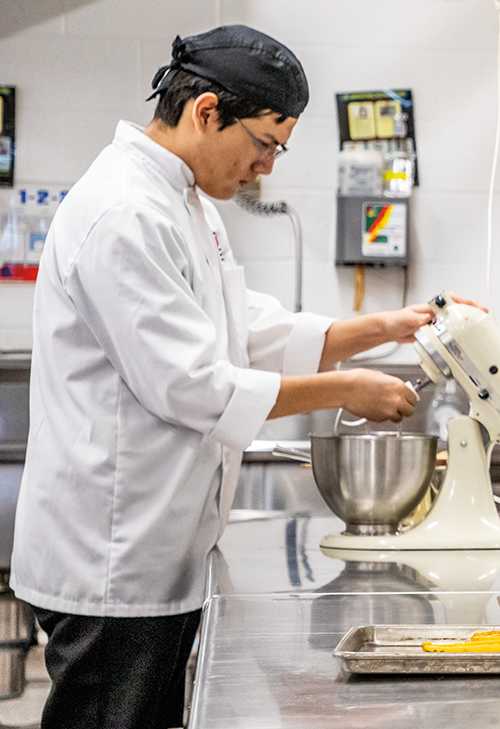 "I figured it would be better for my life."

JEFF MCLAUGHLIN
"    McLaughlin, S.D.
"    Standing Rock Sioux Tribe
"    First-year student

McLaughlin came to UTTC with an interest in agriculture. After September's education section on gardening, he set his eyes on the school's culinary arts and nutrition program. He was excited to learn about indigenous gardening and growing traditional foods, like the "Three Sisters" – corn, beans and squash.

"It feels like a second home," McLaughlin, who lives in on-campus housing, says of UTTC.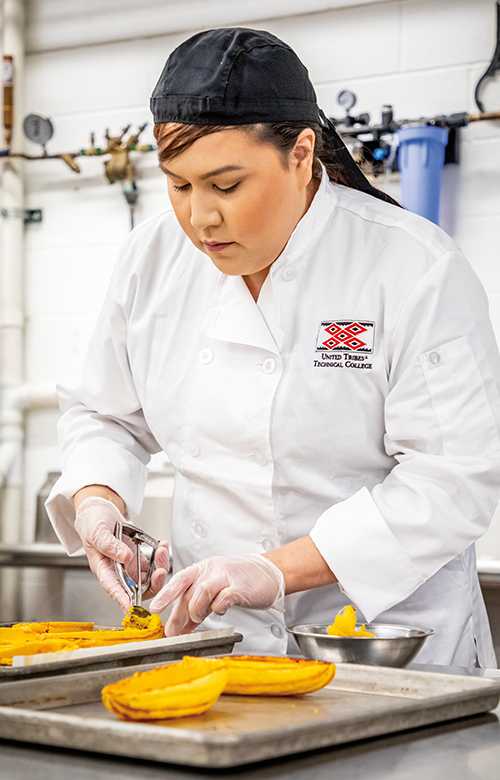 "I wanted to finish my degree."
 
KRISANNDA WELLS
"    New Town
"    Mandan, Hidatsa
    and Arikara Nation
"    Return student

Wells started school at UTTC with dreams of becoming a dietician. She left school when her son was born, but returned four years later.

"I want to show my kids I could finish school," Wells says.

She's learning about indigenous chefs, while UTTC helps with the family side of things. Wells' son attends the on-campus preschool program.
"They really help you finish (school)," Wells says.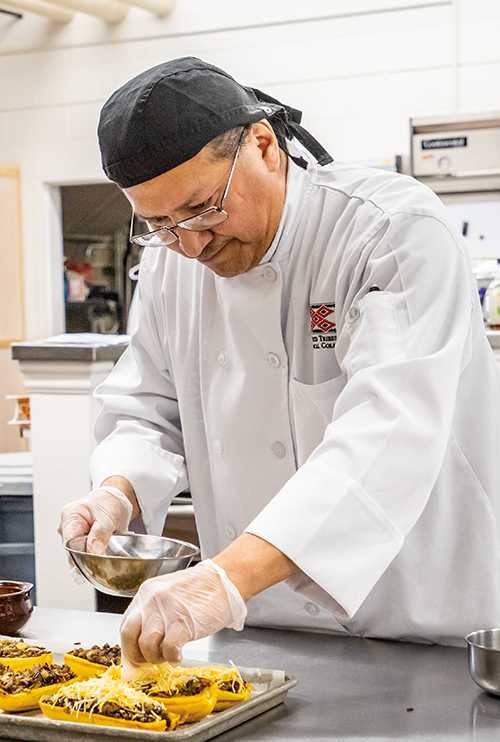 "I was told I didn't know how to cook."
BROOKS REYNOLDS
"    New Town
"    Mandan, Hidatsa and Arikara Nation
"    First-year student

Reynolds has plans to return home to New Town after obtaining his associate degree from UTTC. He wants to help his tribe establish a meat packing plant, so game can be processed locally.

"At first, I didn't know what I was going to do," he says. "But I took some classes and it really makes you think. Everybody eats. And I can help get the healthy stuff out there (to the Native American population)."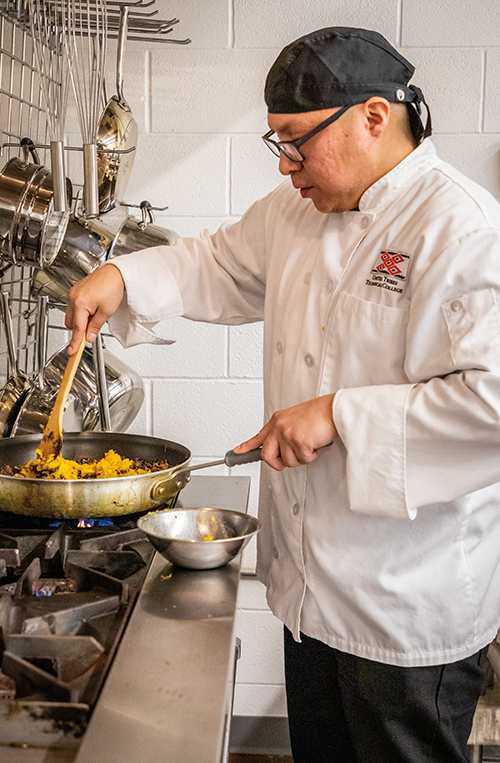 " Why not do something you love?"
KEENAN BEAR
"    Tama, Iowa
"    Meskwaki and Mandan, Hidatsa and Arikara Nations
"    First-year student

Bear liked cooking, having spent time in the kitchen with his grandparents. He remembers eating a lot of traditional foods growing up, but he wasn't fond of his grandfather's favorite – liver and onions!

Bear misses his two daughters back home in Iowa, but says he's getting his education to best provide for them.

"I want to be a really good chef," he says with a smile.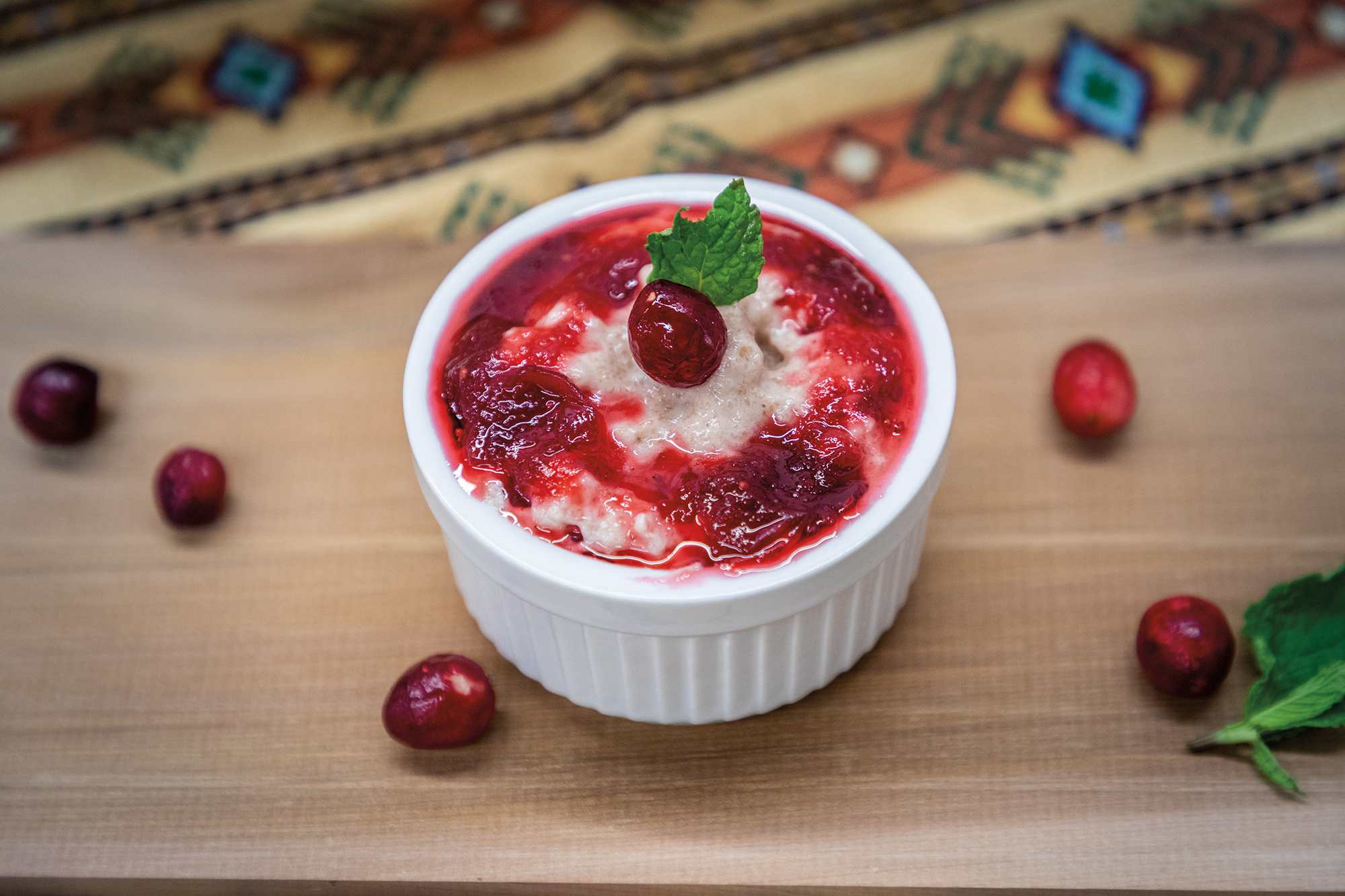 Description
This pudding is a fluffy marshmallow-like concoction sure to both please and mystify those who consume it. It can be served alone, or like we prefer, with a heavy dose of cranberry maple sauce. The sauce is also a delight paired with other desserts or drizzled over roasted squash, venison or fowl.
6 (1/2 cup) servings pudding and 1 cup sauce
Instructions
PUDDING – In a medium-sized saucepan, bring cranberry juice and syrup to a boil over medium heat. Gradually add cream of wheat, stirring constantly. Reduce heat to low and cook, stirring constantly, for 10 minutes longer. Transfer to a large mixing bowl and beat for 10 minutes, until pudding has tripled in volume. Serve warm or chilled. Top with cranberry maple sauce, if desired.

SAUCE – In a saucepan, combine cranberries, maple syrup and water and bring to a boil over medium-high heat. Reduce heat to medium-low and cook, stirring often, for about 10-15 minutes, until berries have burst and sauce has thickened. Stir in spicebush berry or allspice, if desired. Cool and serve at room temperature. Sauce is best when made several hours in advance, so that flavors blend nicely.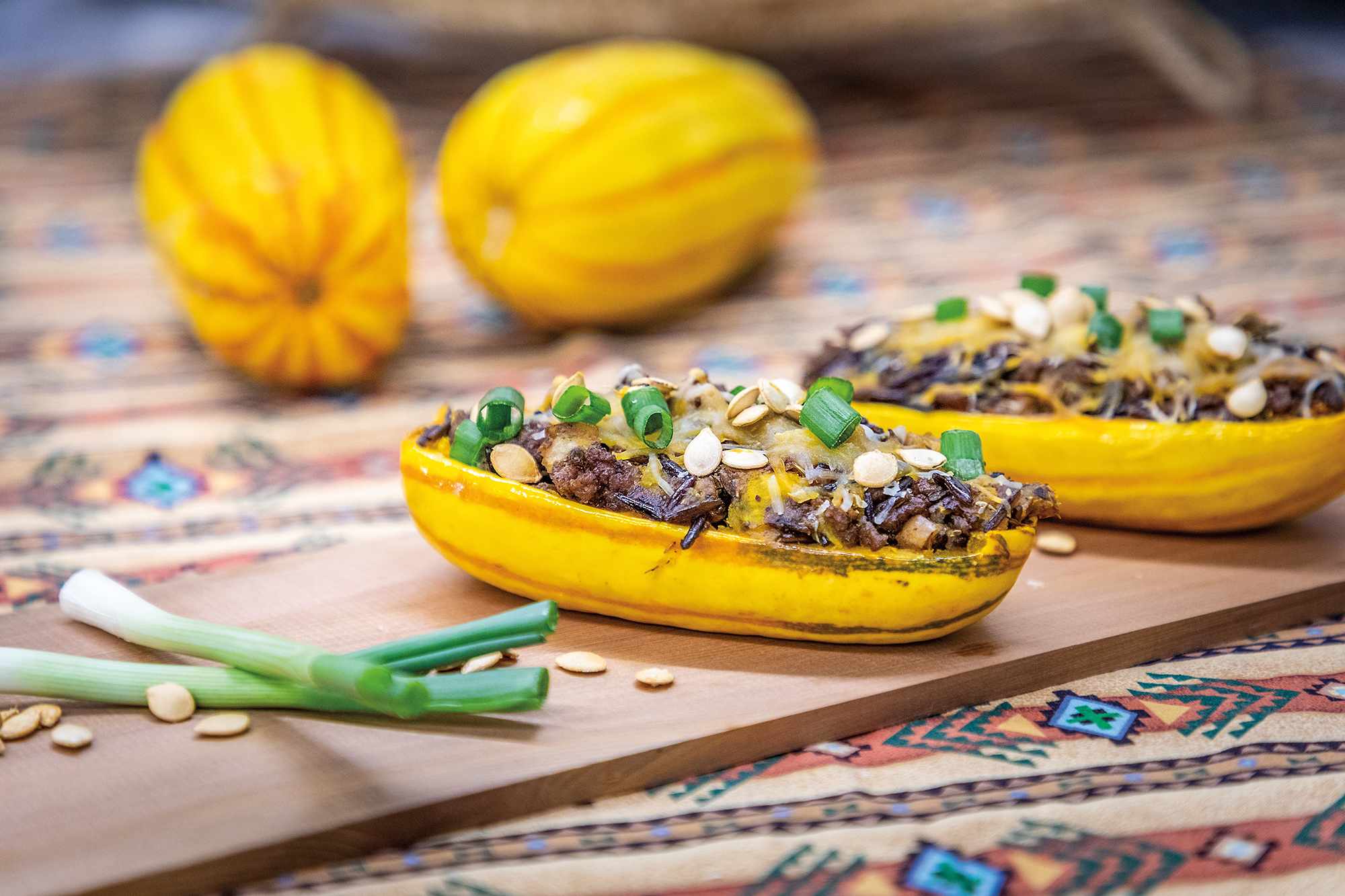 Description
This healthy dish includes all of the food groups and celebrates traditional indigenous ingredients, like squash, wild rice and bison. The "secret" ingredient, the chefs say, is the caramelized onions. Additionally, the squash used in this recipe testing application was grown by students in the UTTC campus garden!
Instructions
Bring water to boil, add wild rice, cover and simmer for 55 minutes. Let stand 5 minutes.

Preheat oven to 400 degrees. Halve the squash and remove the seeds (saving to roast and use as garnish, if desired). Rub the squash with olive oil and season with salt and pepper. Place cut side down on a parchment-lined baking sheet. Bake for 20-25 minutes, or until squash is cooked through and tender.

While squash is roasting, dice onion and caramelize in olive oil in a large skillet. (This may take over 30 minutes; onions should be a golden brown.) Add the ground bison, apple, thyme, oregano, garlic powder, salt and pepper to the caramelized onions and sauté until the bison is cooked completely and the apples have softened a bit. Cover and keep warm.

When the squash has cooked, scoop out some of the squash, making sure to keep the shell (skin) intact. Put squash shells back on baking sheet.

Add the removed squash and cooked wild rice to the bison mixture. Stuff each squash half with the mixture, sprinkling each with 2 T. shredded cheese. Bake for 5-10 minutes until heated through and cheese is melted. Garnish with chopped green onions and roasted squash seeds, if desired.
Notes
YIELD: 8 squash halves
TO ROAST SQUASH SEEDS: Pick seeds out of pulp, rinse in water, drain and pat dry. Toss with ½ T. olive oil and salt, to taste. Bake in single layer on baking sheet at 400 degrees for 10-15 minutes, or until golden brown. Stir during cooking time.
*Other small winter squash, like acorn or buttercup, may be used.