Black Leg Ranch Bison Burgers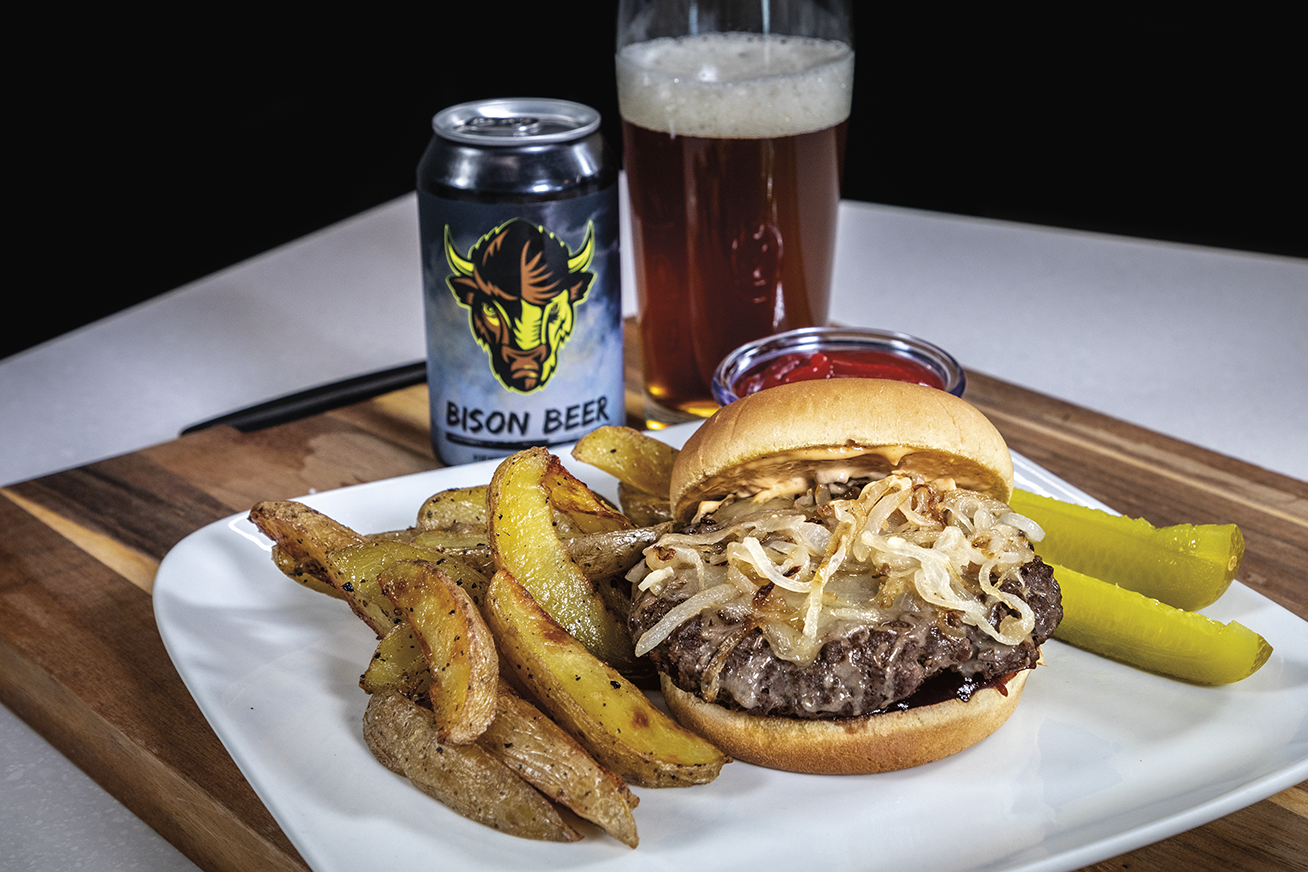 Description
  12  oz. Yukon gold potatoes, cut into ½-inch wedges
    2  T. avocado mayo
    1  tsp. hot sauce
    2  T. classic BBQ sauce
    1  yellow onion, 2 T. minced and the rest thinly sliced
    1  lb. Black Leg Ranch ground bison
    1  T. fry seasoning
   ¼  cup shredded Monterey Jack cheese
    2  potato buns
    1  T. butter
        Olive oil
Instructions
For the potato wedges, wash and pat dry potatoes, cut into ½-inch wedges and place on rimmed baking sheet. Drizzle with olive oil and season with salt and pepper. Roast in a 425-degree oven for 20-25 minutes, until golden brown. Add another sprinkle of salt hot out of the oven.

For the spicy aioli, combine avocado mayo, hot sauce, salt and pepper to taste and set aside.

Thinly slice onion, reserving 2 T. minced onion. In a large pan, melt 1 T. butter over medium heat. Add onion and cook until lightly browned and softened, about 10 to 15 minutes, stirring occasionally. Remove onions and set aside; do not clean pan.

In a bowl, combine ground bison, minced onion, fry seasoning, salt and pepper. Form two burger patties, ensuring patties are wider than the buns. In the same pan in which the onions were cooked, add a little oil or melt butter, then fry bison patties, about 4-7 minutes on each side, or to desired doneness. Top burgers with Monterey Jack cheese until melted.

Toast buns. Spread BBQ sauce on the bottom bun and spicy aioli on the top bun. Top burger with caramelized onions and serve with potato wedges.
Notes
Pair with Black Leg Brewery's Bison Beer.
Source
Recipe by the Doan family, Black Leg Ranch and Black Leg Brewery, members of Capital Electric Cooperative