Make your kitchen a science-learning lab for kids
How can children have fun this summer while not forgetting the information they learned during the school year? Try exploring some kitchen science!

Kids may think they are making ice cream or fruit leather, but they're actually engaged in food science, including biology, chemistry, math, physics and other scientific disciplines.

Food science has allowed us to survive since the dawn of time. We did not always have "fresh" food, so we explored drying, fermentation and many other techniques that have sustained us throughout history.
Learning in the kitchen
As children read recipes and measure ingredients, they are sharpening their reading, vocabulary and math skills. Cooking fosters creativity. They can learn about various methods of preparation and flavor combinations. Growing some pots of herbs and using them on pizza and in dips can foster these flavor explorations.

Food preparation teaches cooperation and communication. It gives kids a sense of accomplishment. They have a sense of pride when they finish cooking and share what they have made with their family.

Cooking helps kids make smart food choices. If you combine gardening with cooking, children learn how foods grow and are more likely to eat vegetables and other foods.

Explore molecular gastronomy
If you want to impress children, let them know they can help you with "molecular gastronomy." This relatively new term in food and culinary science was first used in 1988. It uses the principles of physics, chemistry and biology, along with art, to transform ingredients into new and unique food products.

Molecular gastronomy techniques may use additives such as emulsifiers, like eggs, that bind together ingredients, such as oil and water, to make mayonnaise. The technique might include different ways of heating food, such as "sous vide" (slow cooking in a vacuum-sealed plastic bag in a warm water bath).

Chances are children have had some experiences with molecular gastronomy. "Spherification" has been around for many years.

"Dippin' Dots" brand ice cream is an example. Liquid nitrogen is used to "flash freeze" ice cream. Through this process, regular ice cream is transformed into tiny balls of ice cream. The product requires a special super-cold freezer to maintain the product's shape.

Boba is another example, which are tiny juice-filled balls or "pearls" that pop in your mouth. They are the showstopper used in "bubble tea." Try making your own boba at home in North Dakota Living's matcha bubble tea (see page 24).
Find more resources from NDSU Extension at www.ndsu.edu/agriculture/extension.
___
Julie Garden-Robinson, Ph.D., R.D., L.R.D., is a food and nutrition specialist with NDSU Extension.
Yummy Science
Have kids explore food science or molecular gastronomy with these fun, hands-on recipes. They will use the principles of physics when making ice cream in a bag. Try making your own boba at home from tapioca starch, which forms when mixed with hot water through a process called starch gelatinization.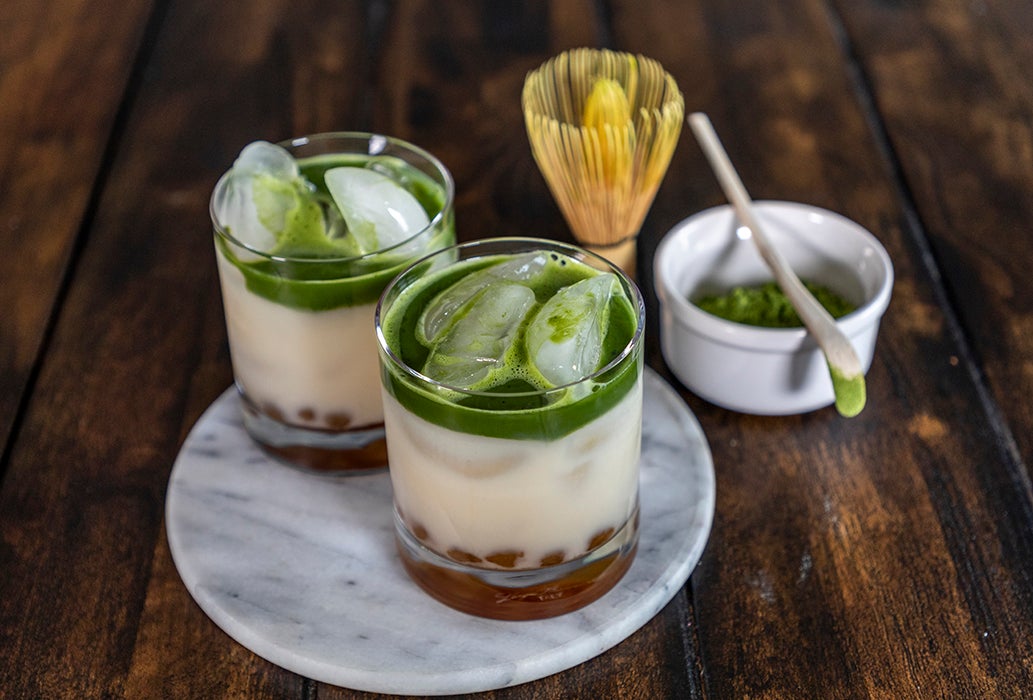 Description
HOMEMADE BOBA
    1    cup brown sugar
    3    cups water
    6    tsp. tapioca flour (also called tapioca starch)
    2    tsp. boiling water

MATCHA BUBBLE TEA
    1    tsp. matcha green tea
   ¼    cup hot water
   ½    cup boba (storebought works, too!)
    2    cups milk of choice*
    1    cup ice
Instructions
Heat three cups of water in a small saucepan until boiling. Add brown sugar and stir until sugar dissolves and forms a syrup. Pour the syrup in a large bowl and set aside to cool.

Boil a small amount of water. Measure tapioca flour into bowl, then add 2 tsp. hot water and stir until a dough forms. Knead the dough with your hands to make a ball. The dough should feel like playdough. Add a tiny amount of hot water if the dough is too dry or a little tapioca flour if it's too sticky. Knead dough, then transfer to a cutting board. Use your hands to roll dough into cylinders the thickness of a pencil. Cut each long cylinder into short pieces that are as long as they are wide, then roll each piece into a ball. (These are your homemade boba balls!)

Heat 2 cups of the brown sugar syrup until boiling (reserve 1 cup for later), then add boba balls. Cook until boba are soft, gooey and more translucent, testing for doneness every five minutes (you will see boba become more translucent when taking it out of the water to test doneness). This process often takes about 20 minutes, and can vary depending on the size of the boba. Use a slotted spoon to transfer boba from boiling syrup to the reserved 1 cup syrup.

In a small bowl, whisk the matcha green tea powder with ¼ cup hot water. Set aside and let cool.

To assemble drinks, divide ½ cup boba (from cooled syrup) in two glasses. Add 2 tsp. brown sugar syrup each for sweetness. Fill glasses with ice and pour milk. Finally, pour matcha green tea. Stir, adjust sweetener to taste and enjoy.
Notes
*Try plant or nut milk for a more traditional bubble tea. We used oat milk, as it appeared a preferred choice in our bubble tea research. Soy, almond or coconut milk could also be considered.
Source
RECIPE by North Dakota Living test kitchen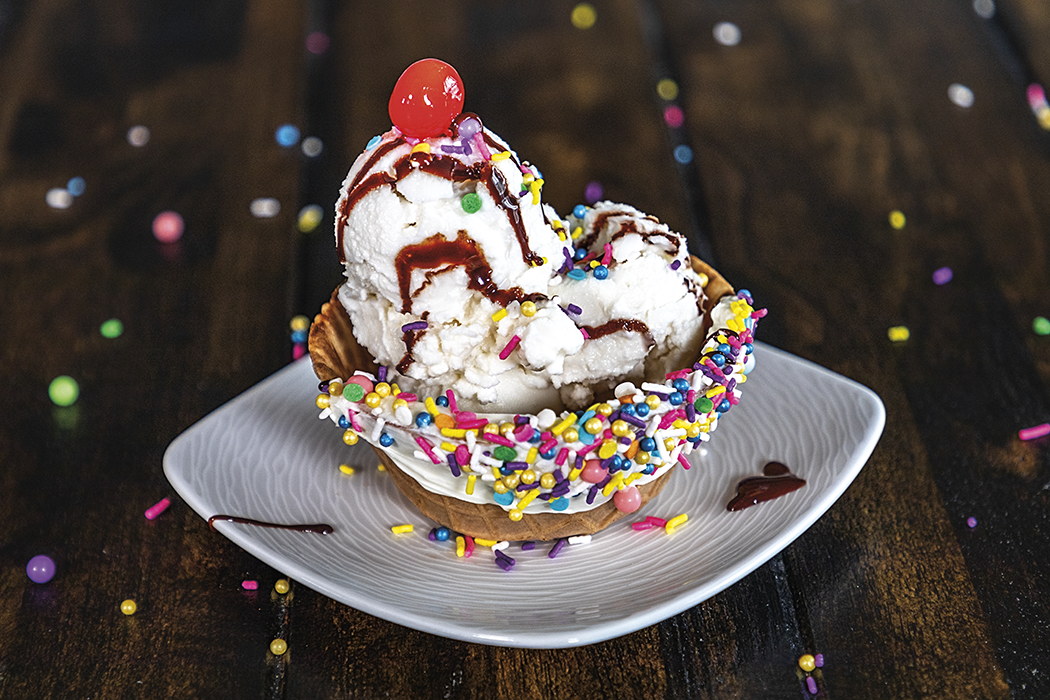 Description
    1    cup milk
    1    cup half and half
   ¼    cup sugar
   ½    tsp. vanilla extract
          Crushed ice (one bag of ice will freeze three bags of ice cream)
    1    cup rock salt
          Toppings of choice
Instructions
ools needed: Quart- and gallon-sized Ziploc freezer bags, duct tape, bath towel.

Place the milk, half and half, sugar and vanilla in a quart freezer bag and seal. For security, fold a piece of duct tape over the seal. Place the bag with the ingredients inside a gallon freezer bag. Pack the larger bag with crushed ice around the smaller bag. Pour rock salt evenly over the ice. Seal the outer bag. Wrap in a bath towel and shake for at least 10 minutes.

Open the outer bag and remove the ice cream bag, wiping off to be sure salt water doesn't get into the ice cream. Cut the top off and spoon into cups. Serve with preferred toppings.
Notes
TIP: Everett Peterson, daughter of Northern Plains Electric Cooperative (NPEC) lineworker Dustin (wife, Kristin) Peterson, and Kylie Wachter, both granddaughters of Julie and the late Keith Peterson (also an NPEC lineworker) recommend sprinkles (lots of them!), birthday cake cookie dough bites, marshmallows and the syrup of your choice for their "unicorn" and "mermaid" ice cream bowls. Sprinkle-fy your ice cream bowl or cone by spreading a layer of storebought frosting, then rolling in sprinkles!