Recipe Roundup: December 2021
'Gutes Essen'
A German-Russian Christmas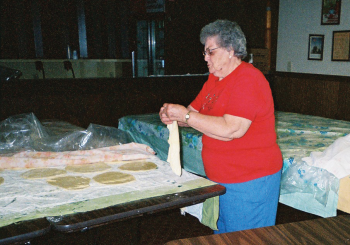 I can still see her hands. It's the one image that doesn't fade in my memory with time.

Her hands – holding cards, peeling potatoes with a paring knife, moving marbles around the Aggravation board or kneading, delicately stretching and rolling the strudel dough.

They are pruned, like mine after a long soak in the bathtub. But the lines in her hands are shaped by a lifetime of hard work, milking cows, baking bread and changing diapers. Those hands endured long, harsh winters and enjoyed the reprieve of perfect North Dakota summers. Unlike my long Norwegian fingers, hers are short and soft, with the smell of dishwater and yeast. They smell safe, like her home.

They were not my grandmother's hands, but they sure felt that way to me. She was my "bonus grandma."
 
ENJOY YOUR MEAL
I was one of the last babies born in the Ashley hospital, right in the heart of German-Russian country.

My parents worked hard to make ends meet, while raising two little girls. Dad worked at the local credit union. Mom was a writer. She ran the Ashley Tribune, was the North Dakota Living local pages editor for KEM Electric Cooperative, and started a business making chokecherry syrup, Ashley Berry Co.

It couldn't have been an easy time in this young couple's life. But one person changed all that – Emma (Eszlinger) Speidel.

Emma and her husband, Herbert, ran an in-home day care in Ashley for many years. My older sister, Erin, started at Emma and Herbert's day care when she was just 2 weeks old. Myself and my younger brother, Cole, followed. It never felt like day care; it just felt like Grandma's.

Like many from Emmons, Logan and McIntosh counties, Emma and Herbert were of German-Russian heritage. They were descendants of Germans, who had left for Russia in the early to mid-1800s to farm land given away by Russian tsars. In 1874 when Russia instituted mandatory military service, many Germans from Russia migrated east to America and a newly formed territory called North Dakota.

With them came their Germans from Russia culture, religion and food. Today, you'll see it in the iron crosses adorning cemeteries and on local café (pronounced KUH-FAY) menus in southcentral North Dakota – and told throughout the pages of a special cookbook, "Gutes Essen: Good Eating in German-Russian Country."

"Gutes Essen," which translates to "enjoy your meal," was first a documentary created by the Tri-County Tourism Alliance and Prairie Public, then a cookbook printed in 2017 and reprinted in 2021. Many of the recipes and quotes were excerpted from "Ewiger Saatz – Everlasting Yeast," written and edited by Sue B. (Kaseman) Balcom. Both cookbooks celebrate the food culture of Germans from Russia.

The preface of "Gutes Essen" admits it is a "most unusual cookbook." Instructions for the recipes within are often sparse or missing. The recipes weren't vetted in a test kitchen, but have stood the test of time, having been passed down through generations of oral history, handwritten notes, worn recipe cards and teaching by the hands of grandmothers, and their grandmothers before.
 
CHRISTMAS AND COOKIES    
An entire chapter of "Gutes Essen" is dedicated to "Christmas and cookies," because as the book describes, "No good German-Russian cookbook would be complete without mention of the holidays."

"A religious community, whether Lutheran or Catholic, holidays were marked with cookies and kuchen and special once-a-year treats," the book says. Memories shared in this chapter describe Christmas programs held in schools and churches, the mean Santa Claus known as Beelzebuf or Belsnickel, and brown paper treat bags for children filled with hard candy, chocolate stars, nuts and an apple or orange.

As I made the Sally Ann, Pfefferneuse (pepper-nut) and baking ammonia cookies in my kitchen for this recipe feature, I was transported back to "Grandma" Emma's at Christmas. The smell of molasses, anise, cinnamon and allspice hung in the air. I could hear her quiet chuckle, still distinguishable over the noise from her lineup of singing and dancing Santas. And again, I saw her hands and yearned to touch them once more.

May the memories of Grandma's hands keep you warm this holiday season and your heart full forever.
Description
These cookies were family favorites, made for the Christmas holidays.
Instructions
    1    cup lard
    1    cup sugar
    1    cup honey
    ½    cup molasses
    1    cup coffee, cooled
    1½    tsp. anise
    3    eggs, beaten
    3    tsp. baking soda
    1    tsp. nutmeg
    1    tsp. salt
    1    tsp. cinnamon
    1    tsp. allspice
    ½    tsp. black pepper
        Flour to make a soft dough, about 7 cups
Notes
Cream lard and sugar together. Mix in honey, molasses, coffee and anise. Beat in eggs. Combine dry ingredients and gradually add to wet mixture. Add additional flour, as needed, to create a soft cookie dough. Chill overnight. Shape into small balls. Bake at 375 degrees for 8-12 minutes. Cool on wire rack. Dust with powdered sugar.

NOTES: We checked the cookies at the 8-minute mark and found that 11 minutes was the appropriate baking time for our batch. We halved this recipe and still had PLENTY of dough. We've been told by reliable, local German-Russian sources that these cookies and dough freeze well, for up to a year.
Source
RECIPE by Joyce Giedt and Jane (Giedt) Kirby, from their mother, Mrs. William C. (LaVerne) Geidt, McIntosh County, as published in "Gutes Essen: Good Eating in German-Russian Country"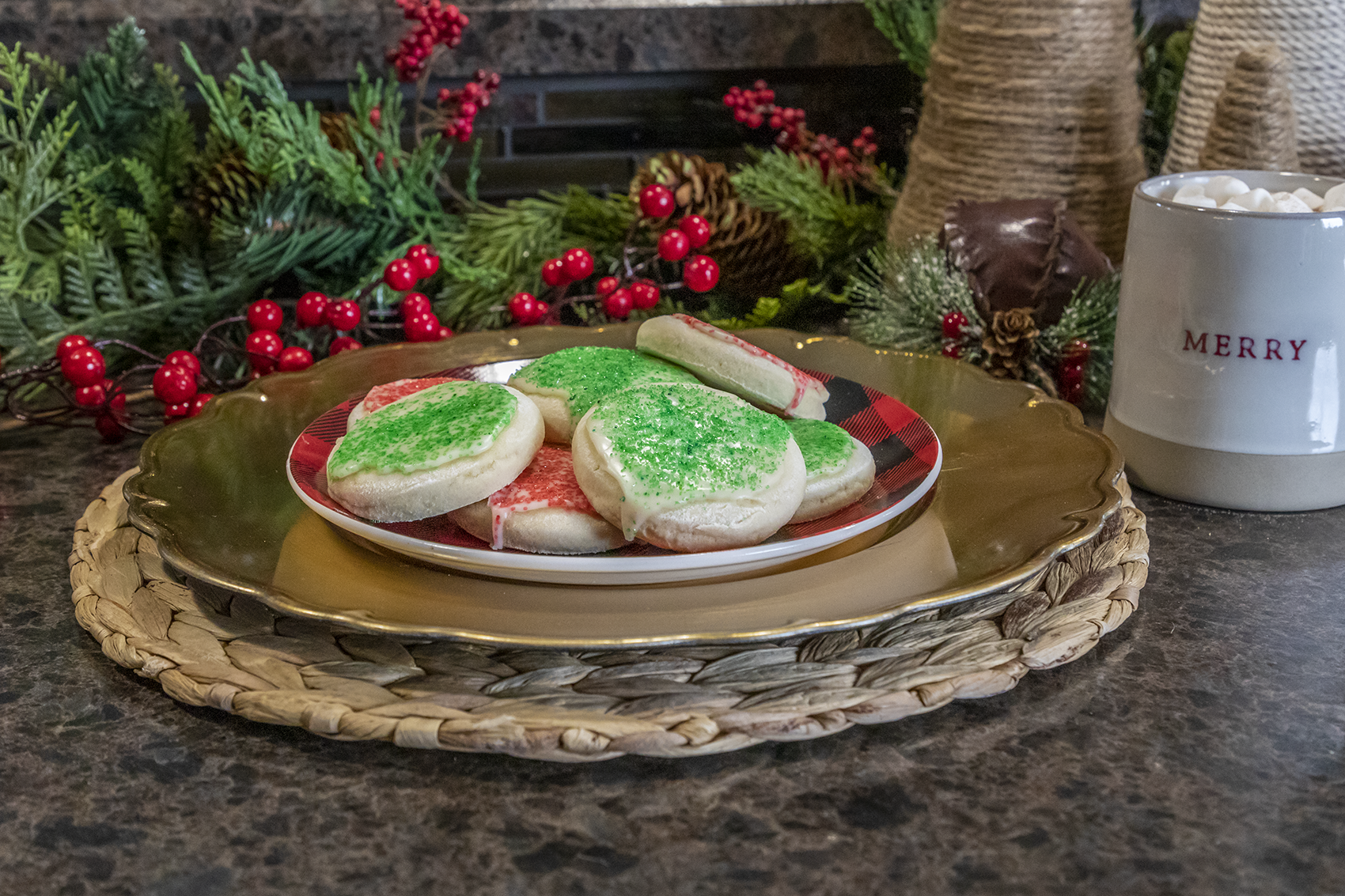 Description
Aunt Alice made these with her grandchildren every Christmas.
Instructions
    1    T. baking ammonia
    ½    cup regular or sour milk
    1½    cups sugar
    ½    cup soft butter
    3    eggs
    ½    tsp. vanilla
    ½    cup. sour cream
    5½    cups flour
        Powdered sugar frosting, colored sugar or coconut, for topping
Notes
Dissolve ammonia in milk. Cream butter and sugar. Beat in eggs, then vanilla, sour cream and milk mixture. Mix in flour. Let dough set overnight in a cool place. Roll dough to ½-inch thickness on heavily floured board. Bake at 350 degrees for 10 minutes. While still warm, frost with powdered sugar frosting and sprinkle with colored sugar or coconut.

NOTE: Aunt Alice would remind you that Mr. Clean is not a substitute for ammonia in this recipe. Baking ammonia was used as the primary leavening agent in baked goods before the advent of baking soda and baking powder. If a recipe calls for the ingredient, you know it's an old one. While the smell is strong during the baking process (don't take a whiff when you first open your oven door!), the odor bakes out of the finished cookies. The result? A deliciously light, puffed cookie with the perfect texture. Baking ammonia can be purchased at some specialty stores or online.
Source
RECIPE by Sue (Kaseman) Balcom, from her aunt, Alice (Wanner) Kaseman, as published in "Gutes Essen: Good Eating in German-Russian Country"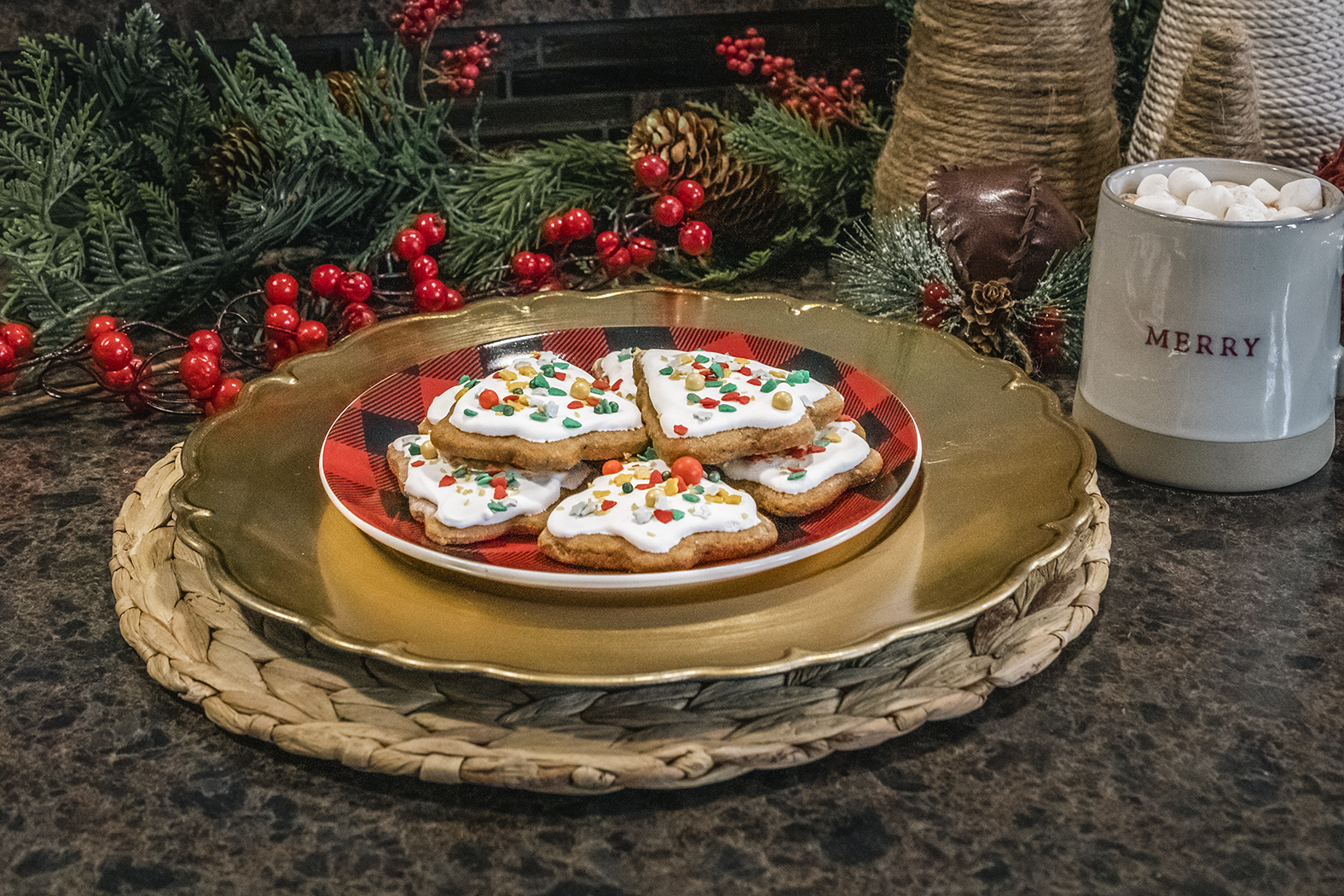 Instructions
    1½    cups brown sugar
    1    cup shortening
    2    eggs
    ¾    cup molasses
    1    cup sour milk
    2    tsp. cream of tarter
    4    tsp. baking soda
    1    T. ginger
    1    tsp. cinnamon
    5    cups flour

FROSTING:
    1    package Knox gelatin
    ¾    cup cold water
    ¾    cup sugar
        Pinch of salt
    ¾    cup powdered sugar
    ¾    tsp. baking powder
    1    tsp. vanilla
        Sprinkles, optional
Notes
Cream sugar and shortening. Beat in eggs, molasses and milk. Combine dry ingredients and gradually add to wet mixture. Chill 2 hours or more. Roll on lightly floured surface and cut with cookie cutters (or an empty SPAM can, like Grandma used to do it). Bake at 350 degrees until center is set, about 8-10 minutes. Cool on wire racks.

For frosting, dissolve gelatin in cold water using saucepan. Add sugar and salt. Bring to a boil, then simmer for 10 minutes, stirring constantly. While hot, pour mixture over powdered sugar in a large bowl and beat until foamy. Add baking powder and vanilla. Continue beating until stiff (this may take some time). Work swiftly to spread frosting over cookies. Top with sprinkles, if desired.

NOTE: You can sour milk by adding 1 tsp. vinegar to 1 cup milk and set at room temperature while you assemble other ingredients.
Source
RECIPE by Barbara (Reis) Wald, Logan County, as published in "Gutes Essen: Good Eating in German-Russian Country"