RECIPE ROUNDUP: FROM THE COW TO THE CONE
Pistachio. Coffee. Stracciatella. Amarena cherry. Hazelnut. Sweet cream. Did that trip to Europe even happen if it didn't include two scoops from the corner gelateria? Debatable.

With origins in Italy, gelato is the smoother kid sister of ice cream.

"Once you try gelato, it's kind of hard to go back," says gelato aficionado Maartje (pronounced MARCH-ah) Murphy. "When you eat gelato, it tastes like it's creamier and smoother (than ice cream), and it's not so cold on your palate."
That's because gelato is made with more milk than cream, compared to regular ice cream, and has about half the butterfat content. Gelato is also churned slower and warmer, Murphy explains, and incorporates less air, helping to keep it dense, fluid and creamy.

The daughter of dairy farmers from the Netherlands, Murphy's heart was for dairy, but she didn't want to be the farmer. She dreamt of a value-added agriculture enterprise.

"I wanted to be a part of the dairy, too. I just didn't want to be the dairy farmer," Murphy said. "We always had the idea of adding other dairy products, and we thought gelato was the smallest investment for value-added products for us, so that's what we started with."

And so, from her parents' garage at the VanBedaf Dairy farm in rural Carrington, on Northern Plains Electric Cooperative lines, Duchessa Gelato was born.
 
DUTCH DAIRY ROOTS
When Murphy was 7, she and her parents, Corne and Conny van Bedaf, and two older brothers, Piet and Dries, moved to Canada from their home in the Netherlands. In 2008, the family then immigrated to the United States and started their 1,500-cow dairy operation.

"There was more space here, and my parents wanted a dairy that could provide for a couple of families," Murphy says. "My parents have been dairy farmers their whole lives, and my brothers are farming with them, as well."

The van Bedaf Dutch dairy roots run deep, and dairy is a major part of the ag industry in the Netherlands. In 2016, 14.3 billion kilograms of milk was produced by over 1.7 million dairy cows. The person-to-dairy cow ratio in the Netherlands is about 10:1, while that ratio is about 35:1 in the United States.

The jump from dairy farming to gelato wasn't much of a jump at all.

"There's a lot of gelato shops in the Netherlands, and at least I think it's a little bit more fun (than farming)," Murphy says through a smile. "I'm not sure about my brothers!"
 
GELATO-MAKING
In 2017, Murphy and her mom went to Chicago for a weeklong course in gelato-making, where they learned about traditional gelato from the experts at Carpigiani Gelato University in Bologna, Italy. Back home, she poured herself into her new business, Duchessa Gelato, and put her gelato-making skills to work.

First, Murphy gets her raw milk from the dairy and brings it back to her gelato lab.

"I churn the gelato in my parents' garage," she says. "I was just using my mom's spot, but now I'm using both, so neither of my parents have a garage spot!"

The raw milk goes into a pasteurizer, where cream and sugar are added. The mixture is heated to a certain temperature and cools overnight. After aging for 8 to 12 hours, the gelato base is ready, which is used to make each gelato flavor. Murphy then combines her flavor ingredients with the base, and everything goes into the gelato machine.

"We've probably done 80-plus flavors," she says. "What's neat about gelato is the flavor is kind of unlimited."

Unlimited, indeed. Some of the flavors Duchessa Gelato has produced include: pistachio, avocado basil, English toffee, espresso, Biscoff cookie, strawberry, raspberry, lemon, cookies-and-cream, vanilla bean, banana zabaione, raspberry white chocolate, cranberry crave, toasted coconut, blueberry cheesecake, Cadbury Mini Eggs, carrot cake, banana cream, almond, hazelnut, Dutch chocolate, peanut brittle, Amarena cherry, key lime tart, mocha stracciatella and zested orange cheesecake.

Currently, the business model includes gelato catering for events and online ordering, which Murphy tries to offer one or two times per month and around holidays. Customers choose from typically 5-10 flavors, which are made fresh and delivered to locations in Minot, Bismarck, Grand Forks, Fargo, Jamestown and Carrington.

"I want people to get their product from me, my husband or my family," she says. "I kind of want to keep it special."

Catering packages are customizable to fit client needs, and included in Duchessa Gelato's fleet of gelato-serving stations is an authentic Italian-style gelato cart on wheels! The company has served its fresh-made gelato at weddings, graduations, business meetings, farmers markets and more.

Also a nurse, Murphy has opted to keep Duchessa Gelato on a smaller scale, for now. She values the interpersonal connections to her customers and is focused on building the local market for her gelato. When the hands that procure the milk from the family dairy are the same hands that make the gelato – and deliver it – Murphy is doing more than building trust with her customer base. She is a tangible connector of farm to food.

"Being a small-business owner requires a lot of work, but it's very, very rewarding, when you're working for yourself and your family, and promoting something you truly believe in," she says. "I wouldn't change all the late nights and early mornings. Seeing the smiles on everyone's faces is worth the blood, sweat and tears."

Gelato, anyone?

Visit http://www.duchessagelato.com(link is external) to learn more.
Cally Peterson is editor of North Dakota Living. She can be reached at cpeterson@ndarec.com.
Download your free cookbook from 2018's recipes!
We pay $50 for publishing your recipes! Submit your recipe or email to NDL@ndarec.com or mail to North Dakota Living, PO Box 727, Mandan, N.D. 58554. Please include your name, address, daytime telephone number, email address and if you are a member of an electric or telecom cooperative.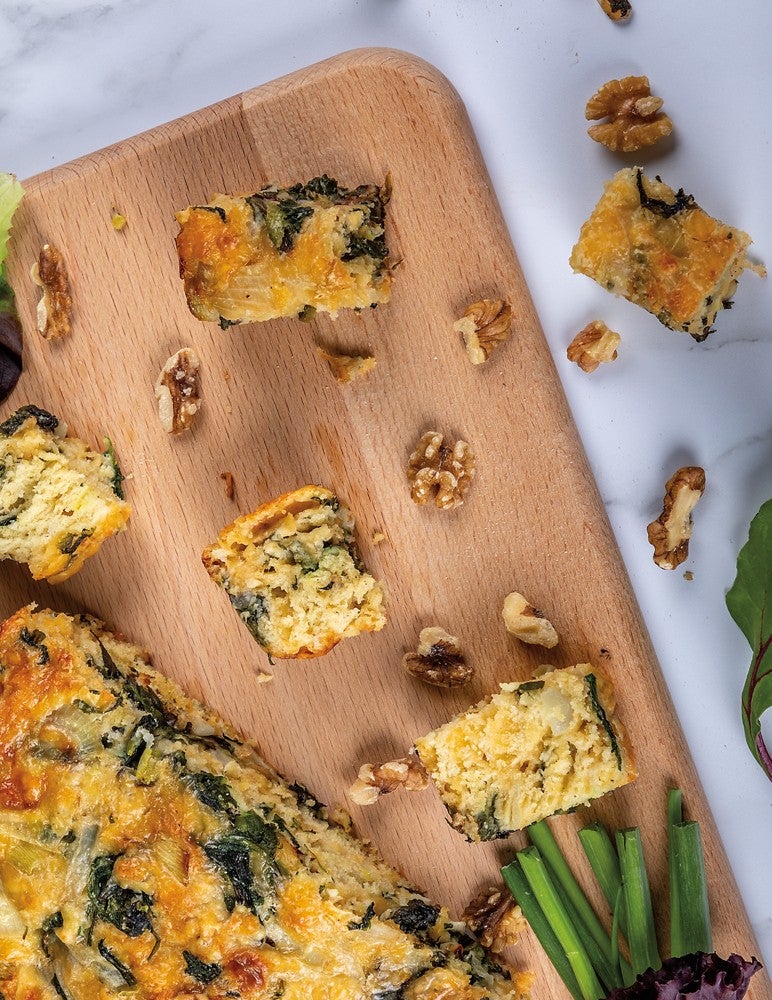 Instructions
Preheat oven to 340 degrees. Butter an 8-inch square pan.

Heat 2 tsp. olive oil in skillet over medium heat. Sauté onions and leeks until onion is light brown and leeks are soft. Remove onion and leeks from pan. Place spinach in same skillet and cook until soft. Add salt and pepper to taste and set aside.

Mix the remaining olive oil and eggs in a stand mixer or with hand mixer. Add flour, baking powder and salt, mixing until well incorporated. Evenly fold in onion, leeks, spinach, cheese and walnuts. Place mixture in cake pan and bake for 60 minutes.

Slice into 1- to 2-inch cubes and enjoy as an appetizer.
Source
Recipe by Maartje Murphy, Northern Plains Electric Cooperative member
Instructions
Pannekoeken (Dutch pancakes)
In a stand mixer or hand mixer, mix together the flour, eggs, milk and salt until well incorporated.

Heat a nonstick skillet over medium-high heat and coat with butter. When butter is melted, pour ½ cup of the batter into the center of the skillet. Move the skillet in a circular motion, so the batter spreads evenly throughout the skillet. Cook for roughly 40-60 seconds and flip (when the bottom starts to brown), cooking reverse side for another 40-60 seconds. Remove from skillet and repeat until batter is gone.

Caramelized apples
Heat a large nonstick skillet over medium-high heat and coat with butter. Sprinkle in sugar and cook for about 1 minute. Add apples. Sauté until apples are brown and tender, about 10 minutes. Sprinkle with cinnamon to taste.

Enjoy with vanilla bean gelato or ice cream.
 
Notes
Dutch pancakes are traditionally rolled up and can be enjoyed with sweet and savory toppings!
Source
Recipe by Maartje Murphy, Northern Plains Electric Cooperative member