Recipe Roundup: October 2021
The Wild Game and Fish Chef
After spending most of his 20s "running from North Dakota" and working at resorts and restaurants in Minnesota and Florida, Jeff Benda changed directions.

The Grand Forks native and son of a U.S. Air Force veteran found himself working toward a teaching degree in Valley City and surrounded by a group of friends who introduced him to
hunting.

"It was hunting that kept me here in North Dakota," he says. "Being out in the country, in a small town like Valley City, I'd finally developed a sense of place and belonging, and just fell in love with it."

This fall, Benda and his group of hunting buddies will congregate for their 19th annual waterfowl hunt.

"We look forward to it all year," he says. "We joke that it's like Christmas morning, but with guns."

After the hunt, it will be Benda who does the cooking. The Wild Game and Fish Chef's passion for the hunt and the outdoors has helped him charter a new course – one that complements his passion for food and cooking.

In January, Benda's brand as the "Wild Game and Fish Chef" took off. Using the fish and wild game he harvests, Benda builds inspired recipes that feature tastes from around the world. In addition to creating wild game and fish recipes, Benda also offers in-person and virtual cooking and field dressing classes.

"My goal with wild game cooking is to elevate it and educate," he says. "I'm able to share my passion for wild game cooking and connect people to the natural world through wild food."
 
FAMILY-APPROVED
Benda started experimenting with wild game recipes after some honest feedback from his wife, Melissa: "I just don't like how you prepare it." And so, Jeff put aside his crockpot and cream of mushroom soup, started researching international cuisine and trying new flavors.

At the time, Jeff and Melissa's daughter, Lucia, now 6, had set a goal to read 1,000 books before kindergarten. Jeff and Lucia would go on weekly dates to their neighborhood library in Fargo, where Lucia would check out her children's books and Jeff would scour cookbooks for inspiration.

Those cookbooks led to the inspired recipes now featured on Jeff's website, www.wildgameandfish.com. His recipes take inspiration from traditional international dishes, like Korean bulgogi, Greek gyros, Cuban ropa vieja, Mexican taquitos and Asian potstickers, and classic comfort foods, like stroganoff, lasagna and country-fried steak. When curating his recipes, he keeps his audience in mind – his family.

"I choose recipes that aren't difficult, family-friendly and not too spicy," Benda says. "I have a 6-year-old daughter who loves noodles, and my wife is a farm girl from Minnesota. But those two will tell you I've changed their minds about wild game cooking. Lucia tells everybody that antelope is her favorite meat."

In fact, after her grandmother served a beef pot roast meal, Lucia, at age 5, announced, "Sorry, Grandma, I only eat antelope!"

With his family-approved dishes, Benda hopes other families are inspired to serve wild game at the dinner table. A good place to start, he says, is using the recipes your family loves, but substituting proteins for the wild game in your freezer. Or, pick recipes with your family from cookbooks at your local library.

"Some people may have misconceptions of wild game cooking, or maybe they don't know how to utilize the resources as they should," Benda says. "I hope to get more people to try wild game, to advocate for its health benefits, to be conservationists. If we want to hunt the land and fish the waters, we better take care of the resources."

 
THE RIGHT DIRECTION
While Benda continues to charter this new Wild Game and Fish course part time, it's no question he's headed the right direction.

"God has given me the ability to cook, and if I can introduce people to hunting and fishing by doing that, that's my goal," he says.
Cally Peterson is editor of North Dakota Living. She can be reached at cpeterson@ndarec.com.
---
For more recipes, to sign up for cooking classes or learn more, visit www.wildgameandfish.com. The Wild Game and Fish Chef will also be hosting a free virtual cooking class for up to 10 veterans Nov. 10, in honor of Veterans Day.
 
Instagram: wildgameandfish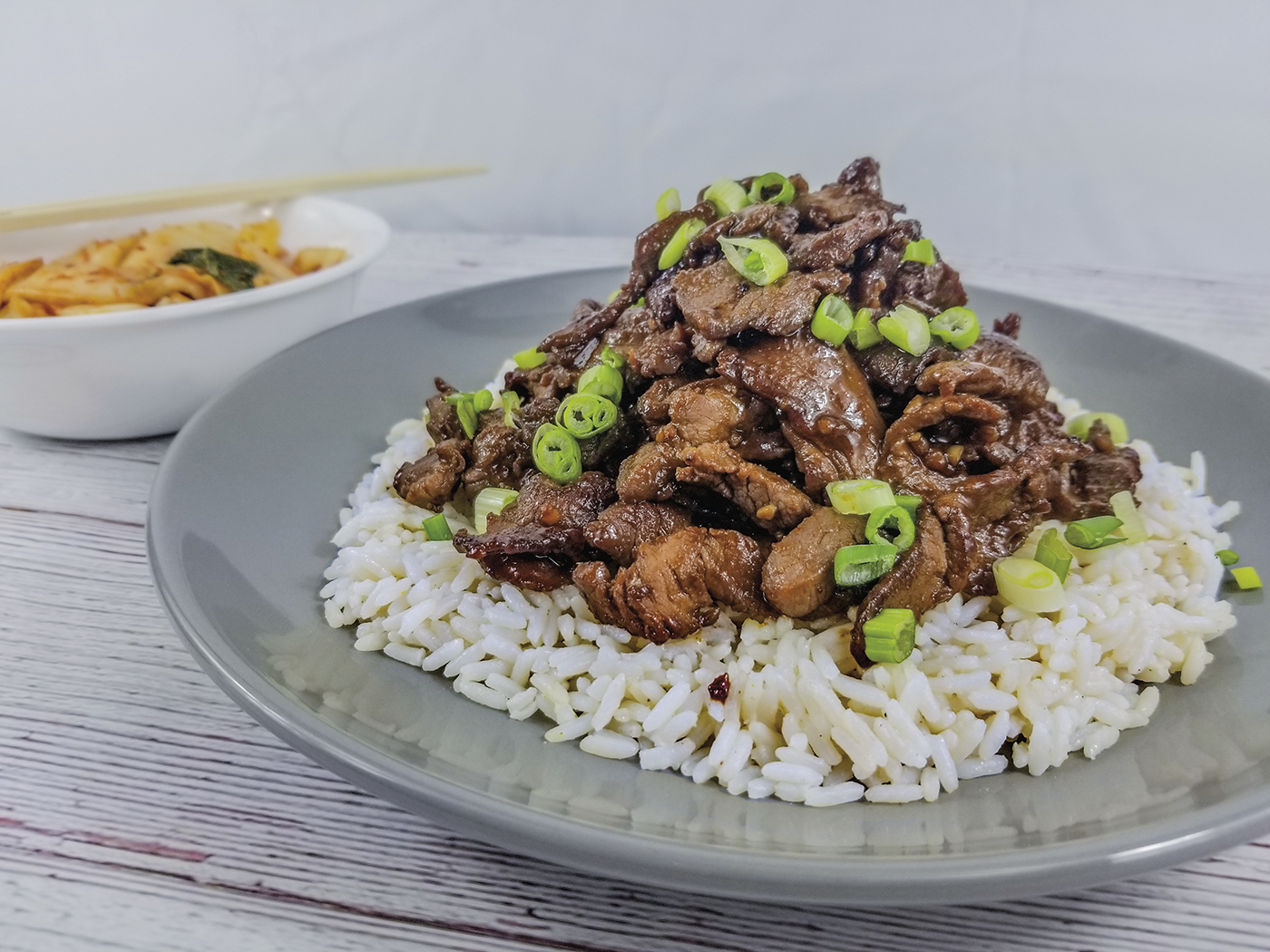 Instructions
1    lb. antelope or venison steak, thinly sliced across the grain
¼    cup soy sauce
2    T. brown sugar
2    T. sesame oil
1    T. minced garlic
½    tsp. ground ginger
2    tsp. Gochujang (Korean chile paste) or Sriracha sauce
2    cups cooked rice, for serving
     Kimchi (Korean fermented vegetables) or cooked vegetables, for serving
2    chopped green onions, for garnish
Notes
To make marinade, combine soy sauce, brown sugar, sesame oil, garlic, ginger and Gochujang in a bowl and mix well. Place thinly sliced meat in zipper-lock bag, cover with marinade and refrigerate for 1 hour. In a large cast-iron or 12-inch skillet, cook marinated meat in a single layer over medium-high heat until well-browned, about 3 minutes. Repeat with remaining meat. To serve, spoon meat and resulting pan sauce over rice. Garnish with green onions and serve with kimchi or vegetables.
Source
Recipe by Jeff Benda, the Wild Game and Fish Chef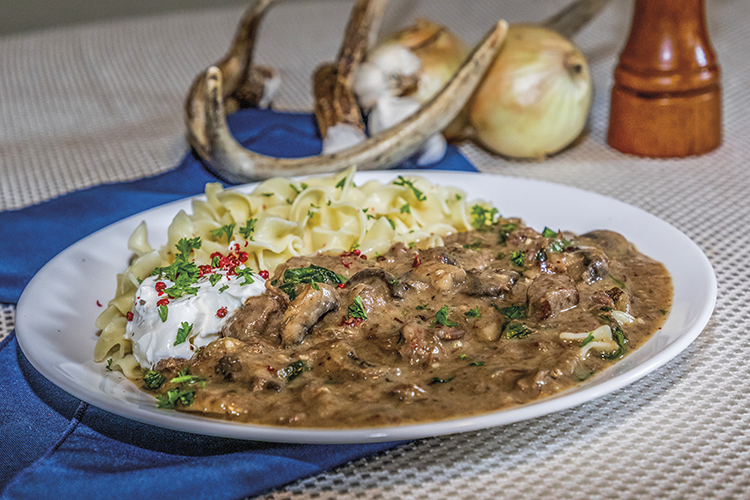 Instructions
    1    lb. venison steak, cubed
    1    T. grapeseed or olive oil
    4    T. butter
    ½    yellow onion, finely chopped
    8    oz. mushrooms, sliced
    1    T. minced garlic
    3    T. flour
    3    cups venison or beef stock
    1    T. Worcestershire sauce
    2    tsp. Dijon mustard
    1    tsp. salt
    1    tsp. pepper
    ½    cup sour cream
        Egg noodles, for serving
Notes
Heat oil in pan over medium-high heat. Add venison steak and cook, stirring constantly for about 30 seconds. Add 2 T. butter and onion, cooking for 1 minute. Add mushrooms and garlic, cooking for an additional minute. Add remaining 2 T. butter and flour, cooking 2 minutes. Add stock, Worcestershire, Dijon, salt and pepper and reduce liquid, about 15 minutes. Mix in sour cream and serve over cooked egg noodles.
Source
Recipe by Jeff Benda, the Wild Game and Fish Chef