Recipe Roundup: September 2021
Indoor gardening center brings food sovereignty to Spirit Lake Tribe
A new project on the Spirit Lake Reservation is connecting the Dakota people with their cultural heritage, while tackling the issue of food insecurity.

Construction of a new indoor gardening center is underway at the Spirit Lake Food Distribution building. Once completed, the gardening center will provide more than 1,000 tribal members with access to fresh, locally sourced food year-round, in addition to providing skilled jobs on the reservation.

"The 638 program that was introduced in the 2018 farm bill is instrumental in providing tribal communities with an opportunity to sell products to food distribution programs," says Mary Greene Trottier, director of the Spirit Lake Food Distribution Program. "Essentially, we could grow tomatoes, sell them directly back to our program and have that revenue stream self-support the greenhouse operations."
DIGNITY AND CHOICE
A member of the Spirit Lake Nation, Greene Trottier has managed the tribe's food distribution program for the past 35 years. The program, which is an alternative to the Supplemental Nutrition Assistance Program (SNAP), provides food to nearly half of the tribal members living on the reservation. While food distribution programs can be found on many reservations, Spirit Lake has developed an uncommon approach that focuses on the dignity and choice of its clients.

Tucked inside a repurposed tribal warehouse building is a two-aisle grocery store. The aisles are filled with boxes of cereal, bags of rice and cans of vegetables. Along the walls, coolers offer fresh fruits and vegetables, and freezers display frozen meats. Among these offerings are traditional Indigenous foods, such as bison and cornmeal. Unlike a traditional grocery store, this operation doesn't accept cash or credit card payments. Instead, the food each client takes home comes out of his or her monthly food allotment through the Spirit Lake Food Distribution Program.

"One thing that makes our food distribution operation unique (from other food distribution centers) is clients don't have to pick up their food all at once. It's not a one-stop shop for the moment. They have accessibility to come in multiple times, whether they do drive-up or come in and shop," Greene Trottier says.

And soon, clients may have access to a larger variety of fresh items. The new gardening center, which will be located a few steps away from the grocery store, will introduce heart-healthy and flavor-enhancing herbs and seasonings such as cilantro, rosemary and oregano.

"The greenhouse is meant to not only educate, but to provide people with fresh herbs, which can be substituted for salts and fats," Greene Trottier says. "We have some of the highest rates of diabetes, heart disease and obesity in our community. We may not be able to change this generation, but we can change the future for our youth by teaching them how to make healthier choices."

The Dakota people once thrived through their ability to produce the food that sustained them. But, Spirit Lake has lacked access to consistent, fresh produce for many years and many Indigenous foods are being lost. This project will rebuild the innate self-determination that aligns with Spirit Lake's values and provide a year-round supply of fresh produce and Indigenous foods.

"We have a lot of traditional berries that people have used for many generations. We're trying to preserve that and keep it intact for future generations," Greene Trottier says. "If our ancestors didn't know how to live off the land, we wouldn't be here today. It is what sustained our families for many generations."
INDOOR GREENHOUSES
The Spirit Lake Food Distribution Program is partnering with Dakota College at Bottineau (DCB) for the construction, startup operation and training for the new garden center. The college offers a successful aquaponics production and management program that prepares students for career opportunities in aquaponics, hydroponics and greenhouse production. DCB will train staff and high school students on how to operate and maintain the system.

The construction of the garden center and necessary training is primarily funded through a $150,000 CoBank grant. The Rural Electric and Telecommunications (RE&T) Development Center, which operates under the umbrella of the North Dakota Association of Rural Electric Cooperatives (NDAREC) and the Broadband Association of North Dakota (BAND), played an instrumental role in securing this funding.

"When I saw how Mary had developed a grocery store to distribute food in a way that brought respect to the people who were receiving food from the food distribution center, and also created the ability for them to get fresh food weekly instead of just once a month, my heart was there. Of all the food distribution sites in the state, Spirit Lake was the only one doing it this way," says Lori Capouch, NDAREC rural development director. "When I found out she was looking for money to build the indoor greenhouses, I thought of CoBank and how this would be a great opportunity for cooperatives, which are guided by the cooperative principle of concern for community, to invest in the project."

Through her work with the RE&T Development Center, Capouch identified the grant opportunity, assisted in the preparation of the grant application and helped make the pitch to CoBank.

"I don't think it would have been accomplished without that financial support," Greene Trottier says. "And, I think this is a step in the right direction to show this can be done. I want to put Spirit Lake on the map. I want this to be our contribution to our society. We can feed people, too. And, I want to be that bright spot in the future for years to come."

Native America Food Sovereignty is an initiative that moves to restore the Indigenous food systems that support Indigenous self-determination, wellness, culture, values, communities, economies, languages and families, and rebuilds relationships with the land, water, plants and animals that sustain us.
---
Krista Rausch is communications specialist for the North Dakota Association of Rural Electric Cooperatives and Capital Electric Cooperative. She can be reached at krausch@ndarec.com.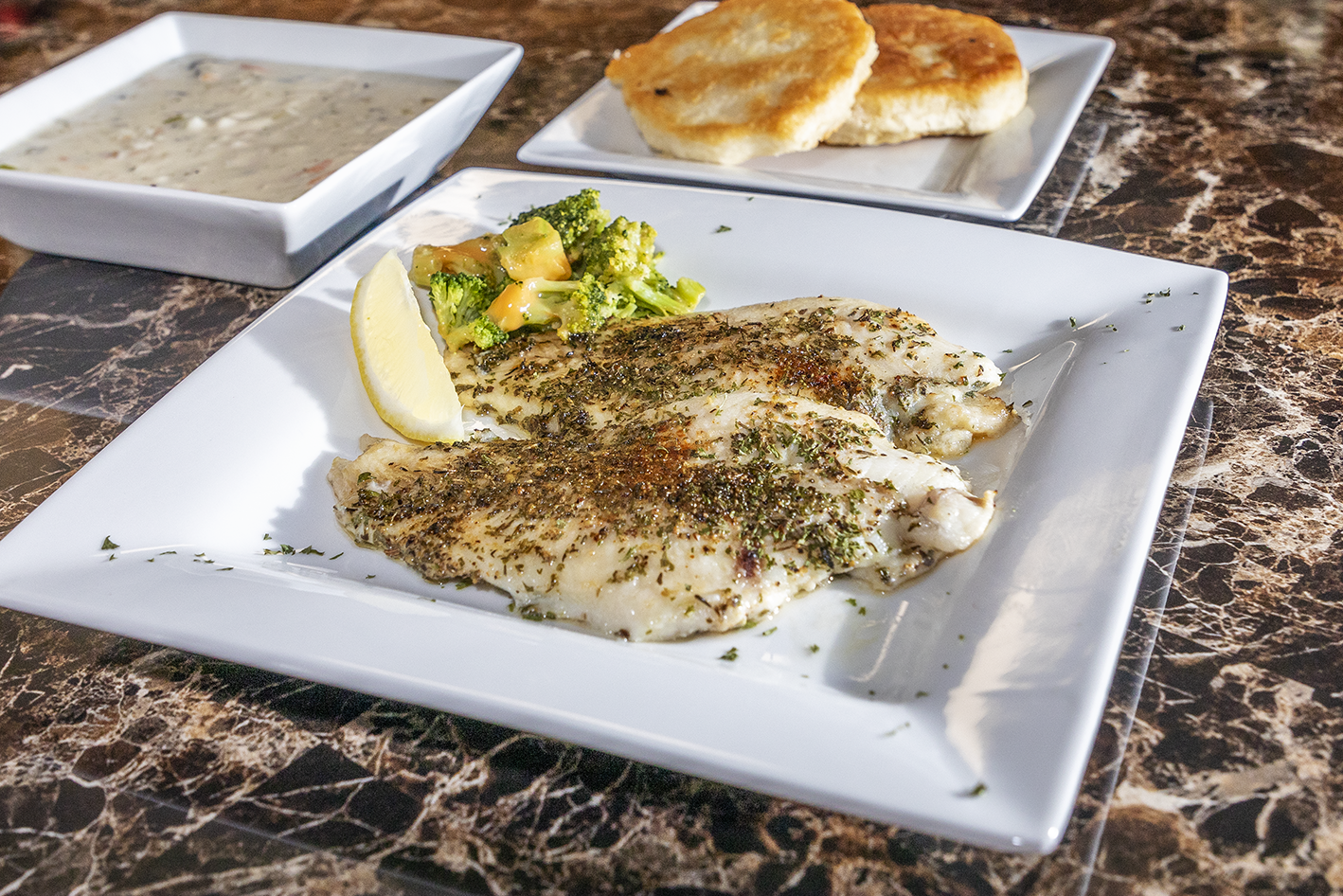 Instructions
2     T. minced fresh parsley
1     tsp. salt
3/4  tsp. paprika
1/2  tsp. dried thyme
1/2  tsp. dried oregano
1/2  tsp. dried basil
1/2  tsp. ground black pepper
4     whole catfish fillets
       Juice of one lemon
2     T. melted butter
1/4  tsp. garlic powder
       Non-stick cooking spray

Preheat the oven to 350 degrees. Combine the parsley, salt, paprika, thyme, oregano, basil and pepper in a small bowl. Sprinkle over both sides of catfish fillets. Place the fillets in a 9x13 baking pan that has been coated with non-stick cooking spray. Add the melted butter, lemon juice and garlic powder to a small bowl. Mix well to combine. Drizzle the butter-lemon-garlic mixture over the fillets. Bake uncovered for 15-20 minutes or until the fish flakes easily.
Source
Recipe by Spirit Lake Food Distribution Program, served by Northern Plains Electric Cooperative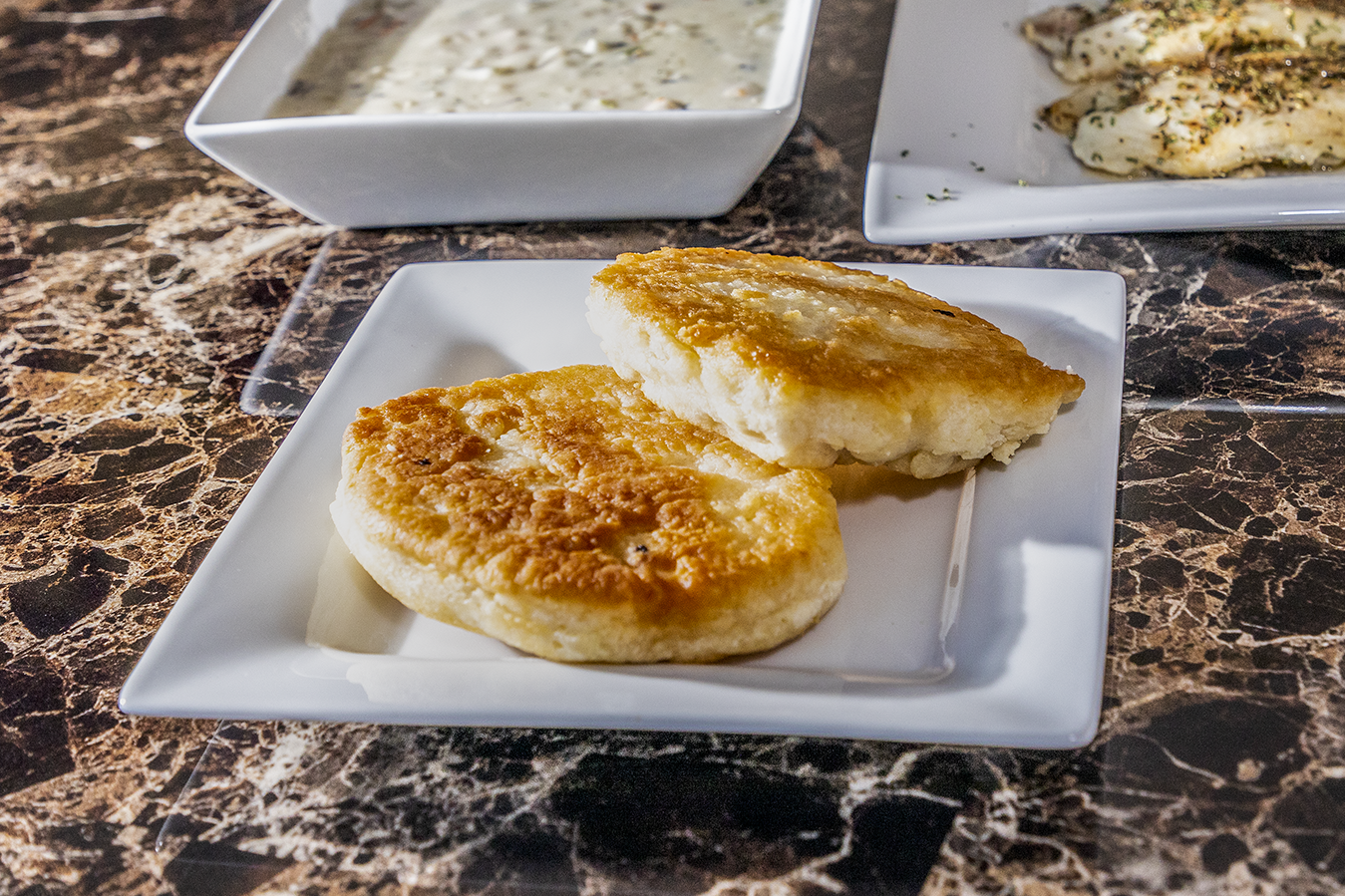 Instructions
    2    cup all-purpose flour
    1    T. baking powder
    1    tsp. salt
    1    T. vegetable oil
    1/4    tsp. granulated sugar
    11/2    cup 1% UHT milk
Notes
Mix dry ingredients. Make a small well in the middle of the flour and add milk and 1 T. oil. Mix the wet ingredients into dry ingredients slowly and gently. You need enough flour remaining to mix the dough until it is easy to handle. Separate dough into six balls.

Pour about a tablespoon of canola oil on a non-stick frying pan. Flatten the bread in your hand and place in the hot pan and flatten. Fry on a low flame until golden brown. Flip over and fry until golden brown. You can add more canola oil if needed.

Tip: Grease your hands with vegetable oil while you handle the dough. It will keep the dough from sticking to your hands.
Source
Recipe by Spirit Lake Food Distribution Program, served by Northern Plains Electric Cooperative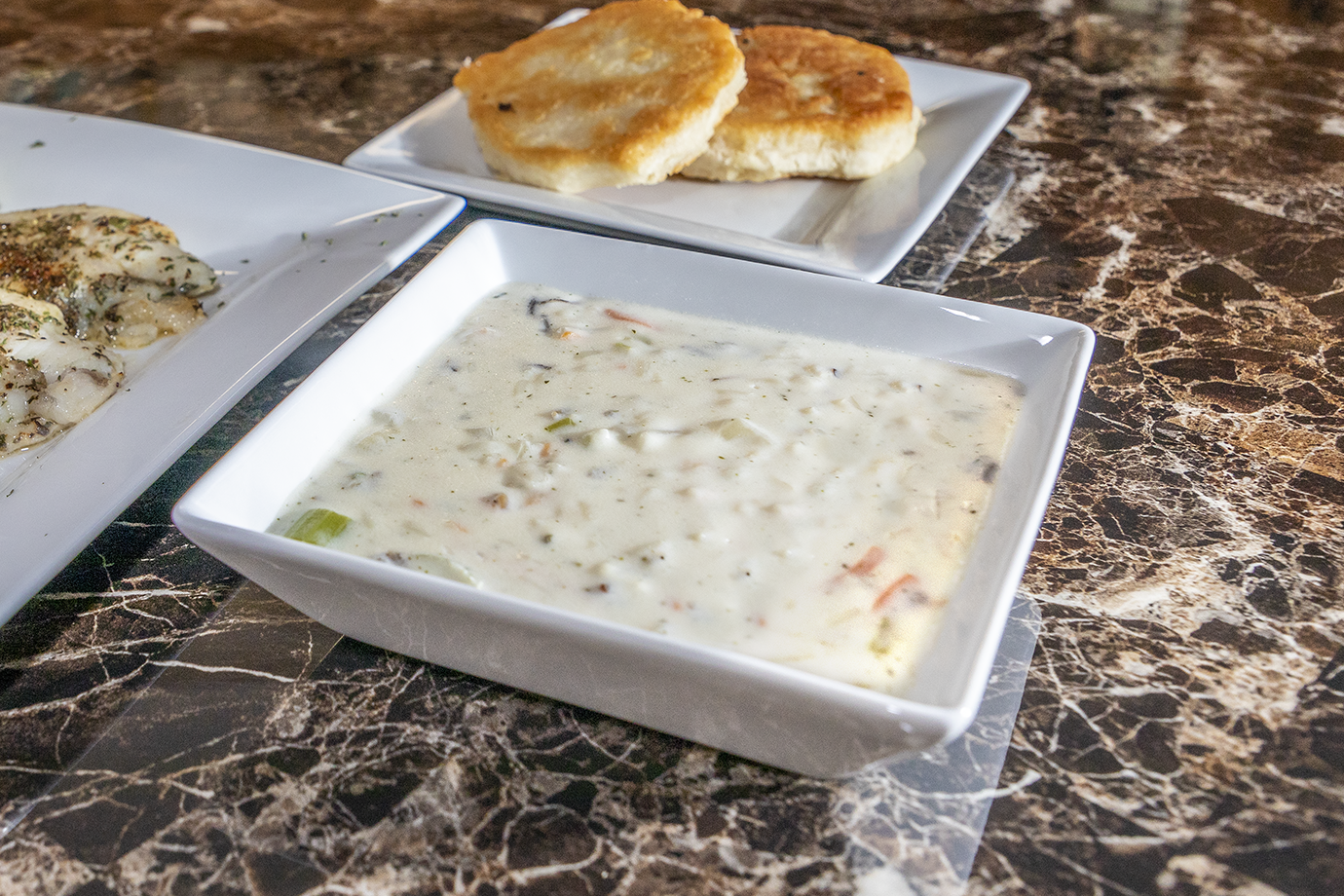 Instructions
1/3    cup uncooked wild rice
1     T. vegetable oil
1     quart water
1     medium onion, chopped
1     celery rib, finely chopped
1/4     cup carrots, finely chopped
1/2     cup butter
1/2     cup all-purpose flour
3     cup chicken broth
2     cup half-and-half cream
1/2     tsp. dried rosemary, crushed
1     tsp. salt
Notes
In a medium saucepan, combine the rice, oil and water; bring to a boil. Reduce heat; cover and simmer for 30 minutes.

Meanwhile, in a Dutch oven, cook the onion, celery and carrot in butter until vegetables are almost tender. Stir in flour until blended; cook and stir for 2 minutes. Slowly stir in broth and undrained rice. Bring to a boil; cook and stir until slightly thickened, 2 minutes. Reduce heat; stir in the cream, rosemary and salt. Simmer, uncovered, until rice is tender, about 20 minutes.
Source
Recipe by Spirit Lake Food Distribution Program, served by Northern Plains Electric Cooperative